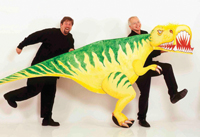 Sci-Fi Adventure Live on Stage
Hang out with Stegosaurus and Tyrannosaurus Rex at Dinosaurs! Learn all about prehistoric times with stories about the latest dinosaur discoveries, dino-puppet-making ideas, and a rich musical score of Mozart, Beethoven, Mahler, Stravinsky, and Prokofiev. Appropriate for ages 2 and older. January 9 at 11am and 1:30pm. $18; $13 children. The Emelin Theatre, 153 Library Lane, Mamaroneck. 914-698-0098; www.emelin.org.
Be the Next Idol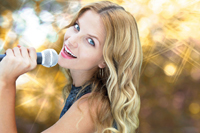 PMT Productions will hold public auditions for the Westchester Teen Idol Contest. The contest is open to all teens ages 13-19 throughout the tri-state area. The top 25 contestants will compete in a final concert judged by a celebrity panel, and the winner will be crowned Westchester Teen Idol 2010 and receive a large prize package including cash and an assortment of gifts. The auditions will be held at the Irvington Town Hall Theatre on Saturday, January 9, 1-9pm, and Sunday, January 10, 5-9pm. Appointments required. For more information, call 914-923-3390 or visit www.pmt-productions.com.
Get a Head Start on Camp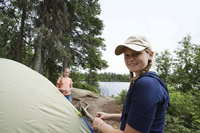 Learn about a variety of summer camp options at the Camp and Teen Expo. Representatives from traditional summer camps - both day and sleep-away - as well as theme-specific camps will be on hand to speak with parents about their programs, schedules, and fees. Information on camp-related summer employment for teenagers will also be available. The event is sponsored by Yorktown SEPTA and the Somers PTA Council. January 13, 7-8:30pm. FREE. Mildred E. Strang Middle School, 2701 Crompond Road, Yorktown Heights. 914-243-8100; www.yorktowncsd.org.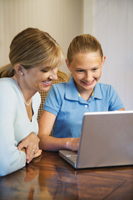 Safe on the Net
Learn how to protect your children at Internet Safety for Parents. With over 20 years of experience in law enforcement in the investigation and prosecution of computer and Internet crimes, expert Bill Tsigaras will offer an examination of on-line scams and auction fraud; e-commerce and how to protect yourself from identity theft; sexual predators and how children put themselves in danger; social networking sites, instant messaging, and on-line gaming; and what to do if you or your child becomes a victim. January 19, 7-9pm. $10. Pre-registration required. Green Meadow Waldorf School, Arts Building music room, 307 Hungry Hollow Road, Chestnut Ridge. 845-356-2514. www.gmws.org.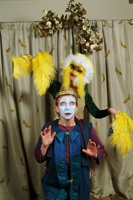 A Different Spin on a Classic Tale
Masks, movement, storytelling, and live harp music come together for a special production of The Golden Bird. The story of trust, treachery, hope, and despair - in which goodness prevails - unfolds in this adaption of the Brothers Grimm tale. A pre-performance workshop will be held for children and adults. Presented by the Singing Harp. January 24 at 2pm. FREE. Ossining Public Library, 53 Croton Avenue, Ossining. 914-762-7550. www.ossininglibrary.org.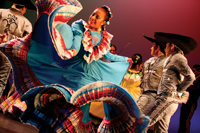 Colorful Dance
See the Calpulli Mexican Dance Company perform at the White Plains Performing Arts Center on January 31; shows at 2pm and 5pm. All ages. $20-25. 21 Mamaroneck Avenue in White Plains. 914-328-1600; www.wppac.com.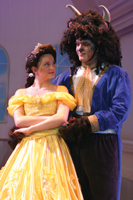 A Tale as Old as Time
See Disney's Beauty and the Beast, Jr., at the Tarrytown Music Hall through February 7. Presented by Random Farms Kids' Theater. All ages. $18. 13 West Main Street in Tarrytown. 914-631-3390; tickets.tarrytownmusichall.org.