Tracy Kay, executive director of the Westchester Children's Museum (WCM), has been selected to serve as a Museum Assessment Program Peer Reviewer for the American Association of Museums (AAM). Selection for this program is extended only to qualified museum professionals who have significant museum experience and a proven understanding of the museum field. Applicants to the Peer Review Program are expected to demonstrate a record of active participation in the field-wide dialogue of museum operations, standards, best practices, and emerging ideas.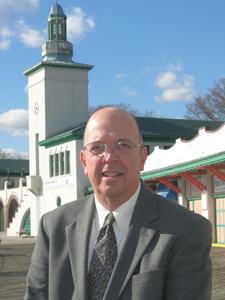 Peer Reviewers volunteer their time to support AAM's Accreditation and Museum Assessment Programs. These two programs allow AAM to ensure that museums around the nation are performing up to current standards and best practices and provide support and resources for museums that are looking to improve.
"Westchester Children's Museum is proud to have its director selected for this esteemed honor," said WCM President Corinne Zola. "Tracy's designation as a Peer Reviewer for AAM speaks to his significant museum knowledge and further demonstrates WCM's experienced team of professionals."
When chosen for an assignment, a Peer Reviewer is expected to read a museum's self-study, visit the museum to observe its operations firsthand, and write a report on their findings. The role of a Peer Reviewer, while demanding, provides a unique opportunity for professional development as well as the chance to learn from other institutions.
"Peer Reviewers play an integral role in the museum field's on-going efforts toward self-improvement," said Ford W. Bell, president of AAM. "Peer reviewers demonstrate a commitment to their profession that is exemplary. Their selfless service enables museums across the country to better meet their obligations to the public trust."
As a Peer Reviewer for AAM, Tracy Kay brings a deep history and vast knowledge of operation and management of cultural and educational institutions. His more than 30 years of experience in the field has provided him with a broad overview of best practices in operations, as well as frontline experience in fundraising, capital campaigns, feasibility studies, strategic planning, team building, facilities management, membership development, and marketing. Kay has held executive positions at Rye Nature Center, Nassau County Department of Parks, Recreation & Museums, Schuylkill Center for Environmental Education, and most recently, as executive director for Westchester Children's Museum, a hire that represented the successful conclusion of a year-long national search from among a broad range of museum, education, and nonprofit professionals.
Until its physical home is built, Westchester Children's Museum is dedicated to fulfilling its educational mission through its Museum Without Walls program, which has brought hands-on educational programs to nearly 3,000 regional children since launching in March 2010. The program was launched and continues to grow under the leadership of Tracy Kay and a committed team of educators.