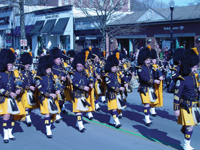 Celebrate the Green
Join in the fun this St. Patrick's Day, when these towns celebrate with all kinds of fun.
More than 60 organizations, including Irish step dancers, Irish bagpipe bands, military bands, marching bands, military re-enactment groups, antique cars and police cars, fire trucks, community groups, and much more will come together for the 20th anniversary of this annual celebration along Main Street in Mount Kisco. Renowned storyteller Jonathan Kruk will present a special performance of Irish tales for children. March 13 at 1pm. 914-666-6919. www.AOHDIV16.org.
More than 25 bands, dozens of community marching bands, and floats will join Grand Marshal Thomas Devine, Jr., for the City of White Plains' annual celebration. March 13 at noon. Mamaroneck Avenue, White Plains. 914-948-0047. www.cityofwhiteplains.com.
Bagpipers, bands, community groups, schools, Boy and Girl Scout troops, dignitaries, police, fire and ambulance personnel, and an assortment of vehicles will join Joselle Cunane, Grand Marshal for the City of Peekskill's annual celebration. March 14, 3pm. Division Street at the Firehouse, Peekskill. 914-737-4300. www.peekskillstpatricksparade.org.
Marching bands, entertainment, and community organizations join Grand Marshal Tom Kennedy for the Village of Tarrytown's annual celebration. March 14 at 1:30pm. FREE. Route 9 and Main Street, Tarrytown. 914-909-6519. www.tarrytowngov.com.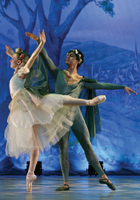 A Repertoire of Ballet
See excerpts from traditional ballets at An Evening of Dance. Under the artistic direction of Beth Fritz-Logrea, the Westchester Ballet Company will perform selections from La Boutique with music by Rossini, A Midsummer Night's Dream to the music of Mendelssohn, and other selected works. Saturday, March 13 at 7pm. $22; $20 children; $15 for groups of 10 or more. Performing Arts Center at Purchase College, 735 Anderson Hill Road, Purchase. 914-251-6200. www.artscenter.org.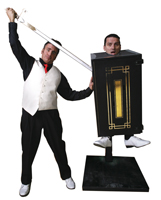 Magic Treats and Daring Feats
The duo of Circo Comedia, Jean Saucier and Patrick Côté, perform unpredictable thrills, side-splitting comedy, and daredevil stunts at the Emelin Theatre on March 20 at 11am. Ages: YE, AD. $18; $13 children. 153 Library Lane, Mamaroneck. 914-698-0098. www.emelin.org.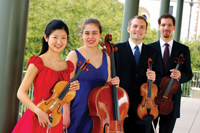 Classical Strings
Caramoor's 2009-10 Ernst Stiefel String Quartet-in-Residence, The Jasper String Quartet continues its residency with a family-friendly program that juxtaposes early and late works of two of the most creative composers in the tradition, Beethoven and Webern. March 20 at 8pm. $25. Caramoor Center for Music and the Arts, 149 Girdle Ridge Rd., Katonah. 914-232-1252. www.caramoor.org.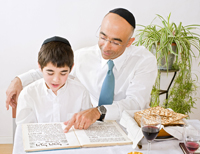 Share a Seder
Celebrate Passover with these family-friendly events:
Enjoy the holiday with dinner and a community atmosphere at the Community Passover Seder. Reservations suggested. March 29 at 7:15pm, March 30 at 7:30pm. $54; $15 children. Chabad of the Rivertowns, 303 Broadway, Dobbs Ferry. 914-330-1366. www.chabadrt.org.
Celebrate the upcoming holidays with song, stories and surprises at Hooray for the Holidays: Pesach. Appropriate for children under 5 accompanied by a parent or caregiver. March 17 at 2pm. FREE. Solomon Schechter Lower School, 30 Dellwood Road, White Plains. 914-948-3111. www.solomon-schechter.com.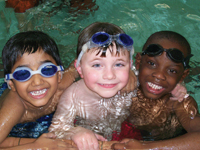 Free Swimming Lessons
Learn a necessary and fun life skill during Free Learn To Swim Week. Get trained in everything you need to know about the pool as instructors demonstrate how to be safe and confident and enjoy the lifelong pleasure of this fun sport. Reservations required. March 29-April 2. White Plains Family YMCA, 250 Mamaroneck Avenue, White Plains. 914-949-8030. www.ymca-cnw.org.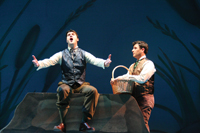 Hit the Stage
All kinds of theatrical events are taking place this month. Check out some highlights below.
See the family-friendly version of the musical Footloose, based on the popular film and Broadway production. The story of a group of Midwestern teens who fight to bring back dance to their town unfolds against a backdrop of high energy music and dynamic choreography. March 12-13 and 19-20 at 7pm; March 14 at 2pm. $10; $5 children. Harrison Performing Arts Center, 255 Union Avenue, Harrison. 914-630-3110. www.harrisoncsd.org/hhs.
The comedic and exciting adaptation of the famous Chinese legend, The Amazing Monkey King, comes to life on stage. With a combination of Kung Fu moves and hip hop dance, the show tells the timeless tale of a headstrong young monkey who gains magical powers, rides a cloud, travels backward and forward through time, learns from mystical masters, and uses his wits and abilities to save his people from horrible monsters. Presented by the Family YMCA at Tarrytown Y Theatre. March 10 at 8:30am; March 11 at 9:30am and 7pm; March 12 at 7pm. $10 evening shows only. Washington Irving School, 103 South Broadway, Tarrytown. 914 631-4807. www.ymcatarrytown.org.
This Broadway hit was nominated for three Tony® Awards including Best Musical. A Year With Frog and Toad remains true to the spirit of author Arnold Lobel's original stories as it follows two great friends, the cheerful and popular Frog and the rather grumpy Toad, through four fun-filled seasons. March 21 at 3pm. $15-$25. Paramount Center for the Arts, 1008 Brown Street, Peekskill. 914-739-2333. www.paramountcenter.org.
The Broadway Training Center's Senior Ensemble will present The 25th Annual Putnam County Spelling Bee. The Tony® Award-winning comedic musical focuses on the worry experienced when six teen outsiders compete to win a championship. Appropriate for children 10 and older. March 26-27 at 7pm; March 28 at 3pm. $20; $14 students. Irvington Town Hall Theater, 85 Main Street, Irvington. 914-591-6602. www.irvingtontheater.com.
See the "jukebox musical," All Shook Up, which uses songs written and/or recorded by Elvis Presley. The show, loosely based on Shakespeare's Twelfth Night, centers around a young man recently released from prison who rides into a Midwestern town and serves as a catalyst for the release of the entire community's repressed feelings. Presented by the Actor Conservatory Theatre's Jr. Troupe. Appropriate for ages 10 and older. March 26 at 8pm, March 27 at 2pm and 8pm. $15, $10 children. Actors Conservatory Theatre, 20 Buckingham Road, Yonkers. 914-391-6558. www.actshows.org.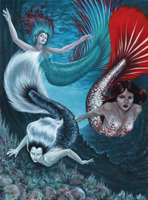 Ongoing Activities at Museums and Galleries
The New Rochelle Council on the Arts' spring exhibition, Utopioptix, is a juried show of science fiction and fantasy art. The show features 24 pieces by 16 artists. Through March 31. FREE. New Rochelle Public Library, 1 Library Plaza, New Rochelle. 914-654-8356. www.newrochellearts.org.
See the new art and photography exhibit, Seasons At Lenoir. Tuesday-Saturday 10am-4pm, March 6-April 3. FREE. Lenoir Nature Preserve, 19 Dudley Street, Yonkers. 914-968-5851. www.westchestergov.com/parks.
View the work of puppeteers, sculptors, and film and media artists who utilize the sophisticated and often daring art of puppetry to explore a range of ideas and emotions at The Art of Contemporary Puppet Theater. The exhibition fuses the visual and performing arts, incorporating painting, sculpture, text, music, movement and technology. Tuesday-Saturday 10am-5pm; Sunday noon-5pm. Through June 13. $5; FREE children under 12; FREE 10am-noon. Katonah Museum of Art, 134 Jay Street, Katonah. 914-232-9555. www.katonahmuseum.org.
Learn about the anatomy of a tree, the role trees play in a healthy ecosystem, and the many threats they face from the people they serve so well, at Trees: Heroes of Our Planet Natural History Exhibit. Pictures, charts, hands-on displays and more are included in the exhibit. Monday-Thursday 10am-4:30pm. Saturday-Sunday 9:30am-4:30pm. Through October 3. $7; $5 children 2-12, FREE children under 2. Greenburgh Nature Center, 99 Dromore Road, Scarsdale. 914-723-3470. www.greenburghnaturecenter.org.
Explore Ford Weisberg's experiments and discoveries that have led to a unique digital painting technique, at The Art of Digital Painting. Tuesday-Saturday, noon-5pm, March 2-20. FREE. Mamaroneck Artists' Guild, 2120 Boston Post Road, Larchmont. 914-834-1117. www.mamaroneckartistsguild.org.
CITYBOUND
Storybook Ballet
See the timeless tale, Cinderella, brought to life on stage by the New York Theatre Ballet. Choreographed specifically for children, the one-hour performance is a great way to introduce kids to dance. Plus, artistic director Diana Byer will talk about what happens behind the scenes by describing how important lighting is to a performance, how it can change the mood of the ballet, and more. Saturday and Sunday, March 13 and 14, at 11am, 1pm, and 3:30pm. $36; $31 children. Florence Gould Hall, 55 East 59th Street (between Madison and Park Avenues). 212-355-6160 or 212-307-4100. www.nytb.org.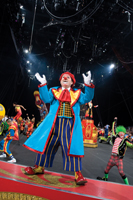 The Greatest Show on Earth Returns
See more than 130 performers from six continents, almost 100,000 pounds of performing elephants, plus cowboys, pirates and mermaids at Ringling Bros. and Barnum & Bailey® Presents Barnum's FUNundrum!?. Ringmaster Jonathan Lee Iverson invites the audience aboard the Ringling Bros. Express on an adventure to meet exotic characters and witness exciting performances. See the Flying Caceres, the Puyang troupe from China, the Mighty Meetal and more perform daring feats. Get an exclusive chance to meet the performers, get autographs, and meet the amazing elephant who paints, at the all-access pre-show, which is free with every ticket. March 25-April 4. $15 and up. Madison Square Garden, 4 Pennsylvania Plaza (Seventh Avenue and 32nd Street). 800-745-3000. www.ringling.com.