Check out some great activities and events for kids and families scheduled during the month of May in Westchester County, NY. Whether you're looking to celebrate Mother's Day or Memorial Day, catch a kid-friendly show, or enjoy the great outdoors, we've got all the information a Westchester County family needs.
For even more family-friendly activities, visit our Online Calendar of Events.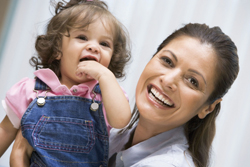 Get Healthy This Spring
Learn how to keep your family healthy at the 3rd Annual Hispanic Health Day in Tarrytown. Get free health and dental screenings provided by bilingual and Spanish-speaking healthcare providers. Phelps Memorial Hospital Center will offer breast exams, blood pressure screenings, glucose monitoring, and mental health assessments. As a way of teaching health awareness to children, Open Door Family Medical Centers will run a Teddy Bear Clinic where children will receive their own Teddy bear and learn how to give their very special patients a check-up. Plus, get interactive educational information about preventive health care, health literacy, and nutrition for the entire family. Saturday, May 1, noon-4pm. FREE. John Paulding Elementary School, 154 North Broadway, Tarrytown. 914-393-7346. www.opendoormedical.org.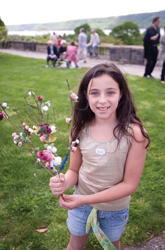 Mother's Day Activities to Make Her Feel Special
While mom enjoys a gourmet Mother's Day brunch, kids paint and design their own clay seedling pot and plant herb seeds at the Mother's Day Brunch and Craft Table For Kids. May 9 at 11:30am and 2pm. $59.99; $24.99 under 12. Tarrytown House Estate, 49 East Sunnyside Lane, Tarrytown. 914-591-3143. www.tarrytownhouseestate.com.
Use the gardens and woodlands as your inspiration for Family Art Project: Design a Bouquet For Mother's Day. Colombian-American artist Esperanza Cortés will show you how to collage a unique bunch of blossoms or shape a spray of paper flowers for Mom. May 8-9, 1pm. $8; $2 children 6-18. Wave Hill, 675 West 252nd Street, Bronx. 718-549-3200. www.wavehill.org.
Bring mom out on this very special day to share the beauty of spring for Mom's Cole Kettle Hike. Take a long walk to Cole Kettle, one of the furthest natural wonders. Dress for the weather and terrain and bring a snack and water. May 9 at 1pm. FREE. Westmoreland Sanctuary, 260 Chestnut Ridge Road, Mount Kisco. 914-666-8448. www.westmorelandsanctuary.org.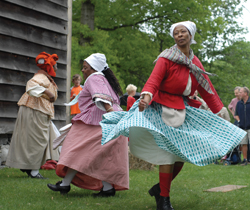 Historic Fun Along the Hudson
Welcome the arrival of spring at the Pinkster Festival, an African-American celebration that was held in the Hudson Valley as early as the 17th century. The cross-cultural celebration features dance, music, and food from the colonial era. Presentations of African drumming, traditional dances, folktales, and demonstrations of African instruments add a fun twist to this historic recreation. Sunday, May 16, noon-6pm. $12; $6 children 5-17; FREE children under 5. Philipsburg Manor, 381 North Broadway (Route 9), Sleepy Hollow. 914-631-3992. www.hudsonvalley.org.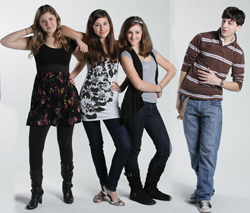 Theater For Kids, By Kids
The Lighthouse Youth Theatre will present 13, The Musical, a story about the life of Evan Goldman, a 13-year-old boy who has to move with his newly divorced mother from New York City to Appleton, Indiana, during the year of his Bar Mitzvah. Evan agonizes about fitting in with the "cool" kids and getting them to come to his celebration, while finding himself torn between them and Patrice, his quirky and not so popular new friend. Lunch is included. $48 and up. May 15 and 22 at 12pm. Westchester Broadway Theatre, 1 Broadway Plaza, Elmsford. 914-592-2222. www.broadwaytheatre.com.
See the Tony award-winning musical comedy, Sweet Charity. The show takes place in 1960s Times Square and features Bob Fosse's dance numbers, Neil Simon's dialogue, and hits like "Rhythm of Life," "If My Friends Could See Me Now," and "Hey Big Spender." Presented by Clocktower Players Teen Troupe. May 7-8 at 7:30pm. $20; $15 students. Irvington Town Hall Theater, 85 Main Street, Irvington. 914-591-6602. www.irvingtontheater.com.
Two Beans Productions presents Tales of a Fourth Grade Nothing, their play about 9-year-old Peter Hatcher and his brother Fudge. The show captures all the humor, sibling rivalry, and elementary school angst of Judy Blume's book. May 22 at 11am and 1:30pm. $18; $13 children. Emelin Theatre, 153 Library Lane, Mamaroneck. 914-698-0098. www.emelin.org.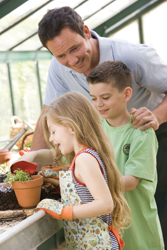 Green Your Life
Learn how to reduce your family's carbon footprint at the Spring Into the Green Eco-Fest.
Get information on going green, including organic land care, solar panels for your home, and organic shopping. Get an up-close view of lizards, birds, mammals, snakes, and birds of prey; make Native American tools; and enjoy live music, entertainment, face painting, pony rides and more. Sunday, May 23, 11am-3pm. $3; $2 children. Weinberg Nature Center, 455 Mamaroneck Road, Scarsdale. 914-722-1289. www.weinbergnaturecenter.org.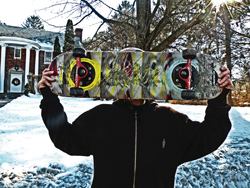 Museums: Multimedia Masterpieces
See the juried art show of works in a variety of media, Inspired By Shakespeare. This exhibit is part of the Sound Shore Shakespeare Festival, organized by the New Rochelle Council on the Arts with support from the New York Council for the Humanities. May 4-23. FREE. Museum of Arts & Culture, 265 Clove Road, New Rochelle. 914-576-6518. www.dbmac.org.
The Pelham Art Center is celebrating its anniversary with Looking Back: Forty Years at Pelham Art Center, a selection of multimedia works originally exhibited at the Art Center during its four-decade history. Highlights and trends include the American Heritage series, multi-cultural art, imagery of the city and suburbs, nature and ecology, domestic life and food, fairytales and children's literature, portraiture, and abstraction. May 7-June 26. Tuesday-Friday 10am-5pm; Saturday noon-4pm. FREE. Pelham Art Center, 155 Fifth Avenue, Pelham. 914-738-2525. www.pelhamartcenter.org.
Kids Focus Photography Exhibition includes the work of the young photographers who won this year's contest. May 23-28. Tuesday-Friday 11am-5pm; Saturday 10am-4pm. FREE. Rye Arts Center, 51 Milton Road, Rye. 914-967-0700. www.ryeartscenter.org.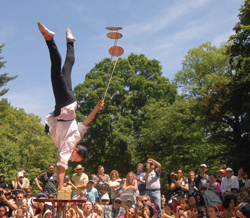 A Memorial Day Staycation
Check out an early-American traveling circus at Animals and Acrobats. Enjoy "Flight of the Raptor" demonstrations with Jennifer Pena, a giant mastodon skeleton replica, tumbling acrobats, tightrope walkers, jugglers, magicians, fortunetellers, mimes, storytellers, horse-drawn wagon rides, music, and more. Refreshments will be available. May 29-31, 10am-6pm. $12; $6 children 5-17; FREE children under 5. Van Cortlandt Manor, 525 South Riverside Avenue, Croton-on-Hudson. 914-271-8981. www.hudsonvalley.org.