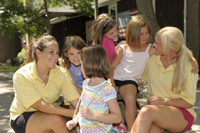 NYMetroParents has the best listings for Westchester summer camps. It's time to gear up for summer activities, and what better way to spend the season than at camp? Whether you choose Westchester day camps, sleepaway camps or specialty camps designed to fit your needs, there is something for every camper in our Westchester County, NY Summer Camps directory. View our comprehensive Westchester camps guide below for camps offering specialized summer programs in sports, theater, music, fashion, academics, and more. There are plenty of Westchester camps to choose from throughout the county. Make NYMetroParents your summer camp authority for Westchester County, NY. Don't forget to check out our great tips for having the best summer camp experience with these articles!
For an even bigger database of Westchester camps, visit westchestercampfair.com
DAY CAMPS

ACRES OF ADVENTURE SUMMER CAMP AT ANN AND ANDY
2170 Saw Mill River Road, Elmsford
914-592-3027

Acres of Adventure Summer Camp at Ann & Andy's is a 1-to-9-week summer camp program for children ages 3 months to 14 years. We are situated on 5 acres with more than 15 playgrounds. The outdoor program includes baseball, soccer, climbing wall, bocce ball court, waterslide, zip line, mini-golf, color games, kickball, basketball, dodge ball, drama, and off-campus swimming and bowling. We also have a tween travel camp for 11-14 year olds. We offer customized schedules, individualized attention, and hot lunches daily, as well as barbeque Fridays. All buildings are air conditioned.

ALCOTT SCHOOL
535 Broadway, Dobbs Ferry
914-693-4443
27 Crane Road, Scarsdale
914-472-4404
46 Fox Meadow Road, Scarsdale
914-595-7551

The Alcott School Summer Fun program will offer a variety of full- and half-day programs for children ages 2-6 years at its 27 Crane Road, Scarsdale and 535 Broadway, Dobbs Ferry locations. Children will have the opportunity for outdoor water play, art experimentation, computer work, hands on science activities, nature exploration, cooking, gardening, and so much more! Afternoon classes will include a variety of fun activities including messy art, science exploration, games, cooking, and so much more!

BADGER SPORTS CLUB
119 Rockland Ave., Larchmont
914-834-1084

Badger is a classic all-around day camp, centered around our Olympic size swimming pool and activities such as baseball, basketball, soccer, gymnastics, tennis, martial arts, golf, yoga, dance, music, drama, nature, arts & crafts, and chess club. Operated by the Collins family since 1945, Badger Day Camp includes hot lunch, door-to-door transportation, towel and laundry service, and a 5:1 counselor-to-camper ratio. For kids ages 3-13.

BLUE ROCK SCHOOL
110 Demarest Mill Road, W. Nyack
845-627-0234

An enchanting place for children to spend summer days with a warm, caring, and experienced staff. Children ages 3½-12 explore art and music, nature and science, woodworking, drama, swimming, games, and free play on four acres of wooded property. CIT program for ages 13 and older. Five weeks: July 1-August 1, Mondays-Thursdays, from 9:30am-3pm. Open House Saturday, March 9 at 2pm. Register at summerplaycamp@gmail.com or 845-627-0234.

BREEZEMONT DAY CAMP
62-64 Cox Ave., Armonk
914-273-3162

Breezemont Day Camp offers a wide variety of activities on an 18-acre campus with six pools for children ages 3-13. An "ABreezeiated" Day is offered for 3- and 4- year-olds not entering kindergarten. Boating/canoeing are popular sports on the lake. Also offered are field sports, tennis, platform tennis, archery, nature, art, film/video, a camp-wide carnival, mini-Olympics, and more. Lunch and transportation are provided.

CAMP KIWI
825 Union Valley Road, Mahopac
845-277-3876

This 20-acre facility owned and operated by the Bellotto family, celebrating its 61st year, has four heated swimming pools, a two-acre pond, indoor activity centers and a sports pavilion, outdoor tents, two tennis courts, a multi-purpose court, state-of-the-art batting cages, a petting farm, and much more, for ages 2-15. Some of Kiwi's features include weekly activity schedules and themes, daily highlights, entertainment days, DJ days, lunches, and door-to-door transportation; extended hours are available. Monday-Friday, 9am-4:15pm. Weekend tours by appointment, 10am-2pm. Online registration available. Metro-North available too. Special 2-year-old program!

CAMP MOHAWK
200 Old Tarrytown Road, White Plains
914-949-2635

For over 80 years, Mohawk Day Camp has provided children, ages 3-13, from Westchester, Manhattan, and Connecticut, with unforgettable summers of friendship, fun, and enrichment. Set on 40 beautiful acres in White Plains, Mohawk offers an unparalleled environment for exploration, discovery, and growth with eight heated pools, outdoor ice skating rink, on-site animal farm, two nature centers, huge ropes course, 23 fields/courts for every sport imaginable, and programs in visual, performing, and creative arts. Please call for a personal tour.

CAMP NABBY
1 Nabby Hill, Mohegan Lake
914-944-3049/914-528-7796

Led by a physical education teacher with 37 years experience, Nabby is all about sports and being active. "I've always said that physical education class is the best period of the school day," says director Joe Bertino, "and here we have it seven hours a day." Nabby has outstanding facilities, heated swimming pools, courts, and buildings on 17 acres of manicured grounds. Complementing the sports program, Nabby has terrific "specials" including arts & crafts, music, gymnastics, a new nature center, and a climbing wall/challenge course. Join us for our 73rd year of camping excellence.

CAMP PELICAN
15 E. Putnam Ave., #3330, Greenwich
203-622-6654

Camp Pelican has been serving families in Westchester and Fairfield since 1965. Family owned and operated on a beautiful 32-acre campus in Greenwich. Campers ages 3–13 years enjoy indoor and outdoor pools, air-conditioned activity rooms and door to door transportation. We offer flexible dates, full and half day programs and a full range of activities. Our staff, with a minimum age of 21, ensures adult supervision for every camper. See all the details on our website.

CAMP RAMAQUOIS
30 Mountain Road, Pomona
845-354-1600
Email prainone@ramaquois.com

Camp Ramaquois is "a day camp as complete as sleepaway camp," situated on 44 acres in Rockland County. From adventurous activities to creative arts and athletic activities, boys and girls ages 3-15 experience a traditional day camp program filled with a variety of stimulating activities. Facilities include a 5-acre crystalline lake, eight heated swimming pools, a splash park, tennis, basketball and volleyball courts, hockey rinks, ball fields, soccer fields, a petting zoo, special events, and more. Many air-conditioned buildings. Visit us on our website or call for a personal tour.

CAMPS PEQUOT & SHERWOOD
253 Bushy Hill Road,
860-767-0848

Located in coastal Connecticut, on 700 wooded acres surrounding a mile long private lake, Incarnation Camp is the country's oldest co-ed camp. Since 1886, we have provided a fun-filled, traditional camp with hands-on learning and group living in the great outdoors. Our camps include: Pequot for boys, Sherwood for girls, and Pioneer Village for teens. Our camps are amazing places to spend your summers–there is nothing quite like the bonds you build with your camp friends as you experience the adventures of summertime together. Campers participate in well-rounded and adventurous programs.

CONCORDIA DAY CAMP
171 White Plains Road, Bronxville
914-395-4848

Concordia Summer Camp offers a variety of programs for campers of all ages. Our Early Childhood Program, for ages 3-5, offers art, music, science, literature, and outdoor play. Our Enrichment Program for grades 1-9 offers classes in oil painting, digital photography, Manga Anime, lamp making, cooking, forensic science, and more. The Concordia Conservatory offers classes in music and art. If your interest is sports, we offer programs for both Early Childhood and Grades 1-9.

DEERKILL DAY CAMP
54 Wilder Road, Suffern
845-354-1466

Deerkill Day Camp, celebrating our 56th season under the Rhodes family, is a traditional day camp located on 15 beautiful acres in Suffern. Our group leaders are all college graduates, and our superb swimming program and extensive specialty program are taught by professionals. We have ample indoor space for rainy day programs. Hot lunches, trips, towels, free weekend club, and other "extras" are all included—there are no hidden costs and tipping isn't allowed.

THE EARLY CHILDHOOD CENTER
250 Bryant Ave., White Plains
914-949-4187

The Early Childhood Center is a NAEYC accredited and NYS licensed program which supports the philosophy that "play is the work of childhood." While in the care of our experienced and nurturing staff, our children grow to their fullest potential by engaging in a developmentally appropriate curriculum. We embrace each child's unique personality and learning style. Our camp starts in early June, with mini-camp followed by five weeks of summer camp.

ESF SUMMER CAMPS AT GREENWICH ACADEMY
200 N. Maple Ave., Greenwich
203-869-4444

Award-winning camps since 1982. Four unique camps: Day camp (ages 4-8) features arts & crafts, swimming, sports, music and drama, world cultures, science, martial arts, fencing, theme days, and special events. Sports camp (ages 6-14) offers instruction and league games in soccer, basketball, baseball, street hockey, lacrosse, team handball, flag football, golf, and swimming. Senior camp (ages 9-15) offers art, swimming, sports, martial arts, fencing, "True Life Adventures," drama, outdoor adventure, cooking, digital photography, break-dancing, and more. Tennis camp (ages 6-15) features skills instruction designed with each camper's age and ability in mind.

ESF SUMMER CAMPS AT RIVERDALE COUNTRY SCHOOL
5250 Fieldston Road, Bronx
718-432-4807

More than 30 years of experience! ESF offers four exciting camps at Riverdale Country School: Day Camp (ages 4-8), Sports Camp (ages 6-14), Senior Camp (ages 9-15), and Tennis Camp (ages 6-15). ESF is an award-winning, family-owned and -operated camp. More than 60 activities, sports, and exciting programs for boys and girls. 2-8 week options. Extended-day available. Optional bus transportation from Westchester County and New York City.

FOR KIDS ONLY
577 N. State Road, Briarcliff Manor
914-923-1889

For Kids Only is a childcare facility located on North State Rd. in Briarcliff Manor, operating daily from 7am-6pm for children ages 2.9-12 years. Our summer program is science centered; teaching about the environment through exploration and experimentation. All meals are provided. Swimming instruction is available (at an additional charge). For children attending outside day camps (that provide transportation), we offer before- and after-camp care. For more information please call Wendy or Karen.

THE GODDARD SCHOOL
62 Triangle Center, Yorktown Heights
914-245-2864
1 Jackson Ave., Hastings-on-Hudson
914-478-1390

At The Goddard School®, summer is full of fun and learning! Energetic teams of teachers plan developmentally appropriate activities to instill a lifelong love of learning. Children are exposed to exciting learning opportunities in a safe and secure environment. Children march in playground parades, learn about creepy crawlies, send letters to pen pals, and enjoy splish-splash days. To discover how Goddard can make this summer your child's best learning experience yet, visit goddardschool.com.
GREAT PLAY - SCARSDALE
Midway Shopping Center, Scarsdale
914-713-3470

Great Play makes it insanely fun for kids, ages 6 months-5th grade, to develop motor and sport skills, fitness and coordination! Come once or come all summer long! You'll never get bored, because of the tremendous creativity and variety of our activities. Each camp session includes at least a dozen carefully planned games and activities every session. Activities include instruction in a wide variety of age-appropriate motor and sport skills, plus tumbling, balancing, rhythm, obstacle courses, climbing, and plenty of free play time, running around, and being silly!

HARVEY CAVALIER SUMMER CAMP AT THE HARVEY SCHOOL
260 Jay St., Katonah
845-677-0491 Off-season / 914-232-0581 Summer

The Harvey Cavalier Summer Camp for children ages 4-14 offers a 6-week program filled with electives in the fine arts, crafts, theatre, music, and dance, as well as swimming, ice skating, gymnastics, sports, science, and more! Guided by professional artists and educators, campers enjoy an adventure of self-exploration. Harvey's 125-acre campus provides a perfect setting for summer fun: an outdoor pool, an indoor ice skating rink, the state-of-the-art Walker Center for the Arts, open fields for sports, and shady pathways through our woods. The Harvey Cavalier Summer Camp—Northern Westchester's premier arts camp.

HUDSON COUNTRY MONTESSORI SCHOOL
340 Quaker Ridge Road, New Rochelle
914-636-6202
Email info@hudsoncountry.org

Programs for campers ages 15 months-12 years. Summer 2013 season is June 24-August 16; 9am-noon or 9am-4pm. Program features hands-on science and nature investigation, a full range of recreational activities, special events and trips, swim instruction, sports, and a splash-and-slide zone. Hudson has extended hours options for all age groups, a catered lunch program, and an air-conditioned facility.

JCC CAMP DISCOVERY (K-9TH GRADES)
500 Yorktown Road (Route 129), Croton-on-Hudson
914-271-7563
JCC Camp Bear Ridge (2-5 years)
600 Bear Ridge Road, Pleasantville
914-741-0333 x21
JCC Camp Katan (1-1/2 years-1st Grade)
3565 Crompond Road (Route 202), Cortlandt Manor
914-736-3076

Rosenthal JCC summer day camps engage children in body, mind, and especially spirit – with spirited daily fun and special activities. You'll find something that every child will love, and we'll make your summer more fun than you ever imagined! (Swimming TWICE daily and free door-to-door transportation at JCC Camp Discovery.)
JEWISH COMMUNITY CENTER OF HARRISON
130 Union Ave., Harrison
914-835-2850

The Early Childhood Center of the JCC of Harrison is dedicated to enriching the lives of young children spiritually, emotionally, socially, intellectually, and physically. The 2-year-old program gradually supports separation of child from parent or caregiver. In programs for 3 and 4 year olds, children explore an environment rich in materials that promotes developmental skills. Summer Camp sessions include a Mommy and Me class and a Pre-K 3's and 4's program. Music, movement, sports, and nature are part of the daily activities. Playground and water-play activities add to the summer fun.

JODI'S GYM
25 Hubbels Drive, Mt. Kisco
914-244-8811
244 E. 84th St., NYC
212-772-7633
Email jodgym@aol.com

At Jodi's Gym, kids run, jump, and tumble their way to fitness! Now in their 31st year, Jodi's Gym camp for 3-7-year-olds is three hours filled with gymnastics, music, art, story time, games, and lunchtime. You won't find a more attentive, caring, knowledgeable, and enthusiastic staff anywhere. Their brightly colored and spacious facility is a child's dream come true. Jodi's Gym offers the most flexible scheduling around—you choose the weeks and days!

KIDS' B.A.S.E. & THE LITTLE SCHOOL
307 Mamaroneck Road, Scarsdale
914-472-5409

The Little School Summer Enrichment Program provides a pre-school experience for 3- and 4-year olds. We create a climate of learning and fun which will further the development of each child socially, physically, and creatively. We strive to help each child adjust easily, strengthen values of cooperation, and have a positive group experience. Little School children swim and receive instruction during the week at the Scarsdale Pool. In everything we do, we promote each child's positive self-image through a variety of age-appropriate physical and creative activities. These objectives are pursued in a low-key and spirited way.

THE LITTLE GYM
777 White Plains Road, Scarsdale
914-722-0072
Upper West Side (bet 74th & 75th Streets)
2121 Broadway (2nd Floor), NYC
212-799-1225
Upper East Side (between 2nd & 3rd Avenues)
207 E. 94th St., NYC
212-787-1124
28 Franklin Turnpike, Waldwick NJ
201-445-4444

Since 1977, The Little Gym has been promoting the healthy and successful physical and mental development of children. Their "Anytime Summertime Kids Fun" includes Parent/Child classes (ages 4 months-3 years), Preschool/Kindergarten classes (ages 3-6 years), and Grade School Gymnastics (non-competitive only!) for beginner, intermediate, or advanced gymnasts. The Little Gym also offers its world-renowned Anytime Summertime Kids camp for children ages 3-9 years, with flexible scheduling to work around your summer plans. Their unique theme-based curriculum takes children on weekly adventures. Half-day and full-day sessions available.
THE MILESTONE SCHOOL
70 W. Broad St., Mt. Vernon
914-667-3478
70 W. Broad St., Fleetwood

Summer at Milestone is an 8-week program with 2-week sessions, full day from 9 am-5 pm, or half day from 9 am-12 pm, for children ages 2-8 years. A typical day for campers includes water play, outdoor play, arts & crafts, music, yoga, story time, cooking, and an introduction to reading through our phonics-based program. Children ages 4 and older enjoy outings in and around Westchester. Bi-weekly themes guide a wide array of indoor and outdoor activities, which encourage and promote learning through play, exploration, and fun.

MOSHOLU DAY CAMP
261 Arden Valley Road, Bear Mountain
845-323-5794

We Make Memories! This summer, Mosholu Day Camp offers children from Kindergarten through 6th grade a fantastic opportunity to become a part of the greatest summer ever! At our campgrounds in Harriman State Park, campers will make new friends, play, learn, and swim, while building self-esteem and making memories that will last a lifetime. Third-grade through 6th-grade campers can even take part in day trips. With a boating program, adventure course, camps choice periods, and beautiful lake, our campers will have the summer of their lives.

MOUNT TOM DAY SCHOOL DAY CAMP
48 Mount Tom Road, New Rochelle
914-636-8130

Serving Westchester families since 1955, Mount Tom provides a safe and supportive environment for children ages 3-14 to learn, grow, and have fun. Children participate in a well-rounded schedule of activities including daily Red Cross swim instruction, team and individual sports, cultural and performing arts, nature, outdoor adventure (rock climbing, ropes course, zip line), electives, and wonderful special events. Door-to-door transportation and hot lunch are included.

OASIS SUMMER DAY CAMP IN DOBBS FERRY AT MERCY COLLEGE
555 Broadway, Dobbs Ferry
646-519-5057
Email dobbs@oasischildren.com

Located along the Hudson River at Mercy College, Oasis in Dobbs Ferry provides campers with a traditional summer day camp experience. Oasis features a variety of activities such as athletics, fine and performing arts, nature exploration, Red Cross Swim instruction, and more. Oasis is for children ages 4-11. Oasis Early Start Imagination Camp is designed to meet the social, emotional, and physical needs of our 4-year-old campers. Oasis also offers our popular Teen Travel program for young people ages 12-14. Visit us at oasischildren.com today!

RUSH DAY CAMP @ SARAH LAWRENCE COLLEGE
914-337-2087
888-475-3445

On 40 wooded acres in Southern Westchester County, Rush Day Camp is located on the campus of Sarah Lawrence College in Bronxville. Offering 5-day and 3-day programs, extended hours am and pm, daily swimming instruction, a 5-to-1 camper-to-staff ratio, themed weeks and special events, traditional day camps, and sports camps, for campers ages 4-13.

SQUIRE CAMPS, INC.
PO Box 885, Sleepy Hollow
914-328-3798
Email squireday@aol.com

Celebrating 40 years! Matt Davanzo operates Squire Advantage Camps, a distinctive camp for children grades K-9 at the Masters School in Dobbs Ferry. Campers design their own custom schedules from over 40 exciting courses including robotics, art, cooking, swimming, computers, photography, Legos, and more. All courses are taught by certified teachers. Squire also operates a Baseball, Tennis, and All-Sports Academy at the Masters School. Hot lunch, T-shirt, early drop-off included. Transportation, extended day, and 3-, 4-, or 7-week sessions available. June 24-August 9.

ST. JAMES THE LESS NURSERY SCHOOL
Crane Road at Church Lane, Scarsdale
914-723-1018

Let your child experience the wonders of our nurturing summer camp. This exciting morning program is for children entering a 3- or 4-year-old program or Kindergarten in the fall. Led by experienced nursery school teachers, our program includes an outdoor playground, sprinklers, story time, and so much more. Our 6-week program is based on weekly summer-fun themes, and we also offer two weeks of mini-camp. Call today to join us for fun in the sun!

THORNTON-DONOVAN SCHOOL
100 Overlook Circle, New Rochelle
914-632-8836

Founded in 1969, the Summer Challenge has been a source of joy, entertainment, enlightenment, and playful fun for boys and girls ages 3-½ to 14. Stop by and see our sports field, basketball court, and new playground! Door-to-door transportation and lunch are included. With an instructional pool on site, swim instruction and recreational swim are major components of the program. Open Houses: Sunday, March 10th and Sunday, April 4th, both from 2pm-4pm. Annemarie Licini-Paris is the Summer Challenge director.

WAGON ROAD CAMP
431 Quaker Road, Chappaqua
914-238-4761

Run by The Children's Aid Society, Wagon Road is a day camp for all children. A diverse group of campers enjoys a comprehensive program of Red Cross swim instruction, horsemanship, adventure ropes course, sports, dance, music, drama, cooking, nature study, and arts & crafts. Campers are organized in small groups with two counselors. We offer overnights with special evening activities, and flexible enrollment plans. Fees are reasonable and include lunch and snacks. Transportation is available at central pick-up locations, as well as early drop-off and extended day.

WESTCHESTER REFORM TEMPLE EARLY CHILDHOOD CENTER
225 Mamaroneck Road, Scarsdale
914-723-5493
Email sue.tolchin@wrtemple.org

Westchester Reform Temple's "Summer Play Place" offers young children a unique summer experience. Our professional staff provides arts and crafts, water play, stories, games, athletics, and snacks within a nurturing and loving environment. The program is enhanced by specialists in music, movement, and nature, with an exciting theme each week. Camp runs 6 weeks, Monday-Friday, 9am-1pm, for children entering the 3's and 4's in September. (Children bring lunch for the 3's and 4's.) Toddler class available 2 days/week (drop off option) for children entering the 2's in September.

WHITE PLAINS YMCA
250 Mamaroneck Ave., White Plains
914-949-8030
Community YMCA of Northern Westchester
336 Route 202, #2, Somers
914-276-2398
Camp Combe YMCA
684 Peekskill Hollow Road, Putnam Valley
845-526-0808

Summer camp programs at the White Plains YMCA are as unique as the campers themselves. We focus on developing the whole child through programs that support children's social, emotional, physical, intellectual, and spiritual development. We do this by designing programs that help youth develop communication skills, engage in problem solving, learn through critical thinking, and contribute to designing the programs they participate in each day. The White Plains YMCA's camp programs build self-esteem and developmental assets by focusing children on their strengths. Ages 3-15 years old. Financial Assistance is available.

YOUNG PEOPLE'S DAY CAMP OF WESTCHESTER
914-792-6555/ 800-DAY-CAMP (329-2267)

Since 1972, our camp has provided safe, fun summers for thousands of youngsters ages 4-14. YPDC is accredited by the ACA and is supervised by licensed teachers and administrators. Our philosophy is to "grow" children intellectually, physically, and spiritually in a fun environment. Activities include swimming, sports, arts & crafts, music, dance, educational and recreational field trips, and special events. Door-to-door transportation is available at no additional charge. Two- to eight-week sessions are available. Ask about special discounts.

YWCA OF WHITE PLAINS
515 North St., White Plains
914-949-6227

Summer Days YWCA: the YWCA offers an array of summer day camp options. Camp Funkist (ages 5-13) provides non-competitive relaxing days of sports, swimming, arts & crafts, music, nature, trips, and many more age-appropriate summer activities. Funkist Travel Camp is for youth ages 12-15. The YWCA has well-equipped indoor and outdoor facilities. Red Cross-certified staff lead recreational and instructional swimming. Also available: Little Friends camp, which is tailored for the pre-schooler; intensive full day summer gymnastics classes; and summer camp for children with developmental disabilities.
Get information/search for more Day Camps
See Section 2 for Specialty Camps
See Section 3 for Sleepaway Camps and Camper Outings

Find more camps in the NY metro area