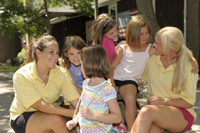 NYMetroParents has the best listings for Westchester summer camps. It's time to gear up for summer activities, and what better way to spend the season than at camp? Whether you choose traditional day camps, sleepaway camps or specialty camps designed to fit your needs, there is something for every camper in our Westchester County, NY Summer Camps directory. View our comprehensive Westchester camps guide below for camps offering specialized summer programs in sports, theater, music, fashion, academics, and more. There are plenty of Westchester camps to choose from throughout the county. Make NYMetroParents your summer camp authority for Westchester County, NY. Don't forget to check out our great tips for having the best summer camp experience with this article!
For an even bigger database of Westchester camps, visit westchestercampfair.com
OUTINGS FOR CAMPERS
BOUNCE! TRAMPOLINE SPORTS
845-268-4000

Your campers will be begging for more field trips when they experience a session at Bounce! Trampoline Sports! We represent the hottest new sports facilities on the east coast, offering trampoline dodgeball, slam dunk basketball, foam-pit jumping, and open trampoline bounce time. Your campers will leave exhausted and happy. We can accommodate several hundred kids at a time in our Valley Cottage or Syosset facility. Register early as our camp days fill up quickly! We also offer an arcade, Wi-Fi/television lounge, and separate trampoline/inflatable zone for kids ages 2-6.

SPORTIME USA
380 Saw Mill River Road, Elmsford
914-592-2111

Come to Sportime USA, where the sun always shines! Sportime USA is the ideal place for your next camp trip. Fully air-conditioned with a restaurant on premises. Activities for all ages include Laser Tag, 4-Dimensional Motion Theater, Rock-climbing Wall, Bumper cars, Himalaya Coaster, Rides, over 200 video/prize ticket games, Batting cages, Billiards, Foam Ball Blaster Arena, and Soft Play Zone. Organized check-in and personalized service have made us the premier choice for camps and groups, year after year. Come out of the heat and rain and step into the fun.

YANKEE STADIUM TOURS
Yankee Stadium, Bronx
212-YANKEES
Email tours@yankees.com

Come out and visit Yankee Stadium by taking a tour of the home of the legendary New York Yankees, presented by MasterCard. Walk into the New York Yankees Museum, presented by Bank of America, view artifacts from former Yankees legends, and learn about the icons who contributed to our national pastime. Visit what some consider the most exclusive area in professional sports—Monument Park. Step into the Yankees Press box and check out the views from MasterCard Batter's Eye Café. Party City Birthday Bash and Legends Tours are also available.

SLEEPAWAY
CAMP CODY
9 Cody Road, Freedom
800-399-4436

Camp Cody for Boys and Girls is a New Hampshire summer camp with a heritage that dates back to 1926. Nestled on the sandy beaches of beautiful Lake Ossipee amidst the White Mountains of New Hampshire, Cody offers a summer experience rich in fun, friendship, learning, and adventure. Campers range in age from 7-15.

CAMP HALF MOON FOR BOYS AND GIRLS
PO Box 188, Great Barrington
413-528-0940
Email info@camphalfmoon.com

Camp Half Moon is celebrating 91 amazing summers of camp adventures in the Berkshire Hills of Western Massachusetts. Located on Lake Buel, Half Moon offers over 45 activity programs tailored to meet the interests of our campers. Our beautiful lakefront campus also includes a heated pool, skate park, challenge course with zip line, playing fields, and studios, all set among the beautiful towering pines. On land and water, we offer a safe, secure environment where kids thrive, learning new skills, making new friends and developing confidence.

CAMP KINDER RING
335 Sylvan Lake Road, Hopewell Junction
845-857-6703

Camp Kinder Ring's commitment to strive for a better world, and our focus on progressive Jewish values contribute to our warm and caring environment. Our programming is designed to provide a full experience in 3-, 4- or 7-week sessions. Kinder Ring encourages both individual choice and structured group participation in planning the daily schedule. By encouraging teamwork and shared living, and guiding personal development, our staff demonstrates their commitment to the healthy growth of our campers. Everyone leaves with a sense of accomplishment, increased self-esteem, and interpersonal skills which will last a lifetime.

CAMPS PEQUOT & SHERWOOD
253 Bushy Hill Road,
860-767-0848

Located in coastal Connecticut, on 700 wooded acres surrounding a mile long private lake, Incarnation Camp is the country's oldest co-ed camp. Since 1886, we have provided a fun-filled, traditional camp with hands-on learning and group living in the great outdoors. Our camps include: Pequot for boys, Sherwood for girls, and Pioneer Village for teens. Our camps are amazing places to spend your summers–there is nothing quite like the bonds you build with your camp friends as you experience the adventures of summertime together. Campers participate in well-rounded and adventurous programs.

INDEPENDENT LAKE CAMP
PO Box 29, Lakewood
1-800-399-CAMP

ILC is a Superior Pocono Mountain Summer Camp dedicated to a diverse community, committed creativity, superb facilities, and powerful individualized programming. ILC accommodates 500 boys and girls ages 6-17, with the option of 2-, 3-, 4-, 5-, 7-, or 9-week sessions. The camp offers many exciting programs including circus, land sports, visual arts, performing arts, mountain biking, rock music, water sports, role playing games, video, computers, tennis, golf, ropes course, horseback, mountain boarding, magic, newspaper, rollerblading, skateboarding, climbing wall, go-karts, rocketry, swimming pool, BMX biking, fitness and weight training, and much more.

SERVICES FOR CAMPERS
We know stickers and labels. With over 500,000 customers and celebrating our 17th year, Family Labels has been making sure your children's belongings come home from camp and school. We manufacture every item in our more than 7,000-square-foot South Florida manufacturing facility. Come check out our site at familylabels.com and see why we "Guarantee To Deliver A Smile." A proud member of the American Camp Association.

LICE LADY OF WESTCHESTER, THE
914-497-5465
Email thelicelady@aol.com

Anna Albano Krosche, The Lice Lady of Westchester, is a natural lice and nit removal specialist. Since 1998, she has eradicated lice and nits from thousands of children and their families with her all natural, chemical-free lice removal technique. After experiencing the frustration of head lice with her own children 15 years ago, it became clear to Anna there was a great need for someone to help. Salon visits or in-home head lice removal appointments are available. She is highly recommended by her clients, school nurses and pediatricians throughout Westchester.

LICENDERS
30 Myano Lane, Stamford
203-961-9918
888-LICENDERS (542-3633)

Licenders, an all-natural lice removal company, has launched KLOOC–Keep Lice Out Of Camp. The program offers the opportunity to bring their kids to any of the three Licenders locations for free head lice screenings. Adie Horowitz, owner, says this prevents unknowingly spreading lice to classmates and family. By using Licenders, kids won't have to be sent home from school. Licenders clinicians go through extensive training and are FDA-cleared. Licenders has contracts with more than 100 schools in the tri-state area and is located in Connecticut, Long Island, and Manhattan.
See Section 1 for Day Camps
See Section 2 for Specialty Camps

Find more camps in the New York metro area