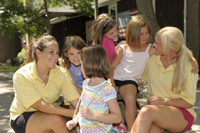 UPDATED FEBRUARY 2014: NYMetroParents has the best listings for Westchester summer camps. It's time to gear up for summer activities, and what better way to spend the season than at camp? Whether you choose traditional day camps, sleepaway camps or specialty camps designed to fit your needs, there is something for every camper in our Westchester County, NY Summer Camps directory. View our comprehensive Westchester camps guide below for camps offering specialized summer programs in sports, theater, music, fashion, academics, and more. There are plenty of Westchester camps to choose from throughout the county. Make NYMetroParents your summer camp authority for Westchester County, NY. Don't forget to check out our great tips for having the best summer camp experience with this article!
For an even bigger database of Westchester camps, visit westchestercampfair.com
OUTINGS
BOUNCE! TRAMPOLINE SPORTS
612 Corporate Way (off Route 303), Valley Cottage
845-268-4000
310 Michael Drive, Syosset
516-762-1300
Email [email protected]

Your campers will beg for more field trips when they experience Bounce! We represent the hottest new sports facilities on the east coast, offering trampoline dodgeball, slam dunk basketball, foam-pit jumping, the first indoor trampoline bungee jump in America, and open trampoline bounce time. Your campers will leave exhausted and happy. We can accommodate several hundred kids in our Valley Cottage or Syosset facility. Register early as our camp days fill up quickly! We also offer an arcade, Wi-Fi and television lounge, and separate trampoline/inflatable zone for kids ages 2-6.

SPORTIME USA
380 Saw Mill River Road, Elmsford
914-592-2111

Come to Sportime USA, where the sun always shines! Sportime USA is the ideal place for your next camp trip. Fully air-conditioned with a restaurant on premises. Activities for all ages include Laser Tag, 4-Dimensional Motion Theater, Rock-climbing Wall, Bumper cars, Himalaya Coaster, Rides, over 200 video/prize ticket games, Batting cages, Billiards, Foam Ball Blaster Arena, and Soft Play Zone. Organized check-in and personalized service have made us the premier choice for camps and groups, year after year. Come out of the heat and rain and step into the fun.

YANKEE STADIUM TOURS
Yankee Stadium, Bronx
646-977-TOUR (8687)
Email [email protected]

Come take a tour of Yankee Stadium, the home of the legendary New York Yankees, presented by MasterCard. Walk into the New York Yankees Museum presented by Bank of America, view artifacts from former Yankees legends. Visit what some consider the most exclusive area in professional sports—Monument Park. Head into the Yankees Press Box. And get the opportunity to step out onto the warning track behind home plate, just like the players. Party City Birthday Bashes and Pre-Game Tours are also available by calling the tours office.
SLEEPAWAY
CAMP HALF MOON FOR BOYS AND GIRLS
PO Box 188, Great Barrington
413-528-0940
Email [email protected]

Camp Half Moon is celebrating 92 amazing summers of camp adventures in the Berkshire Hills of Western Massachusetts. Located on Lake Buel, Half Moon offers over 45 activity programs tailored to meet the interests of our campers. Our beautiful lakefront campus also includes a heated pool, skate park, challenge course with zip line, playing fields, and studios, all set among the beautiful towering pines. On land and water, we offer a safe, secure environment where kids thrive, learning new skills, making new friends and developing confidence.

CAMPS PEQUOT & SHERWOOD
253 Bushy Hill Road,
860-767-0848
Email [email protected]

Located in coastal Connecticut, on 700 wooded acres surrounding a mile long private lake, Incarnation Camp is the country's oldest co-ed camp. Since 1886, we have provided a fun-filled, traditional camp with hands-on learning and group living in the great outdoors. Our camps include: Pequot for boys, Sherwood for girls, and Pioneer Village for teens. Our camps are amazing places to spend your summers–there is nothing quite like the bonds you build with your camp friends as you experience the adventures of summertime together. Campers participate in well-rounded and adventurous programs.

FROST VALLEY YMCA
2000 Frost Valley Road, Claryville
845-985-2291
Email [email protected]

Here in the Catskill Mountains, Frost Valley YMCA is a camp all year 'round! Summers are filled with traditional sleepaway camp activities—roasting marshmallows, singing songs, playing sports, putting on skits, and making lifelong friends. We also offer Horse Camp for girls, Farm Camp, and Adventure Trips, all of which offer campers challenging outdoor experiences. Throughout the school year, we're open every weekend to families, Girl Scout and Boy Scout troops, outdoors clubs, and other groups for indoor and outdoor activities all ages enjoy, like hiking, canoeing, snow tubing, and more.

ID TECH ACADEMIES FOR TEENS
Held at NYU, Vassar, Princeton, Stanford, and select prestigious universities nationwide,
888-709-TECH (8324)
Email [email protected]

Gain a competitive edge and learn how programming, game development, filmmaking, or photography can become a college degree and even a rewarding career. Two-week, pre-college summer programs for ages 13-18: iD Programming Academy, iD Game Design & Development Academy, and iD Film Academy. Held at prestigious universities including NYU, Vassar, Stanford, and others. Also weeklong camps for ages 7-17 at iD Tech Camps.

ID TECH CAMPS
Held at Fordham, Sarah Lawrence, Vassar, NYU, Stanford, and over 80 universities nationwide,
888-709-TECH (8324)
Email [email protected]

Take interests further and gain a competitive edge for school, college, and future careers! Ages 7-17 create apps, video games, C++/Java programs, movies, and more at weeklong, day, and overnight summer programs. Held at Fordham, Sarah Lawrence, NYU, Adelphi, Vassar, Columbia, Princeton, Stanford, and others. Also two-week, pre-college programs for ages 13-18.

THE AFTER-SCHOOL PROGRAMS OF THE FRENCH-AMERICAN SCHOOL OF NEW YORK
111 Larchmont Ave., Larchmont
145 New St., Mamaroneck
85 Palmer Ave., Scarsdale
914-250-0415


The French-American School of New York is offering a five-week French Immersion Camp from June 23-July 25 for children in Nursery through Grade 5, and a two-week sleepaway camp in the Catskills from June 21-July 3. Campers have the chance to learn or reinforce their French through a variety of age-appropriate activities, including art, crafts, music and dance, and a weekly field trip or workshop. For more information and to register, go to fasny.org/camps.
See Section 1 for Day Camps
See Section 2 for Specialty Camps

Find more camps in the New York metro area