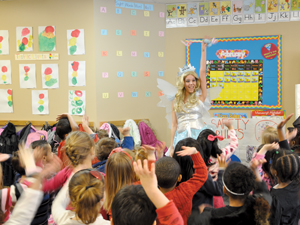 In February and March, elementary and preschool students across the county got a visit from a very special, if somewhat mythical, guest: the Tooth Fairy. Accompanied by Louis Cooper, DDS, and other staff members of Rye Brook's
New York Pediatric Dentistry, the Tooth Fairy stopped by to teach students at schools including Purchase Community House and Bedford Discovery School about oral hygiene in honor of National Children's Dental Health Month, which took place in February.
After practicing pediatric dentistry for more than 30 years in Manhattan, Dr. Cooper opened the doors to New York Pediatric Dentistry in November. He decided soon after that he wanted to take a more hands-on role in his community: to increase awareness of new advances in dental health among parents and help children establish good oral hygiene early in life. The goal of the Tooth Fairy visits, he says, was to generate excitement among the students about good dental health and encourage positive feelings about visiting the dentist. The children learned about good brushing and eating habits through an interactive presentation and a Q&A with the Tooth Fairy and were also presented with "goodie bags" to take home, which included educational materials for their parents.
New York Pediatric Dentistry's Tooth Fairy will continue to visit schools throughout the year. Though you could tuck a molar under your pillow and hope she materializes, the best way to request an appearance at your school is to contact New York Pediatric Dentistry at 914-925-1099 or visit www.nypediatricdds.com for more information.