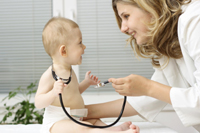 Our health and wellness guide to Westchester County, NY, features everything you need to keep you family healthy, including Westchester pediatricians and doctors, dentists, hospitals and medical centers, fitness centers and programs, and more.
A DANCE STUDIO
2094 Boston Post Road, Larchmont
914-834-2432

When choosing a dance school, look for professionalism, quality, and experience. A Dance Studio satisfies these standards of excellence. They offer classes in jazz, tap, ballet, hip-hop, pre-school and yoga. Dance birthday parties are a big hit. You'll like the friendly way you are treated and will appreciate the great feelings of accomplishment and fun that dancing provides. Director Yvonne Karas Rosenberg invites you to join "our family, where all of our students are important to us." This fall, try the exciting dance/exercise craze, ZUMBA!

BOUNCE! TRAMPOLINE SPORTS
612 Corporate Way (off Route 303), Valley Cottage
845-268-4000
Email info@bounceonit.com

Bounce! offers the opportunity to play sports, have fun, and get fit on enormous courts of interconnected trampolines. Guests can enjoy open jump time, trampoline dodgeball, slam dunk basketball, foam-pit jumping, and now, and soon, the first trampoline bungee jump in America! Bounce! also has private party rooms, a Wi-Fi lounge, healthy-food vending machines and snack bar, an arcade, and a separate Bounce! Jr. Zone for kids ages 6 and younger. Ask us about Toddler Time! School, camp, and group trips welcome. Fundraising opportunities available. Now open in Syosset.

BRAIN BALANCE ACHIEVEMENT CENTER OF NORWALK
15 Cross St., Norwalk
203-286-7428
49 W. Allendale Ave.
Allendale, NJ 07401
201-825-1030

At Brain Balance Achievement Centers, we don't just work with a child's strengths or provide strategies to compensate for a weakness, we tackle your child's learning, behavioral, or developmental challenge head on, by addressing the core issues at the most fundamental level. We integrate cognitive, sensory-motor, and nutritional training into a unique, drug-free, whole-child approach that goes beyond the symptoms to address root causes. Every child deserves the opportunity to reach their fullest social and academic potential. Stop in or call to learn more about the Brain Balance Program® and how we can help your child succeed.

BRIARCLIFF PEDIATRIC DENTISTRY
325 S. Highland Ave., Briarcliff Manor
914-762-4151

The most amazing laser technology in our office has changed the way your children receive dental care. No more shots! No prolonged, high-pitched sounds and vibrations of the drill! Cavities can now be treated with such ease in no time. Treating tongue-ties and lip-ties with the laser have helped many moms who have difficulty with breastfeeding. Please call for a free consult.

CENTRAL PARK DANCE
450 Central Park Ave., Scarsdale
914-723-2940

For over 30 years, Central Park Dance has been providing all types of dance instruction in a caring and nurturing environment. We believe that superior teaching and a supportive atmosphere go hand in hand. With programs in ballet, pointe, jazz, tap, and hip-hop, as well as fitness classes like Yoga Flow, Pilates Ball, Boot Camp Workout, Aerobics, ZUMBA®, Latin Fit, and MuZe. Central Park Dance has a program for every interest, with over 175 weekly classes to choose from. Voted Best of Westchester 2013!

CHILDREN'S HOSPITAL AT MONTEFIORE
3415 Bainbridge Ave., Bronx
718-741-2426

The Children's Hospital at Montefiore (CHAM) has offices in Westchester, including surgical neuro-oncology in Scarsdale, and pediatric cardiology at WestMed in Yonkers. CHAM is consistently recognized among the top hospitals nationally by U.S. News & World Report, and is a recognized leader in the areas of cardiology and cardiothoracic surgery, gastroenterology, endocrinology, neonatology, nephrology, neurology, neurosurgery, oncology, orthopaedics, pulmonology, rheumatology, urology, and surgery. CHAM's transplant program is the second busiest in New York State, and reports one-year patient survival rates approaching 100 percent for heart, liver, and kidney. Visit cham.org/westchester.

CONDORS SWIMMING CLUB
845-638-4381
Westchester Community College
75 Grasslands Road, Valhalla
Mark Twain Pool, Yonkers Montessori Academy
160 Woodlawn Ave., Yonkers
Email join@condorsswimming.com

Learn to swim from the best! We offer half-hour lessons with a low student: teacher ratio for Beginner through Pre-Competitive swimmers. The Condors have a place for swimmers of all skill levels and are committed to providing the absolute best coaching available, including an Olympic Team Coach and ASCA Hall of Fame Coach. Our competitive swim team includes Olympic Trial qualifiers and several national event qualifiers. We offer two state-of-the art facilities in Westchester. For year-round lessons and team try-outs, please email/call for more details.

DR. PAUL CHU - RYE PEDIATRIC DENTISTRY
130 Theodore Fremd Ave., Rye
914-967-0000

Rye Pediatric Dentistry is a pediatric dental practice whose doctors are specifically certified in treating children. We provide quality dental care to infants, children, adolescents, and those with special needs. Delivery of care in a compassionate, humanistic, and respectful manner is our priority. Our office emphasizes the importance of early prevention, beginning with the first dental visit at the age of one. Our goal is to make your child's experience as comfortable and positive as possible, resulting in beautiful healthy smiles!

ERICA FISH, DMD/ME SMILES DENTAL, PC
280 N. Central Park Ave., Suite 430, Hartsdale
914-421-1010

ME Smiles Dental focuses on prevention and early treatment of dental disease in a positive, trusting environment. We want you to feel good about dental visits and establish habits for a lifetime of beautiful, healthy smiles. Dr. Erica Fish cares for children and individuals with special needs; she treats every child as she would her own, ensuring positive experiences. Dr. Michael Fish provides general and cosmetic dentistry for adults within the same relaxed and comfortable environment. We are a "dental home" for our families, providing support in every aspect of oral health.

FIDELIS CARE
888-FIDELIS (343-3547)

As the New York State Catholic Health Plan, Fidelis Care offers quality, affordable coverage for children and adults of all ages and at all stages of life, including products available through New York State of Health: The Official Health Plan Marketplace. With more than 900,000 members in 59 counties Statewide, Fidelis Care was founded on the belief that all New Yorkers should have access to affordable, quality health insurance. For more information, call Fidelis Care at 888-FIDELIS (888-343-3547) or visit fideliscare.org.

GRANDMASTER B. M. KIM'S TAE KWON DO
60 S. Broadway, White Plains
914-428-0085
187 N. Main St., Port Chester 914-934-1861
969 N. Central Ave., Scarsdale
914-472-2060
7 College Ave., Nanuet
845-623-2002

At Grandmaster B.M. Kim's Tae Kwon Do school, we offer a variety of classes suitable for all ages, 3 and older. We have specialized PeeWee classes, children, adult, and family classes. We specialize in birthday parties and children's summer camp programs. Call today to book your next Tae Kwon Do birthday party with us!

HARTSDALE FAMILY EYECARE
221 E. Hartsdale Ave., Hartsdale
914-725-1600

Help your child excel in school. Children often have 20/20 eyesight, but may have other visual problems that interfere with learning, and even sports performance. Most school screenings only test distance eyesight, and vision problems that affect performance go undetected. Featured on ABC News, Dr. Schwartz has years of experience treating children. Warning signs include avoiding reading, poor comprehension, and re-reading words and lines. With a comprehensive eye examination, Dr. Schwartz can determine if visual problems exist, customizing treatment. She also fits specialty contact lenses to stop the progression of nearsightedness.

HOUSE OF SPORTS WESTCHESTER
1 Elm St., Ardsley
914-479-5419

Health and fitness is a crucial part of all child development. The House of Sports Tots Academy is the area's leading child physical development program. It uses a variety of fun and games to delight and engage kids in physical activity whileteaching them different sports. Children ages 18 mos.-4 years can learn baseball, basketball, football, soccer, or tumbling in a non- competitive environment that promotes fun above all else! Our Winter 1 Class Session starts on Nov. 6, and registration is now open. Call 914-479-5419 to register or visit houseofsportsny.com for more information.

HUDSON HEALTH PLAN
303 S. Broadway, Suite 321, Tarrytown
800-339-4557

Good news! No family earns too much to qualify for New York State's Child Health Plus insurance. Call Hudson Health Plan to enroll in free and low-cost insurance programs for children and adults. Hudson Health Plan offers comprehensive medical and dental care from the area's leading doctors and hospitals, and has received the highest ratings in customer satisfaction in the Hudson Valley since 2003. Visit the website for more information and follow us on Facebook. Your health matters.

ISG GYMNASTICS
151 Crotona Ave., Harrison
914-835-0010

ISG Gymnastics, serving the community for over 35 years, is a family-run business where the kids come first! Classes for children, ages 10 months through high school. Ongoing registration. Birthday parties available. Girls' team and Camps. Call for information and start your child towards a healthy future today.

JODI'S GYM
25 Hubbels Drive, Mount Kisco
914-244-8811
244 E. 84th St., Manhattan
212-772-7633

Jodi's Gym has been providing New York kids the highest level of fun and fitness for 32 years! Their step-by-step, no fail approach ensures that every child feels a sense of accomplishment. From the tiniest tumblers to advanced gymnasts (ages 9 mos.-12 years), there is something for everyone. They offer parent/child gym and music classes, preschool gymnastics, preschool alternative, grade school gymnastics, summer and holiday break camps, free monthly perks, free open playtime for members, play groups, private lessons, and the best birthday parties ever.

THE LICE LADY OF WESTCHESTER
914-497-5465
Email thelicelady@aol.com

Anna Albano Krosche, The Lice Lady of Westchester, is a natural lice and nit removal specialist. Since 1998, she has eradicated lice and nits from thousands of children and their families with her all natural, chemical-free lice removal technique. After experiencing the frustration of head lice with her own children 15 years ago, it became clear to Anna there was a great need for someone to help. Salon visits or in-home head lice removal appointments are available. She is highly recommended by her clients, school nurses and pediatricians throughout Westchester.

THE LITTLE GYM
777 White Plains Road, Scarsdale
914-722-0072
2121 Broadway, 2nd Floor (between 74th and 75th streets)
Upper West Side, Manhattan
212-799-1225
207 E. 94th St. (between Second and Third avenues)
Upper East Side, Manhattan
212-787-1124
28 Franklin Turnpike Waldwick, NJ
201-445-4444

The Little Gym is an exercise and motor development center offering gymnastics classes, sports skills development, dance, cheerleading, and karate classes for children ages 4 mos. to 12 years, in a loving, non-competitive environment. Qualified instructors implement programs designed to build self-esteem and confidence. An emphasis on music and fun encourages both physical and emotional growth. The Little Gym also offers summer camp, holiday camp, Parent Survival Night, and Awesome Birthday Bashes.

MAIN STREET PEDIATRIC DENTISTRY
115 Main St., Suite 302, Tuckahoe
914-633-4440

Both Dr. Penny and Dr. Fran, along with the team members, have been trained in a variety of methods to help your child feel comfortable with dental treatment, and the responsibilities associated with taking care of his or her oral hygiene. Children with medical, physical, emotional, and mental disabilities deserve special attention, and find our dental experience particularly wonderful. The dental visit should be an education for your child, giving them the tools and reinforcement necessary to continue to care for their health.

MARIA FARERI CHILDREN'S HOSPITAL
100 Woods Road, Valhalla
914-493-7000

Maria Fareri Children's Hospital at Westchester Medical Center is the children's hospital for the Hudson Valley. It is the hospital that will care for a child you love if he or she is seriously ill or injured. Parents from Saugerties to Scarsdale and beyond bring their kids to Maria Fareri Children's Hospital for life-changing and lifesaving care, such as open-heart surgery, brain surgery, organ transplants, burn care, cancer treatments, and much, much more. Its clinical expertise is matched only by its supportive, healing environment that gets the whole family feeling better.

MT. KISCO PEDIATRIC DENTISTRY
105 S. Bedford Road, Suite 315, Mount Kisco
914-339-0180

Dr. Loan Mao is a board-certified pediatric dentist whose passion for treating children goes beyond just restoring dental decay. Her practice philosophy is centered on education and prevention for a lifetime of oral and overall health. Dr. Mao and her team make an effort to provide a nurturing, safe, and fun environment for your children so they may grow into happy and healthy individuals with no dental fears. She welcomes children from infants to adolescents, including those with special needs.

NEW ROCHELLE KIDS DENTAL, PC
77 Quaker Ridge Road, #210, New Rochelle
914-632-2800

Dr. Moonsun Kim is a board-certified pediatric dentist and offers the highest quality of dental care in a state-of-the-art facility. Dr. Kim and her amazing staff offer comprehensive dental care for children under 21 years of age, and any child with special needs. Dr. Kim believes in serving each child with unique and individualized attention, so she can make his or her visit fun, and form a lifetime of positive dental habits.

NEW ROCHELLE ORTHODONTICS
77 Quaker Ridge Road, Suite 202, New Rochelle
914-636-5958

Dr. Lee's dedication to lifelong learning and continuing education keeps her on the cutting edge of orthodontic advancements, including Invisalign for teens and adults, self-ligating braces, temporary anchorage devices (TADs), ceramic braces, and other contemporary methods. She respects each patient's individuality, and forms a customized plan, so treatment is perfectly suited to their needs. Dr. Lee's famously friendly and knowledgeable team is committed to making you feel welcome. They look forward to establishing a trusting and lasting relationship with your child and your family. Get started on your new smile today!

ONTRACK SPORT CENTER
29 S. Depot Plaza, Tarrytown
914-909-2974

OnTrack Sport Center is a 26,000-sq.-ft. indoor sport facility, offering recreation, training, and competitive programs in soccer, lacrosse, and baseball to athletes of all ages. Fall and winter programs are now available on our website. Try our indoor boot camp co-sponsored by the Tarrytown YMCA every Wednesday morning. Celebrate your child's next birthday at OnTrack with one of our spectacular sports party packages. Voted 2009 Best of Westchester - Indoor Sports Center.

PEDIATRIC ASSOCIATES OF SOUTHERN WESTCHESTER, PC
145 Huguenot St., Suite 200, New Rochelle
914-235-1400

At Pediatric Associates of Southern Westchester, we are committed to providing quality, comprehensive healthcare for your child. Our new office is conveniently located and accessible from major highways and public transportation. Drs. Meisler, Smith, and Mandelker are affiliated with Sound Shore Medical Center and the Albert Einstein College of Medicine/Montefiore Children's Hospital. We accommodate same-day sick visits. Call for a complimentary new patient consultation.

PHELPS MEMORIAL HOSPITAL CENTER
701 N. Broadway, Sleepy Hollow
914-366-3000

Phelps Memorial Hospital offers one of the broadest ranges of hospital services in Westchester. Patients benefit from distinguished physicians, many of whom are pioneers in their fields, who offer the most advanced procedures, using the latest technology. The family-centered maternal child unit has one of the lowest cesarean rates in the region. The Department of Health recognized Phelps as among the top 10 hospitals in New York with the highest percentage of mothers who exclusively breastfeed their newborns. The emergency department has all private rooms.

PM PEDIATRICS - WESTCHESTER
620 E. Boston Post Rd., Mamaroneck
914-777-KIDS (5437)

PM Pediatrics is an alternative to the ER when your pediatrician's office is closed. Open until midnight, 365 days a year, for patients up to age 21. We treat asthma, fever, stomach distress, infections, fractures, wounds requiring stitches, and more. Our doctors and nurses are specially trained in pediatric emergency medicine, our onsite x-ray, lab, and rapid tests allow for immediate results. Our child-friendly locations have short wait times and we accept most insurance plans.

PRASANTHI STUDIO: FAMILY YOGA AND WELLNESS CENTER
136 Fifth Ave., Pelham
914-380-4668

Prasanthi Studio is a yoga and wellness community for adults and children that provide services and classes supporting total well being. Prasanthi is an affiliate of Little Flower Yoga offering after-school and weekend yoga classes for children ages 3-19, summer programs, birthday parties, private lessons, yoga for special-needs children and families, and school-based yoga programs. Regular events and workshops include mommy-baby yoga, infant massage, childbirth education, prenatal yoga, parenting groups and women's groups.

REPRODUCTIVE MEDICINE ASSOCIATES OF CONNECTICUT
Locations in Norwalk, Danbury & now Stamford (1290 Summer St, Ste. 3200),
800-865-5431

At Reproductive Medicine Associates of Connecticut (RMA of CT), patient care begins with a partnership between patients and an award-winning team of fertility doctors. Patients have the opportunity for comprehensive services including acupuncture, nutrition counseling, therapy, and more. Based on individual patient needs, personalized fertility treatment plans may include in vitro fertilization (IVF), intracytoplasmic sperm injection (ICSI), intra-uterine insemination (IUI), egg donation, and/or a new, cutting-edge technology called Comprehensive Chromosome Screening (CCS).

ROOFTOP RHYTHMS DANCE STUDIO
10 S. Division St., #7, New Rochelle
914-576-6027

Directors Susan Ayson and Dana Ruggiero are "raising the roof" on their 13th dance season! Classes are offered for students ages 2-adult in tap, ballet, jazz, hip-hop, modern, Broadway jazz, and "2 Too Cute!" We are still accepting registration for the 2013-2014 season. Affordable pricing plans and class/sibling discounts. No registration fee required! Also offering "Strong Mamas" fitness classes as well as ZUMBA!

SENSORY STEPPING STONES
83 S. Bedford Road, Suite 201, Mt. Kisco
914-244-4101

Sensory Stepping Stones is an intensive, drug-free, therapeutic clinic focusing on improving sensory processing skills and developmental learning abilities, to meet the needs of children through adults. We offer a Comprehensive Assessment to determine the specific areas that require intervention, then develop personalized treatment programs for each individual. We provide a variety of traditional and innovative treatment programs in the hopes of creating opportunities for individuals and families to reach their full potential.

SMILE MORE DENTISTRY
140 Oak Tree Road, Tappan
845-675-1509
Email smilemorelivemore@gmail.com

We specialize in quality, affordable, comfortable, and virtually painless dentistry for the entire family, and we are right in YOUR neighborhood! Perfect for busy families on the Rockland/Bergen border. The office offers general and cosmetic dentistry, children's dentistry, braces and Invisalign, one-hour whitening, oral surgery, and root canal treatment. All procedures are done on premises. Best known for the latest technology combined with expert and gentle hands, Drs. LaCap and Tong have been providing dental care for over 23 years. Both are graduates of Columbia University School of Dental and Oral Surgery.

SOCIABLE KIDZ®
1600 Harrison Ave., Suite 105, Mamaroneck
914-502-3295

Is your child having trouble making friends? Sociable Kidz® provides social skills groups for children ages 4-12. The small groups (2-8 children per group) ensure that your child receives individualized attention in areas including problem-solving, sharing, taking turns, recess skills, coping mechanisms, anti-bullying techniques, etc., using hands-on activities, games, role playing, and social stories. New after school classes include: Science, Arts and Crafts, and LEGOs.

SOLARIS SPORTS CLUB
201 Veterans Road, Yorktown Heights
914-962-4094
Solaris Sport & Racquet Club
5 Browns Lane, Hawthorne
914-592-3737

Tennis is a great way to exercise, meet new friends, enjoy competition, and have fun! Solaris Sports Clubs offers a 10-and-Under tennis instructional program with smaller courts, shorter racquets, and balls that bounce lower, making it easier for kids to play the game and develop a love for the sport right from the start! Many day and times to choose from. Call and register today!

STEPHANIE L. WOLMAN, OD, FCOVD
550 Mamaroneck Ave., Suite 200, Harrison
914-777-5767

Dr. Stephanie L. Wolman, is a board-certified developmental optometrist, who provides comprehensive eye examinations and specialized testing for infants, children, and adolescents, including those with learning disabilities, developmental delays, autism, and other special needs. Her office is outfitted with specialized equipment to accommodate all ages and abilities. Vision therapy is provided for patients with visual processing difficulties, reduced spatial awareness, poor tracking skills, strabismus, and amblyopia.

STUDIO B DANCE CENTER
281 White Plains Road (entrance on Prospect), Eastchester
914-793-2799

Studio B offers a wide variety of classes for boys and girls ages 2 and older. Their nurturing staff members have college degrees, professional performance experience, and/or are certified in early childhood dance education. Convenient class schedules allow parents to bring siblings to dance at the same time in one of their three state-of-the-art studios. Pleasant waiting rooms have windows and TV monitors, so parents can watch their children dance. Classes offered seven days a week. Visit their colorful, informative website for details.

VILLAGE PEDIATRIC GROUP
115 Main St., Tuckahoe
914-771-7070

Village Pediatric Group offers state-of-the art technology to facilitate advanced care in a warm, family-friendly environment. For Drs. Heather McGowan, Florencia Braier, and Karma Cinnante, the most important part of their relationship with patients is communication. Being highly accessible, they provide their patients with expert care and the reassurance of consistent reliability. Drs. McGowan, Braier, and Cinnante understand that supportive, personal attention is the best and only approach to your child's care. They cover all aspects of your child's health, from lactation consulting to adolescent physicals. Visit their website.

WILL2LOSE WEIGHT LOSS FITNESS CLUB, INC.
303 Central Park Ave., Scarsdale
914-358-9890

Have you ever thought, if only there was a place where your needs and concerns regarding weight loss and making Real lifestyle changes was a priority, you could really see success? Will2lose is just that place! The Will2lose program is designed to address all your nutritional, emotional, mental, and physical needs to help you achieve Real results. These are all components of the Weight-Loss Team Challenge. All that, plus a Personalized Lifestyle Coach in your corner to whom you are accountable, combined with team support, camaraderie, and education, makes for a winning combination.

WORLD SEIDO KARATE - JOHSHIN HONZAN
1 Parkway Plaza (Exit 21 off the Saw Mill River Parkway), Elmsford
914-909-5000

When Seido was established in 1976, there were hardly any martial arts schools in New York. Now, you see a school on almost every corner! We have consistently provided what we still offer at Seido for 37 years: high-quality traditional Japanese karate that develops the mind, body, and spirit in harmony. Adults and children of all levels can enjoy the benefits of karate—your focus and physical fitness will improve in a positive environment with professional instruction. Take a trial class and see why our students call us a "Seido Family."