See what's happening this February in Westchester County, NY. We've rounded up some of the best activities and events for kids and families.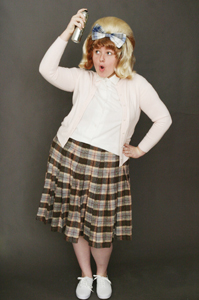 A Smash Hit on the Local Stage
See the Tony Award-winning musical Hairspray, about Tracy Turnblad, a plus-size heroine who finds herself transformed from outsider to teen celebrity overnight. Presented by Random Farms Kids' Theater. February 5 at 2pm and 7:30pm; February 6 at 1pm and 7pm. $18; $16 children. Tarrytown Music Hall, 13 Main Street, Tarrytown. 877-840-0457.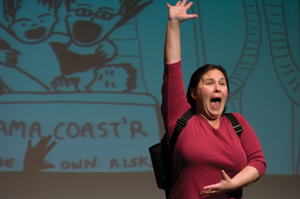 A Show Just for Parents
See the New York premiere of the one-woman show, The Passion of the Hausfrau. Bess Welden (actor/writer) and Nicole Chaison (writer/cartoonist) adapted the stories, drawings, and characters from Chaison's popular Hausfrau Muthah-zine into a full-length evening of theater that made its world premiere at Portland Stage Company in March 2009. The Passion of the Hausfrau is a laugh-out-loud comedy about a mother who discovers that the rollercoaster ride of raising young kids is actually the path to creating her own masterpiece. February 3-5 and 10-12 at 8pm; February 6 and 13 at 2pm. $29-$39; group discounts available. White Plains Performing Arts Center, City Center, Mamaroneck Avenue, White Plains. 877-548-3237.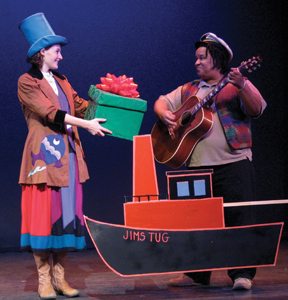 Celebrate Black History Month
Make a collage square for the Field Library Unity Quilt. February 2 at 4pm. FREE. The Field Library, 4 Nelson Avenue, Peekskill. 914-737-0847.
See The African Drum, a celebration of multicultural sharing for African-American History Month. Listen to the wit, wisdom, and humor of the African drum as it reveals "How The Turtle Got Its Shell" and two more African folk tales woven into the shadow puppet adventures of the little girl Kijana and her animal friends. Reservations are required. February 8, 9, and 10 at 10am and 11:30am. $15 advance; $20 at the door. Hostos Center for Arts and Culture, 450 Grand Concourse at 149th Street, Bronx. 212-724-0677. www.shadowboxtheatre.org.
At Presidents and African American History, celebrate the opening of the new exhibition, A Clash of Cultures: Anne Hutchinson's Brief Life near St. Paul's Church. The show chronicles the collision of the Lenape Indians, the colony of New Netherland, and the bold Puritan exile, Anne Hutchinson, near St. Paul's in the early 1640s. Plus, enjoy talks and re-enactments commemorating President's Day and Black History Month, including appearances by Presidents Washington, Lincoln, and Franklin D. Roosevelt and special activities for children. February 12 at noon. FREE. St. Paul's Church National Historic Site, 897 South Columbus Avenue, Mount Vernon. 914-667-4116. www.nps.gov/sapa.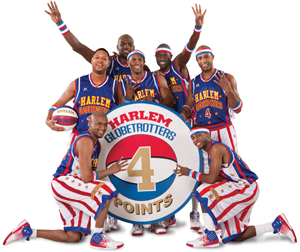 The Magicians of Basketball
Hot on the heels of the most successful year in franchise history, the legendary Harlem Globetrotters will celebrate their 85th anniversary season when their dazzling 2011 World Tour comes to Westchester, showcasing the wholesome family entertainment that has provided lifetime memories for generations of fans. February 15 at 7pm. $23.50 and up. Westchester County Center, 198 Central Avenue, White Plains. For tickets: 800-745-3000 or www.ticketmaster.com. For more information on the show, visit www.harlemglobetrotters.com.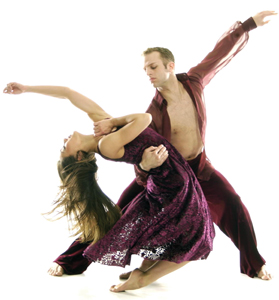 Jazz-Inspired Modern Dance
See the River North Chicago Dance Company as they celebrate their 20th anniversary season. Founded by four visionary dancers/ choreographers, the company has established itself as one of Chicago's leading dance companies. Under the direction of artistic director Frank Chaves, the jazz-based contemporary company embodies Americana in its dynamic repertoire. February 19 at 8pm. $20; $18 students. Westchester Community College, Academic Arts Theatre, 75 Grasslands Road, Valhalla. 914-606-6262.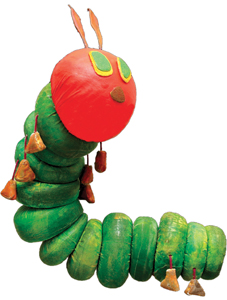 Stories on Stage
The Mermaid Theatre of Nova Scotia returns to the Emelin with their presentation of Eric Carle's "The Very Hungry Caterpillar." Their acclaimed black-light puppet show will also feature two other Carle tales, "Little Cloud," and "The Mixed-Up Chameleon." February 20 at 11am and 1:30pm. $18; $13 children. The Emelin Theatre, 153 Library Lane, Mamaroneck. 914-698-0098.
Also see: Celebrate the Chinese New Year at the Pelham Art Center
Our Online Calendar, for even more family events in Westchester County and the New York metro area