Gather the kids and brave the cold weather this month for these great family activities. Stay warm indoors with a family-friendly show, or embrace the snow and head outdoors for skiing, skating, and more! Get the details on these events and more right here.
Retro Tunes for Kids
See Trout Fishing in America, the band described as the "Lennon and McCartney of kids' music." Comprised of Keith Grimwood and Ezra Idlet, the four-time Grammy-nominated group has been creating acclaimed children's music for more than 30 years. Appropriate for ages 4 and up. January 8 at 11am and 1:30pm. $18; $13 children. Emelin Theatre, 153 Library Lane, Mamaroneck. 914-698-0098.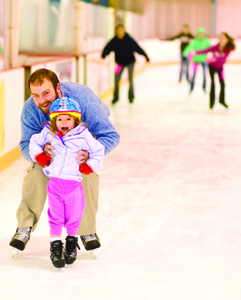 Bundle Up!
Sure it's cold, but why not head out into the crisp air for some wintery fun?
Lace up your skates for Sunday Family Skate Day. Rentals and a large pizza included. January 2, 9, 16, 23, and 30 at 3pm. $40 for two to four skaters. Playland Ice Casino, Playland Park, Rye. 914-813-7059.
Learn about the many animals that are searching for food and leaving their tracks behind at Snow or No - Let's Go! Follow tracks or other signs if there is no snow to see what animals are doing in the cold winter world. Preregistration is required. January 16 at 11am. $5. Teatown Lake Reservation, 1600 Spring Valley Road, Ossining. 914-762-2912.
At Winter Tree ID, learn how to tell one bare tree from the next as you explore the forest. January 22 at 2pm. FREE. Marshlands Conservancy, Route 1, Rye. 914-980-7572. www.westchestergov.com/parks.
Join senior naturalist Dean Fausel on a walk to learn what birds wintering in the area like to eat and where they find shelter, at Finding and Feeding Winter Birds. The walk will include a visit to the center's Birds of Prey exhibit and busy bird feeders, as well as a search for more elusive feathered friends. Preregistration is required. January 23 at 2pm. $7; $5 children 2-12. Greenburgh Nature Center, 99 Dromore Road, Scarsdale. 914-723-3470.
Look for signs of animals and discuss the basics of tracking animals on a walk around the park at Tracking For Kids. Return to the nature center to make your own tracking field guide. January 29 at 1pm. Appropriate for children 5 and older. FREE. Trailside Nature Museum at Ward Pound Ridge Reservation, Route 35 and121 South, Cross River. 914-864-7322.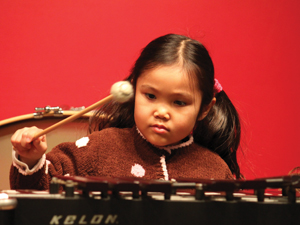 Hands On Music
The elegant harp teams up with the piano and percussion to tell a story through music at Piano, Percussion, and Harp. Hear original compositions from Conservatory students, and see, touch, and try out the different instruments prior to the concert. January 15 at 2pm. FREE. Music Conservatory of Westchester, 216 Central Avenue, White Plains. 914-761-3900.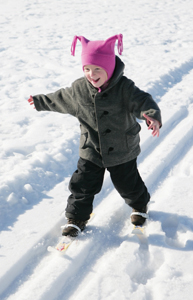 Snow Scenes
There's no need to travel far to enjoy some Cross Country Skiing. Bundle up and get your gear on for a scenic tour of the park. Snow-dependent. January 15 and 22 at 10am. FREE. Croton Point Nature Center, Croton Point Avenue, Croton-on-Hudson. 914-862-5297. www.westchestergov.com/parks.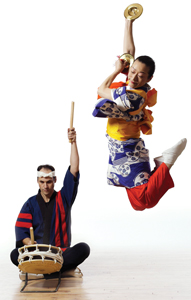 Break Out the Big Drums
Japanese Taiko drumming group Taikoza blends thunderous sounds with colorful dances and soulful melodies. Experience the thunderous rhythms of the ancestral Japanese Taiko drums and the magical sounds of bamboo flutes at the hands of this internationally acclaimed drum ensemble. Traditional costumes and dynamic motion make Taikoza popular with audiences of all ages. January 22 at 8pm. $20; $18 students and seniors; $13 children under 13. Academic Arts Theatre, Westchester Community College, 75 Grasslands Road, Valhalla. 914-606-6262.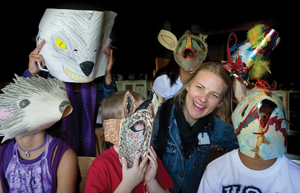 A Free Weekend of Arts
Put on your PJs and pack up your teddy bear for the Hibernators Ball. In the morning, make an animal mask at the "Family Art Project" and hear tales of hibernating creatures. Later in the day, craft a sleepy concoction to help you nap through the rest of the winter. Then put on your mask and waltz with Jody Kruskal and Friends and go to the Wave Hill House to mix up some hot cocoa and try out the new game, "Do I Hibernate?" January 22-23, 10am-4:30pm. FREE. Wave Hill, 675 West 252nd Street, Bronx. 718-549-3200.
Rock 'n Roll for the Whole Family
Rock out to Joanie Leeds and the Nightlights when they perform a family concert. Named "best party entertainer" by Nickelodeon Parents Connect, Leeds will perform tracks from her newest album, "I'm a Rock Star." Plus, enjoy face painting and crafts, and shop for baked goods. January 30 at 12:45pm. $18; $15 children; $75 book of five tickets; $20 at the door. Congregation Kol Ami, 252 Soundview Avenue, White Plains. 914-949-4717.
Also see: Our Online Calendar, for even more family-friendly events in Westchester and the New York metro area