Check out our list of the best October activities and events for kids and families in Westchester County, New York. Whether you're looking for Halloween festivals, kid-friendly theater, or a way to support Breast Cancer Awareness Month, we've got all the info you need.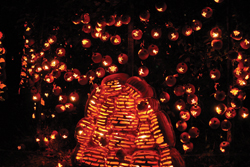 Super-Sized Jacks
Halloween tradition continues when the Hudson Valley's largest Halloween event, The Great Jack O' Lantern Blaze, returns. See more than 4,000 individually hand-carved, illuminated jack o' lanterns in an elaborate walk-through experience. Meander through an 18th-century riverside landscape and discover an elaborate display of slithering snakes, shrunken heads, a giant spider web, an undersea aquarium, super-sized dinosaurs, pirates, ghosts, plus a mammoth exhibition of mummies and a pyramid straight out of ancient Egypt - all made of jack o' lanterns. The Blaze comes together with original atmospheric music, sound effects, and professional lighting. October 2-3, 8-11 at 7pm; October 15-17, 21-24, 28-31, and November 5-7 at 6:30pm. Timed tickets must be purchased in advance. $16; $12 children 5-17; FREE children under 5. Van Cortlandt Manor, 525 South Riverside Avenue, Croton-on-Hudson. 914-631-8200. www.hudsonvalley.org.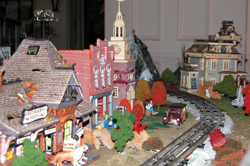 All Aboard!
The holiday comes to life in a unique way at the Halloween Train Display. See an elaborate showcase of model trains, villages, and landscapes all with a Harry Potter theme. Proceeds to benefit the conservatory project. October 16-17, 23-24, 30-31 at 11am. $5; $2 children. Lasdon Park, Arboretum & Veterans Memorial, Route 35, Somers. 914-864-7263. www.westchestergov.com/parks.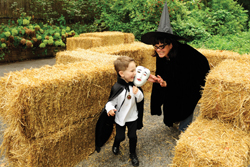 Ghosts and Goblins Galore!
Halloween starts early this year and lasts all month. Check out the events below.
Boo at the Zoo is back for another year with wildlife magic shows, musical performances by Gigi and the Lend Me A Hand Band and others, professional pumpkin carving demonstrations, a parade of costumes, the hay maze, and craft workshops. Plus, see the brand new Haunted Safari adventure that includes an augmented reality/3-D experience and the Lost Hayride that features an animated tour of Creepy Hollows. Weekends throughout October, starting at 11am. $16; $12 children 3-12 years old; FREE children under 3. The Bronx Zoo, 2300 Southern Boulevard, 718-367-1010. www.bronxzoo.com.
History meets Halloween at the annual Legend Celebration. Come dressed in your costume for "Mechanical Man," spooky story walks, The Legend of Sleepy Hollow shadow puppet shows, games for children, 19th-century magic shows, live music, ghost stories and other tales, plus picnic fare. October 15-16, 29-30 at 10am. $12; $6 children 5-17; FREE children under 5. Washington Irving's Sunnyside, 89 West Sunnyside Lane, Tarrytown. 914-631-8200. www.hudsonvalley.org.
Enjoy live entertainment and music, crafts, stories, games, prizes pony rides, pictures, the popular corn maze, and refreshments at the 12th Annual Children's Halloween Festival. October 24 at noon. FREE. City of Mount Vernon, Grand Street between Gramatan and Fleetwood Avenues, Mount Vernon. www.fleetwoodneighbors.org.
White Plains comes alive at Halloween Tricks and Treats. Encounter goblins, ghosts, and witches, and enjoy music, games, magic, refreshments, and Halloween treats. October 31 at 5pm. FREE. Gillie Park, corner of Mamaroneck Avenue and Gedney Way, White Plains. 914-422-1336. www.cityofwhiteplains.com.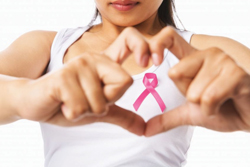 A Month of Breast Cancer Awareness
THE GYM in Armonk recently held a spin-a-thon that raised more than $2,800 for the Dana Farber Cancer Institute, a non-profit organization devoted to providing cancer patients with the best treatment available, while developing cures through cutting-edge research. THE GYM will continue its efforts for Breast Cancer Awareness Month with another spin-a-thon on October 6, pink hair extensions every Wednesday and Thursday, Sage yoga classes on October 17, Spa Day on October 18, the Taste of the Towns culinary event on October 26, and more (see website for details). All proceeds will be donated to Support Connection. For more information, visit www.gettothegym.com.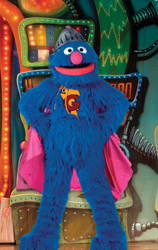 A Sesame Street-Style Musical
See Super Grover, along with Elmo, Abby Cadabby, and all of the Sesame Street favorites, in Sesame Street Live's Elmo's Healthy Heroes at the Westchester County Center, October 21-24. Grover, Elmo, and friends teach kids lessons about healthy habits through song and dance. The cast will explore exercise, nutrition, sleep/energy, and hygiene, all in a quest to put the "super" back in Super Grover. October 21-22 at 10:30am and 7pm; October 23 at 2pm and 5:30pm; October 24 at 1pm and 4:30pm. Tickets are $15 and up. Westchester County Center, 198 Central Avenue, White Plains. For more information or to order tickets: 800-745-3000 or www.ticketmaster.com.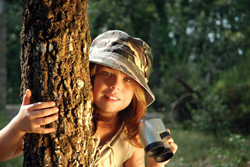 A Real Life Adventure
Join Jim Jinkins, cartoonist, storyteller, time traveler, and park enthusiast, along with other adventurous kids for Survive: An Alternate Reality Game. Two teams will compete to find out who survives by tracking down enemies (both imaginary and real) in the park's fragile eco-system, building a shelter from materials hidden along the trail, killing nasty bacteria and viruses in river water, starting a fire without matches, and hunting for food. Pre-registration is required. October 23 and 25 at 9am. $25. Ward Pound Ridge Reservation, Route 35, Cross River. 914-864-7322. www.westchestergov.com/parks.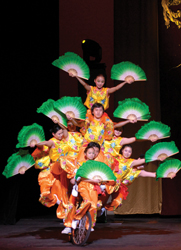 Acrobatic Antics
See the Shangri-La Chinese Acrobats at the Emelin Theatre on October 30. The group will perform daring maneuvers, death-defying acrobatic acts, and feats of balance, all with explosive energy, brilliant costumes, and its signature hilarious touch of Chinese comedy. Two shows on October 30: 11am and 1:30pm. $18; $13 for children. Emelin Theatre, 153 Library Lane, Mamaroneck. For more information or to order tickets, call 914-698-0098 or visit www.emelin.org.
On a Mission
Go on an adventure through the White Plains Public Library, the Galleria Mall, and City Center for Monster Hunt. Track down coded clues that will help you find and capture the lurking tyrant. The program is produced by Jason Edwards, author of Will Allen and the Great Monster Detective and the sequel, Will Allen and the Ring of Terror. October 30 at 1pm. FREE. Downtown White Plains. 914-437-7628. www.monsterdetectiveagency.com.
For even more family events and activities in Westchester County, NY, visit our Online Calendar.