HOLIDAY MAGIC
The magic of the season takes on a whole new meaning at Tom and Robin Balster's Season's Greetings Magic Show. This holiday-inspired magic show, appropriate for ages 2 and up, is filled with upbeat music and set in a winter wonderland. With tricks ranging from sleight of hand and levitation to a disappearing menorah, this festive, magical production promises to delight audiences with something for everyone. Saturday, December 8, 11am and 1:30pm. Tickets: $13. Emelin Theatre, 153 Library Lane, Mamaroneck. 914-698-0098.
www.emelin.org
.
WINTRY FAIRY TALES
Every culture has stories that have been handed down through the centuries. The tale we know as Cinderella was first written in 9th century China; Tales of Mother Goose was first published as Stories or Tales from Times Past, with Morals in 1697. During Fairy Tale Evenings, visitors can tour the rooms of Lyndhurst, each of which will be decorated to represent different fairy tales, with clues to the stories for children of all ages. Music of the season, hot mulled cider and cookies will sweeten the evening, and guests can finish their shopping at the holiday boutique. Weekends, December 1-2, 8-9, 15-16, 22-23 and 29-30. Reservations are required. Admission: adults and seniors, $15; children 6-12, $6; children under 6, FREE. For more information or reservations, call 914-631-4481, ext. 0. Lyndhurst, 635 South Broadway, Tarrytown.
www.lyndhurst.org
.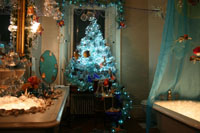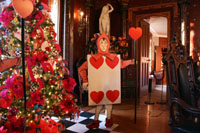 CHANUKAH ON ICE

In the past, families have enjoyed a Lego menorah, a menorah sculpture made from 8,000 cans, a 12-foot balloon menorah, and the world's largest edible menorah made out of doughnuts and chocolate. This year, Chabad of the Rivertowns will display Fire On Ice!, an enormous ice menorah sculpture, which will be created and lit at Chabad's Chanukah party on Sunday, December 9 at 3:30pm. The festivities will also include holiday crafts for kids, refreshments, music and an ice carving show, and are FREE and open to the public. Chabad of the Rivertowns, 303 Broadway, Dobbs Ferry. http://www.lyndhurst.org or 914-693-6100.

ALL ABOARD!

On Saturday, December 8 from 10am-4:30pm, visitors to the Greenburgh Nature Center can enjoy a special holiday season exhibit. Trains: Your Ticket to the Great Outdoors will include a diorama display of model trains and train posters, presented by the Westchester Model Railroad Club. Ongoing through December 18. $3, in addition to Manor House admission: $5 adults; $4 seniors and students; $2 children 2-12. Greenburgh Nature Center, 99 Dromore Road, Scarsdale. 914-723-3470. www.greenburghnaturecenter.org.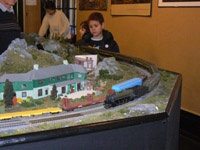 REGAL TALE

Hudson Vagabond Puppets present Hans Christian Andersen's classic tale of two friends who are "not brother and sister, but are just as fond of each other as if they had been." When the boy Kay catches a sliver of the demon's magic mirror in his eye, he sees everything in the world as bad and twisted. When he is drawn to the Snow Queen's palace, his friend Gerde searches the world over to find him, and has several adventures along the way. Set to the music of Archangelo Corelli and danced in a narrated ballet by larger-than-life puppets. Sunday, December 16 at 3pm and Monday, December 17 at 10am. Tickets: $20 adults; $10 children. Paramount Center for the Arts, 1008 Brown Street, Peekskill. 914-739-2333. www.paramountcenter.org. NOTE: Hudson Vagabond Puppet Theaterâ??s rendition of The Snow Queen will also be performed at Riverspace Arts Center in Nyack on Sunday, December 30, at 1 and 2:30pm. Tickets: $12-$10. Info: (845) 348-0741; www.riverspace.org.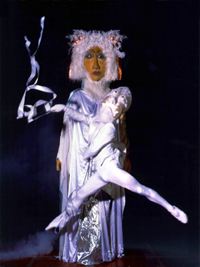 WINTER ON THE FARM

Take a holiday from the holidays and enjoy a wintry stroll on Heckscher Farm at the Stamford Museum & Nature Center on Fridays, December 7, 14, 21, and 28. Admission is FREE on Fridays in December, and hours on Heckscher Farm are extended until 7pm. Take a stroll along the luminary path, enjoy free hot cocoa, and reconnect with family and friends. At 7pm, stop in the Observatory to see â??The Star of Bethlehemâ?? and stay for the 8pm open Observatory hours. The Exchange Club will be selling Christmas trees in the north parking lot. Stamford Museum & Nature Center, 39 Scofieldtown Road, Stamford, CT. 203-322-1646. www.stamfordmuseum.org.