The Westchester Library System (WLS), a network of 38 member public libraries throughout the county, is offering two new programs to help youth strengthen and develop important skills necessary for future success: Mixing in Math and Learning Ambassadors.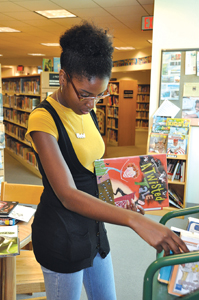 Mixing in Math was introduced to improve students' math skills, and aims to increase scores on state-mandated math tests. The program combines math concepts with games, crafts, and other literacy-related activities to make comprehension easier. Six libraries have already started to implement Mixing in Math programming using book displays, crafts, story times, family events, and activities for children to do on their own.
"Through this initiative, we're asking libraries to support building the math capacity of children by adding math literacy experiences to their regular programs and routines," says Francine Vernon, a coordinator for the WLS Outreach Department.
Learning Ambassadors was developed in response to the lack of jobs for youth. "Teens are now being forced to compete with experienced retirees returning to the workforce and recent college graduates," Vernon says. Program participants develop useful workplace skills for future employment, learn how to work with children by playing games, reading aloud and discussing books, working on craft projects, and more. "Ambassadors develop skills that are transferable to other work settings serving children, such as daycare centers, after-school programs, and day camps."
Also see: Our Online Calendar, for library events and other kid-friendly activities in Westchester County, NY