The Westchester Sandbox Theatre's first summer theatre program for children includes two fully staged musicals.
Daniel Ferrante has been acting since the age of 7 and directed his first theatre production when he was just 15 years old. It was his life-long passion for the art form that led Ferrante, in 2008, to open the Westchester Sandbox Theatre (WST), a year-round theatre facility that caters to the creative desires of children and adults of all ages.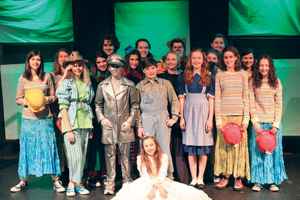 "Daniel's goal was to make sure that the ensemble was the most important thing and that everybody is equally as important no matter how big or small the role," says Brenda Ferrante, the theatre's office manager and Ferrante's mother.
The Young People's Theatre is a program Ferrante modified last year to accommodate children in different age groups, ranging from kindergarten through grade 12. The program offers children the chance to audition, rehearse, and participate in professionally produced performances with no experience necessary.
Due to positive feedback, this is the first summer WST will produce two fully staged Young People's Theatre productions. EEEK! The Mousical will debut August 11 at 8pm and auditions for The 25th Annual Putnam County Spelling Bee will be held July 18 and July 20 at 6pm for children in grades seven through 12.
The Westchester Sandbox Theatre is located at 931c East Boston Post Road in Mamaroneck. For more information, call 914-630-0804 or visit www.westchestersandboxtheatre.com.