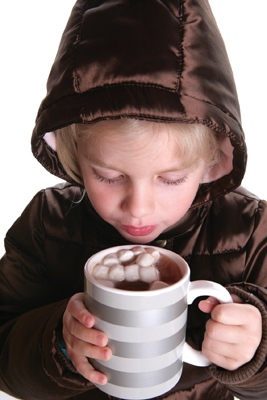 We've highlighted some of the coziest cafes in Westchester County, NY, where families can grab a steaming mug of cold-weather beverages like hot cocoa or tea. The next time you venture out in the sleet and snow to gather a few more gifts, make it a point to take a break and treat yourself (and your little holiday helper, of course!). Before you know it, the grumpies will be gone, and you'll be left with that warm, fuzzy, I'm-Dreaming-of-a-White-Christmas feeling.
Visit Chocolations' newest location in Mamaroneck (which opened in late September) and sample its multiple frozen hot chocolates, featuring flavors such as peanut butter, mint, caramel, and coffee ($3.50). The shop also carries regular coffee, many tea varieties, regular hot chocolate (starting at $1.50), and a new "decadent" thick, dark hot chocolate, sure to be a parent's delight ($3.50). Chocolations is most well known for its homemade molded chocolates, and in November it will introduce its holiday treats line (perfect for teachers' gifts). Call for hours. 607 East Boston Post Rd, Mamaroneck. 914-777-3600.
After opening the celebrated chocolate shop Cocoa eight years ago, owner Angela Ingrao teamed up with Laurie Vanderwoude to open nearby Bread & Cocoa, featuring their signature thick hot chocolate ($1.85-$4.90) along with new flavors like peppermint and cayenne. Dishing out made-to-order Belgian waffles and paninis, Bread & Cocoa is the perfect spot to grab breakfast or lunch with a rich cup of cocoa. Don't forget to dash across the street for seasonal chocolate turkeys! Cocoa is located at 2107A Boston Post Road, Larchmont; Bread & Cocoa is located at 2110B Boston Post Road, Larchmont. 914-834-6464.
Coffee Labs Roasters, widely known for its sublime selection of sustainable coffees and pet-friendly atmosphere, is proud to announce a bold new hot chocolate featuring small-batch artisan chocolate from the Mast Brothers ($3.50). The shop continues to serve kid-friendly Ghirardelli hot chocolates (starting at $1.50), along with a variety of teas ($1.75-$2.25). In addition to delightful drinks, Coffee Labs serves up locally baked pastries. Open Monday-Tuesday 6:30am-6:30pm, Wednesday-Thursday 6:30am-8pm, Friday 6:30am-10:30pm, Saturday 8am-10:30pm, Sunday 8am-7pm. 7 Main Street, Tarrytown. 914-332-1479.
Dragonfly Café, marked by its exotic Southeast Asian décor, serves more than 30 full-leaf teas (notable brands include Harney & Sons and SerendipiTea), along with an assortment of coffees, hot and cold apple cider, and at least two flavors of hot chocolate drinks. Try one of their chai tea lattes, ranging from a traditional Moroccan taste to a creamy house blend reminiscent of hot chocolate. Drinks range from $2-$5. Breakfast and lunch served daily; menu includes baked goods, wraps, salads, and soups. Open Monday-Friday 6am-7pm, Saturday 8am-7pm, Sunday 8am-6pm. 7 Wheeler Avenue, Pleasantville. 914-747-7477.
Come to The Kneaded Bread in Port Chester for one of more than 20 varieties of bread, but stay for the cocoa. Made from scratch by melting down a bar of semisweet chocolate and frothing it to order, the result is a thick and delicious brew with a hint of cinnamon and cream ($2.75-$3.25). With the fall season comes the arrival of the shop's coveted pumpkin bread and muffins, the perfect compliment to the rich hot chocolate. Open Monday-Friday 7am-5pm, Saturday 8am-4pm, Sunday 8am-1pm. 181 N. Main Street, Port Chester. 914-937-9489.
Lola's Tea House of Pelham, dubbed "a place for simple pleasures," boasts an impressive selection of nearly 30 teas in two-cup pot ($4.50) or four-cup pot ($6) servings (add $1 for premium teas). Stop by for a themed "English Afternoon Tea," ($25; $40 for two) complete with your choice of tea, a scone with preserves and clotted cream, your choice of tea sandwich, and two bite-sized desserts or a slice of cake. For the kids, Lola's offers Children's Tea ($15), including a choice of beverage-tea, hot chocolate, lemonade, milk, or juice-plus a mini scone with preserves, choice of children's tea sandwich, and two bite-sized treats. Open Tuesday, Wednesday, Thursday, and Sunday 12pm-6pm; Friday-Saturday 12pm-8pm. 130 5th Avenue, Pelham. 914-738-2100.
Offering a more exotic blend, Paleteria Fernandez serves up a delicious, homemade champurrado ($3), Mexican hot chocolate thickened with masa harina (finely ground corn powder). The result is a filling, rich blend, the perfect compliment to the restaurant's esquite, a hot corn dish accompanied by seasonings and cheeses ($3.50). Open daily from 10am-10pm. 33 N. Main St., Port Chester. 914-939-3694.
Peekskill Coffee House serves a signature hot chocolate, with the option to flavor it as you please with a selection of 12 syrups. Fall favorites are gingerbread, pumpkin spice, and peppermint ($1.88-$4.03). If you prefer chai, the coffee house offers fair trade and organic tea in original, honey-vanilla, and decaf varieties ($4-$5), or try the yerba mate for a uniquely South American flavor. Live music on Fridays and Sundays. Open Monday-Thursday 6am-9pm, Friday-Saturday 6am-11pm, Sunday 8am-7pm. 101 South Division Street, Peekskill. 914-739-1287.
Silver Tips Tea Room is serious about their love of tea. Home to about 175 varieties of full-leaf blends in two-cup ($2.95), four-cup ($3.50), and six-cup ($4.25) pots, Silver Tips also features an Afternoon Tea that includes two tea sandwiches, a scone with cream and preserves, a slice of cake, and your choice of a two-cup tea pot ($17). A fall favorite is the cranberry-orange hot cider, which takes original apple cider and blends it with fruit tea ($3.50). Stop by during the weekend of November 13-14 to celebrate Silver Tips' 11th anniversary with parties, specials, raffles, and a chance to experience the holiday décor. Open Monday-Saturday 11am-6pm, Sunday 11am-5pm. 3 North Broadway (Route 9), Tarrytown. 914-332-8515.
Slave to the Grind, popular with families and Sarah Lawrence students alike, features three distinctly delicious chai teas for your indulgence: original, vanilla, and spiced. Slave is also home to three hot chocolates - original, peppermint, and hazelnut - and a variety of teas, including herbal raspberry. Relax with a board game or a book in this welcoming and local setting. Drinks range from $1.75-$5. New hours for fall: 6am-11:30pm. 58 Pondfield Road, Bronxville. 914-961-7777.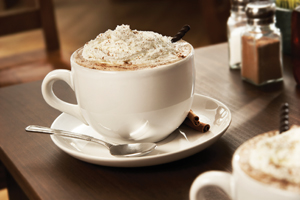 With three locations in Westchester County, there is no need to travel far to sample Tazza Café's rich, decadent Belgian Sipping Chocolate. In addition, the café serves hot chocolate, frozen hot chocolate, Harney and Sons full-leaf teas, chai teas, and apple cider (all $2-$4). It offers a full lunch menu and a selection of baked goods made on the premises. Open Monday-Saturday 6:30am-7pm, Sunday 7am-5pm. 230 Saw Mill River Road, Millwood; 914-488-5227. 382 Main Street, Armonk; 914-273-0788. 6 Heritage 202 Center, Somers; 914-276-2233.
See our complete guide to the best hot chocolate and tea spots in the NY metro area