Philanthropy is thriving in Westchester, and it's not only among the adult set. More and more young people, some as young as kindergartners, are getting on the giving bandwagon and are finding unique ways to contribute to worthy causes, even those that benefit folks far away. One such cause is ALYN Hospital in Jerusalem, and one such person is Sam Evans, 13, of Scarsdale.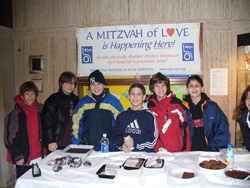 Sam recently traveled to Israel with his parents and sisters Dani and Arielle for his bar mitzvah, the ceremony in the Jewish faith that signifies a boy's entry into manhood. It was for this occasion that he put his good deed into action; Sam placed requests in the ceremony's invitations for guests to make a donation to ALYN Hospital, a comprehensive rehabilitation center where babies to young adults receive care. Sam also planned to visit and tour the hospital after the ceremony as part of his goodwill.
   "A friend of my mother volunteered at the hospital, and told us about the innovative therapies there," he says. "That's how I got involved with this, and also, as somebody who enjoys playing sports, I would like to see these kids be able to enjoy sports and a life without pain."
   Sam's "mitzvah" (which means "good deed" in Hebrew) is part of the Mitzvah of Love project coordinated by the New York City-based organization, American Friends of ALYN Hospital. Established in 1932, "ALYN is unique in that it's the only facility in the world with an intensive care respiratory rehabilitation unit," says Cathy Lanyard, the organization's executive director. "Once any child is on a respirator, he or she can be moved there from a major hospital." Lanyard explains that ALYN is made up of a cross-section of Israeli society, with children of different nationalities and backgrounds. Health insurance covers only a part of the children's care, which is why donations are so important.
   The hospital's ICU unit is very "homey", according to Lanyard. "This unit is all glass, and shaped in a semi-circle so it's not your traditional, sterile-looking hospital environment," she says. "The kids have a view out to the hills, and the room has toys and mobiles, and even siblings visit. The common denominator among these kids is that they are physically challenged and need to get healthy." The patients range from children who have congenital conditions (such as cerebral palsy and muscular dystrophy), to those who survive cancer surgery and need rehabilitation to car accident victims.
   Funds raised for the hospital go a long way — they are applied to day-to-day care there as well as for special projects, such as the sports center that is being built for both physically challenged and able-bodied children to enjoy. "One of the biggest hurdles is integrating disabled kids with kids who function normally physically," Lanyard says.
   Lanyard is proud of the wide variety of events that kids help organize. "We have children planning events like danceathons, walkathons, even bakeathons and readathons. The readathons, for example, may involve sponsors paying for each page of a book read over a month." Sam Evans also sees his contemporaries joining in the spirit of giving. "I know that lots of my friends are giving presents to hospitals and orphanages," he says.
   Cathy Lanyard is not surprised that children are increasingly getting involved in "giving back" in hands-on ways. "Encouraging this really fosters independence among kids, because they can get creative with various philanthropic ideas," she says. "It's really important to empower children at a young age to recognize their good fortune, and our organization helps to give them fun and creative ways to give back to a good cause."
   Sam Evans, for one, recognizes his good fortune and wants to spread it to his less fortunate contemporaries. "I just want kids to enjoy their daily lives, and help to make their lives better so they don't have to struggle as much," he says.
   Children interested in contacting the American Friends of ALYN Hospital can visit www.alynus.org, or call 212-869-8085.