Looking for a Zumba-like cardio dance class? Applause Westchester is now offering a hip-hop cardio class for adults to its schedule, teaching fun dance moves while getting your heart rate going.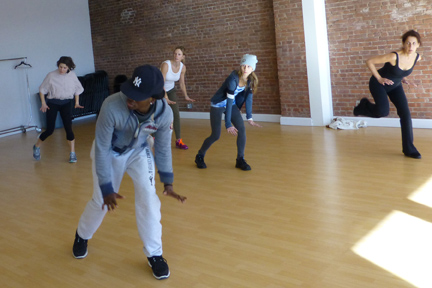 Applause Westchester, a performing arts school for all ages, has introduced a new hip-hop cardio class for adults. The hour-long program, which began in January, is held Thursdays from 9:30-10:30am and will continue through the end of April. Run by Trammell Logan, the company's director of dance, the class offers a combination of the latest hip-hop techniques and cardio steps.
"It's an amazing class. It's the best cardio workout you'll ever get while having more fun than you've ever had," says Heather Capelle, president. The class is held in its Westchester studio where participants will have an amazing view of the Long Island Sound and the beautiful Harbor View Park as they work out to a mash-up of choreography from the latest hip-hop videos.
Capelle explains how the class is Applause's version of the alternative workouts such as Zumba Fitness or Tracy Anderson's programs. "This is our take on it, where moms are getting that really great work out but feel like they are in a dance class."
Check out how Applause Westchester celebrated its five-year anniversary this year!