Chop Culinary Entertainment now offers Saturday cooking and baking classes for kids in Mamaroneck. The Westchester-based culinary entertainment service also offers birthday party entertainment.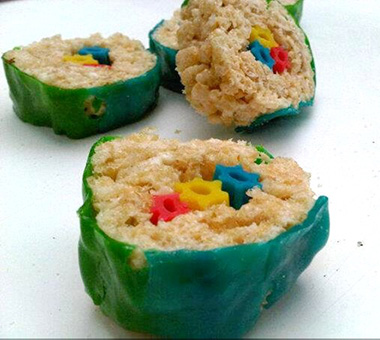 The dessert sushi roll kids can make
during birthday parties
Chop Culinary Entertainment is bringing cooking education to the children of Westchester County. Held at the Cook & Bake Center in Mamaroneck, Chop Culinary Entertainment offers two different classes spanning six weeks on Saturdays and separated into two groups: ages 8-11 and 12-16. "Pastry Chef" classes teach kids everything they need to know about baking their favorite treats, such as cookies, cakes, tarts, and pastries. Instructed by Chef Anthony Accomando, younger kids will learn about kitchen safety, how to read recipes, and how to bake.
Chop Culinary Entertainment also offers "A Culinary Trip Around The World," in which kids learn how to cook meals from China, Italy, and Greece, among other countries. "This class expands the kids' minds to different cultures and teaches them to cook and eat healthy food," says Chef Angela Rivera, who instructs the class. "And they don't even know it's healthy!"
Birthday party options are also available, and can be held at home or at the Cook & Bake Center. The parties don't require using the oven, meaning they can take place elsewhere in the house besides the kitchen. Sushi making teaches kids everything they need to know to roll their own veggie (or dessert) roll, and even includes a chopstick lesson. Other party packages involve each kid getting a mini cake, cupcake, or cookies and learning how to decorate them with icing and fruits. Every kid walks away with the goodie they made and a chefs hat and apron.
Chop Culinary Entertainment also caters to parents, hosting parties and teaching classes for those who want to keep up with their kids.