Dance and Theater Arts Studios in Dobbs Ferry, which offers dance and theater arts classes in Westchester, now offers Brain Dance. Brain Dance helps children's brain development, and children gain body awareness and strengthen their core.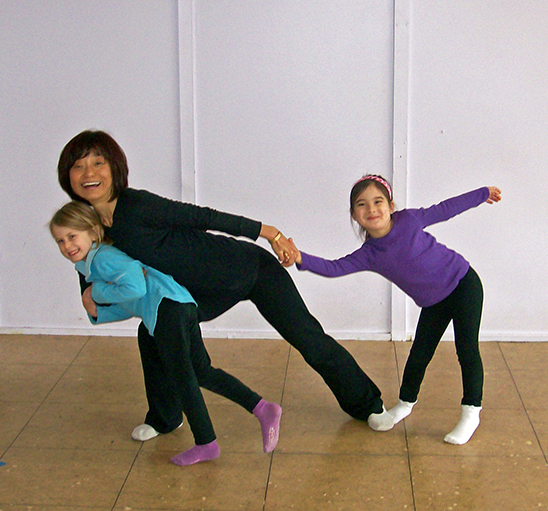 Brain Dance teacher Akiko Ko-Taiano with
two Brain Dance students
Dance and Theater Arts Studios, a studio that trains children for live theatrical performance in dance, acting, and singing, began offering Brain Dance in September. Brain Dance consists of a series of eight fundamental, neurological, developmental patterns. These patterns rewire the brain to correct missing developmental gaps in the brain through repetition.
"It's a series of very, very specific and efficient movements to enhance learning and physical development," director Janetta Betz says. "The whole method was researched and developed by Anne Green Gilbert, a child developmental movement specialist."
Because of a sedentary lifestyle due to computers and TVs, Betz says many kids are lacking in some aspects of physical development: "We are finding a lot of children have weak muscles, and the repetition of movement in Brain Dance strengthens all parts of the body. The classes help children gain body awareness, core support, body-mind connectivity, and alignment.
Akiko Ko-Taiano, a modern dancer who completed the teacher training with Gilbert in Manhattan, teaches Brain Dance. Ko-Taiano incorporates interesting music, games and props, and modern dance to keep the classes fun for kids.
Dance and Theater Arts Studios also recently began offering Barre Fusion, a core-strengthening fitness class, for adults. Jennifer Kay Jones teaches the Barre Fusion class.
The new semester begins Feb. 3, and registration is now open.