Westchester County's Katonah Museum of Art announced in August its newest members of the board of trustees and board officers.
The Katonah Museum of Art welcomes new appointments this month to its board of trustees, board officers, and board overseers.
The museum's board of trustees has announced three-year appointments of new board officers:
• Tara Coniaris, president
• Cynthia Brennan and Jeanne Markel, co-vice presidents
• Ellen Grimes, treasurer; and Amanda Alfieri, secretary.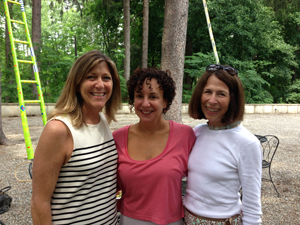 From left: KMA board president Tara Coniaris with new members of the museum's board of trustees, Debbie Mullin and Marilyn Glass.
All have been members of the board of trustees for several years and look forward to making significant contributions in their new roles.
"I am delighted and honored to take on the role of president during this exciting and important moment in the KMA's history," says Coniaris, a Katonah resident who has been involved with the museum for more than nine years, and a museum trustee for the past three years.

There are also two new trustees on the Katonah Museum of Art's board: Marilyn Glass of Bedford and Debbie Mullin of Pound Ridge. Both served on the museum's board of overseers prior to being elected to join the board of trustees.

Vanessa Diebold of Ridgefield and Vanessa Smith of Bedford both recently joined the museum's board of overseers.
New Katonah Museum of Art Board Members
As new Trustees, Marilyn Glass and Debbie Mullin look forward to contributing their expertise in the visual arts and board governance. Both served on the Katonah Museum of Art's board of overseers in 2012 and 2013.
"Marilyn and Debbie bring a wealth of experience in the arts as well as connections to art communities in New York City, and beyond. They are both thoughtful and creative, and will make a wonderful addition to our Board," said Tara Coniaris, KMA board president.
Marilyn Glass of Bedford is an accomplished artist and retired interior designer. Her work has been published in
Architectural Digest
,
Vogue
,
House Beautiful
, and various other shelter magazines. Classically trained in piano and ballet, Glass also teaches collage to children and adults. The Metropolitan Museum of Art selected her to teach doll-making in the American Wing and the Cloisters.
She is active locally with the
Bedford Historical Society
and is on the board of Bedford Audubon as well as a member of the Katonah Museum Artist's Association.

"I've enjoyed my involvement as a KMA overseer and I'm eager to contribute as a governing member of the museum board to help the museum grow and prosper," Glass said.

Debbie Mullinof Pound Ridge is from a family of serious art collectors and has developed her own passion for collecting textiles, especially contemporary quilts. Mullin has a bachelor's from Barnard College, and a master's from Columbia University. She is a social worker and adjunct instructor at Fordham University where she teaches courses in social welfare policy, human rights, and social justice, as she works toward her Ph.D.
Locally, Mullin worked for nearly a decade as the director of non-residential services at the
Northern Westchester Shelter
(now Hope's Door) and as the director of family services at an anti-poverty organization in Stamford before pursuing her doctorate.
In other philanthropic pursuits, Debbie served for three years on the board of trustees for the
Westchester chapter of the American Jewish Committee
. Debbie and her husband, John Chatzky, are also very involved with
Let's Get Ready
, an organization that provides SAT tutoring and college prep to underserved high school students.
The Katonah Museum of Art Board of Overseers
As members of the KMA's board of overseers, Vanessa Diebold and Vanessa Smith will lend their skills and support to help the museum meet its mission of excellent exhibitions and effective education programs.
"The Katonah Museum of Art is privileged to have Vanessa Smith and Vanessa Diebold on our board of overseers. They bring wonderful energy and accomplishments in artistic, philanthropic, and humanitarian endeavors," Coniaris said.
Vanessa Diebold of Ridgefield has been president of the Diebold Institute for Public Policy Studies for the past seven years, where she works to fund grants focused on children and education. While living part-time in Washington, D.C. from 2009-11, Vanessa was a volunteer at the
National Archives
and worked as a docent conducting tours of the founding documents. She also worked as a member of the team devoted to preparing the Civil War Widow's Pension files for digitization. A graduate of Hunter College, Vanessa worked for many years at The Metropolitan Museum of Art as a member of the Egyptian department.
Vanessa H. Smith of Bedford is a documentary filmmaker who believes in the power of film for advocacy and change. She is a graduate of Stanford University with a bachelor's in Urban Design and has lived and worked in New York, India, Nepal, London, and North Carolina where she's worked as a producer/director on programs for PBS, Columbia Pictures, Discovery, Discovery Health, and Johns Hopkins. Her work is mainly focused on health, art, cultural politics, decision making, and creative thinking. She speaks French and some Hindi, is also a painter, and shoots much of her own material.
Smith is most proud of the BBC piece she produced which helped change Nepalese law as part of an international effort to free a fourteen-year-old girl from prison. She was honored with the Amnesty International Media 2000 Award for the news story.
Vanessa is currently working on a project called The Art of Impermanence—a series of 108 short films that range from one to seven minutes long. Among the films' subjects are Chuck Close, Sharon Olds, and animator Bill Plympton. The project may be realized as an art installation, a broadcast series, or as an ever-changing web installation.
"I am delighted to be a new overseer for the Katonah Museum of Art. I hope my short films for the dynamic Museum will help in its messaging and outreach." Smith said.
About the Katonah Museum of Art
The Katonah Museum of Art, located at 134 Jay St. in Katonah, NY, is a
cultural destination offering changing exhibitions that feature art from all cultures and
time periods. The Museum attracts visitors from Westchester and Fairfield counties, as well as the larger tri-state region. Located at the northern end of Katonah's "Museum Mile" just off of Route 22, and neighboring John Jay Homestead and Caramoor, the Katonah Museum of Art is a 2-minute taxi ride from the Katonah Metro North train station.

The KMA offers lectures, workshops, concerts and other events for a general audience, as well as innovative and substantive programs for more than 100 member schools. The Learning Center is an interactive space where children can come on a daily basis to explore and create art. Among the many programs for children and families are Stroller Tours, Family Days, Saturday Story Time, Schools Out/Arts In vacation day programs, and art classes for children ages three through twelve. The museum's innovative Arte Juntos/Art Together program for new immigrant families has been recognized as a model program by the federal government.

The KMA mounts 10 exhibitions per year in its main galleries, Sculpture Garden, and Learning Center. Influential modernist architect Edward Larrabee Barnes designed the 10,000 square-foot building.