A Port Chester fitness studio for tweens and teens, Momentum Classroom now offers a kid's fitness program for ages 2-7. The fitness studio aims to make exercising fun for Westchester kids, tweens, and teens through Zumba, games, boot camp, kickboxing, and yoga.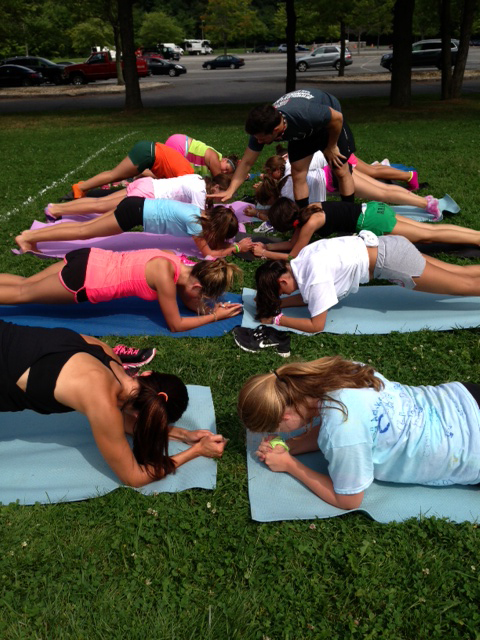 Teen girls work on planks to strengthen their core muscles at an outdoor Momentum Classroom class.
Momentum Classroom is a fitness studio takes the exercises that traditional fitness centers offer and modifies them to fit the needs of children and teens. This boutique fitness studio recently introduced its Momentum Jr. program, a program for children ages 2-7. This program offers a wide variety of fitness classes that expose children to the benefits of exercise and fitness.
The program offers a unique set of classes such as Zumba, boot camp, kickboxing, and yoga, that help young children develop a strong fitness foundation, and keeps them both excited and interested in staying active. These classes aim to help increase children's self-confidence and overall well-being. For example, during the Zumba classes, children will learn to move along with current pop-music, while working on their coordination.
All of the fitness activities incorporate games like, "Momentum says"—a spin off of Simon Says—in order to keep children interested throughout the session. Momentum Classroom also prides itself on the individual attention each child receives. There is a high staff-to-student ratio, ensuring each child gets the appropriate attention they deserve. Classes are offered throughout the year and interested parents can register their child online.