Patrick McCarthy used to only paint murals in the homes of friends and family, well, until they persuaded them to start his own mural painting business. Now McCarthy meets with clients and collaborates on murals for rooms in their homes, businesses, or doctor's offices.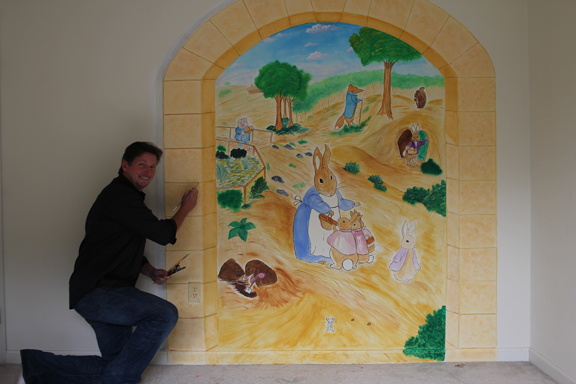 Patrick McCarthy, father of two and resident of Putnam County, started painting murals as a favor for family and friends to liven up their new baby rooms. When houseguests saw the work McCarthy had done, they began asking him to apply his talent to the rooms in their homes as well. The chain of referrals grew longer and longer until McCarthy's loved ones persuaded him to turn his mural painting into a business.
McCarthy, who has been painting for 20 years, offers his Mural Magick services for nurseries, as well as other rooms in the home, doctors' offices, businesses, and anywhere else that needs a splash of color. McCarthy meets with his client and looks at the space before brainstorming ideas for the mural. He brings a catalog of ideas ranging from whimsical to detailed Trompe l'oeil effects to his consultations, and he and the homeowner "work together on the vision for the artwork" before he makes an initial sketch. If a client is stumped for ideas, McCarthy can supply his own. "If they prefer to just step back and let me do my thing, that's fine, too," he says.
McCarthy believes that a child's environment is extremely important for their development. "Giving the children of family and friends that environment through my work has been a privilege and a joy for me," he says. McCarthy has painted everything from sports and superheroes to beach scenes and visions of outer space. He has also created murals with 3-D elements.
To schedule a consultation or for more information, call 845-612-9563 or email [email protected]