Sweet Heaven Family Spa recently opened in Hartsdale. The Westchester County spa offers services for boys and girls of all ages, as well as spa parties.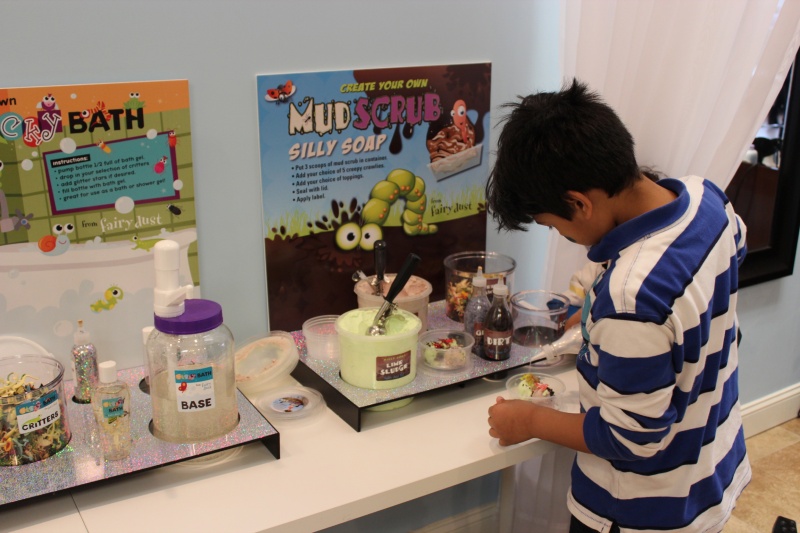 Sweet Heaven Family Spa provides craft stations where girls and boys can make their own spa products, including Mud Scrub Silly Soap.
Sweet Heaven Family Spa, which opened in January, offers services to boys, girls, and parents of all ages, including haircuts and hair styling, manicures and pedicures, candy facials, and private parties. It also hosts special event workshops and make-your-own beauty product stations.
Sisters Zuleyka and Veruska Puentes, who own the spa, teamed up to create a peaceful spa experience for the whole family. Zuleyka drew on her experience working with children and Veruska's passion for beauty care to create a unique experience, by a family for families. "We want to promote quality family time," Puentes says. "It's about creating a space that makes you feel peaceful and that both boys and girls will feel comfortable in."
The Puentes sisters care about the physical well-being of families and only use nontoxic nail polish, vegan hair products, and a line of sulfate and paraben-free spa products. The sisters are also in the process of developing family packages to further support their mission. In the coming months they will also be hosting more special events and building their staff to include massage and facial services.
To celebrate Easter, the spa will host an Easter Cupcake Decorating Workshop on from 1-3pm on April 19. Children ages 5-12 will learn how to decorate two cupcakes and personalize a chef hat or apron. The event costs $30; call ahead to reserve a space.