UPDATED APRIL 2014: Take a trip with your family to a railroad museum or train exhibit in the New York City area, including Manhattan, Brooklyn, Long Island, New Jersey, and Pennsylvania, where young and older train lovers can ride historic and new trains, see model train displays, learn about the railroad, and more.
Plan a visit to railroad museums in New York City, Westchester and Rockland counties, and on Long Island, or go on an easy getaway to nearby New Jersey, Connecticut, or Pennsylvania.
Railroad Museums and Train Exhibits in NYC
Manhattan

Grand Central Terminal
87 E. 42nd St., Midtown
212-532-4900; grandcentralterminal.com

Visit the Gallery Annex and Store in Grand Central, which has changing exhibitions and educational programming on the cultural, social and technological history of public transportation in the New York metropolitan region.
Brooklyn

New York Transit Museum
Boerum Place and Schermerhorn Street, Brooklyn Heights
718-694-1600; mta.info/mta/museum
Hours: Tuesday-Friday 10am-4pm; Saturday-Sunday 11am-5pm
Cost: $7; $5 children ages 2-17 and seniors 62 and older; free for children younger than 2; free for senior citizens 62 and older on Wednesdays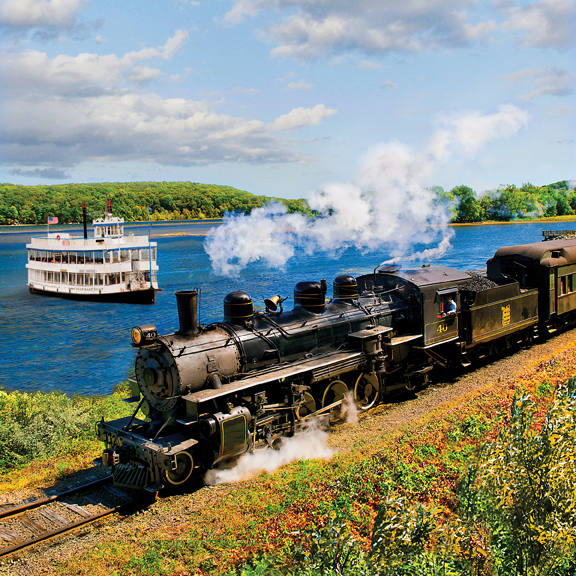 Hop aboard the Essex Steam Train & Riverboat for a scenic journey through the Connecticut River Valley. Located in Middlesex County, CT, it's the only steam train and riverboat connection in the country. Jody Dole
Exhibits: Steel, Stone, and Backbone, Moving the Millions, and On the Streets are the three long-term gallery exhibitions at the museum. They explore the history of New York trolleys, busses, and platforms. The museum includes more than 50 derailed model trolleys and a resident expert on the subject.


Railroad Museums and Train Exhibits in Westchester and Rockland Counties
Rye Playland
100 Playland Parkway, Rye
914-813-7010; ryeplayland.org
Hours: May 10-11 is opening weekend, and the park is open 12-7pm. Check the website for additional dates and times.
Cost: Park admission: $30; $20 for children shorter than 48 inches; free for children ages 2 and younger. Westchester residents receive a $5 discount.
The Kiddyland section of the amusement park features the Playland Express train ride. Children shorter than 42 inches, including infants and non-walking children, must ride with an adult.
Suffern Railroad Museum
1 Erie Plaza (off Orange Avenue), Suffern
845-357-2600; [email protected]
Hours: By appointment only
Opened in 1998, the museum is housed in a l908 Wells Fargo Building, restored to showcase Suffern's rich railroad history. Call to make an appointment.


Railroad Museums and Train Exhibits on Long Island
Long Island Live Steamers
Southaven County Park, Howie Carpluk Memorial Road, Brookhaven
631-345-0499; longislandlivesteamers.org
Hours: Opens May 18, 10:30am-3pm. Season runs through the end of October.
Cost: Tickets are free, but donations are requested.
The nonprofit railroad operates on 8.5 acres of land, and on Public Run Days (held on the second and last Sundays of each month), families are invited to ride the steam, diesel, and electric trains. Picnic area and snack bar available. Arrive early to watch the trains "steaming up."
Oyster Bay Railroad Museum
102 Audrey Ave., Oyster Bay
516-558-7036; obrm.org
Hours: Saturday-Sunday 11am-4pm
Cost: By donation
The museum is dedicated to preserving the rich legacy of Long Island's railroad history. The process of building and funding the museum is currently in progress. Currently, it's housed in an interim facility that contains selected displays from the museum's growing collection, exhibits outlining the plan for the museum, and a gift shop with a selection of rail-themed merchandise.
Railroad Museum of Long Island
416 Griffing Ave., Riverhead
631-477-0439 or 631-765-2757; rmli.us
Hours: Saturdays, 10am-4pm
Cost: $7; $4 children ages 5-12; free for children younger than 4

Visit either of the museum's two sites: Riverhead or Greenport for interactive exhibits, guided tours, and a ride on the museum's World Fair's miniature train.

In honor of National Train Day, ride the 1964-1965 World's Fair Long Island Railroad Park Train, see the Lionel Historic Layout in the Freeman North Exhibit Hall, and enter and experience a real LIRR caboose, M-1 electric passenger cars, and a 1960s Pullman Standard P-72 coach.
Wantagh Museum
1700 Wantagh Ave., Wantagh
516-826-8767; wantagh.li/museum
Hours: Sundays, 2-4pm, from mid-April to mid-November (hours are subject to change because the museum is staffed completely by volunteers)
Cost: By donation

The Wantagh Museum is composed of three structures: Wantagh Station, the Jamaica Railroad Car, and the original Wantagh Post Office. The original station was built in 1885 but was moved to its current location in 1966 and restored to the 1904 appearance by the Wantagh Preservation Society. You can tour the Jamaica car, which was a parlor car complete with solarium (a room built for the purpose of enjoying sunlight), cooking facilities, and air conditioning. You can also walk through the post office and view the historical photos on display in the station.


Railroad Museums and Train Exhibits in New Jersey
Black River & Western Railroad
98 Stangl Road, Flemington
908-782-6622; newjerseytrain.org
Hours: Varies by event
Housed in a restored Central Railroad of New Jersey baggae car, passengers on the railroad's excursion trains can explore the Black River and Western Railroad museum to learn about the history of railroading in the area. Check the website for a schedule of events for National Train Day this year.
The New Jersey Museum of Transportation
Allaire State Park, 4265 Atlantic Ave., Wall Township
732-938-5524; njmt.org
Hours: Open weekends
Cost: $4 train rides; free for children younger than 3
The museum is a nonprofit, volunteer-operated organization that owns and operates the Pine Creek Railroad. It collects, preserves, displays, and operates historic railroad equipment in order to preserve the history of railroading for the education and enjoyment of future generations. The museum offers regular train rides during the spring and summer months -- call or check the website for updates.
Northlandz
495 U.S. 202, Flemington
908-782-4022; northlandz.com
Hours: Monday and Wednesday-Friday 10:30am-4pm; weekends 10:30am-5:30pm
Cost: $13.75; $12.50 seniors 62 and older; $9.75 children ages 2-12; free for children younger than 2
Northlandz is home to the world's largest model railroad. This 16-acre railway (which attracts 1,500 patrons per day) features about 100 trains that travel over 8 miles of track, which include 40-foot bridges spanning large canyons. There are cities and villages with thousands of buildings, as well as a collection of 200 dolls that reside in a 94-room dollhouse.
Van Saun Park Railroad at the Bergen County Zoo
216 Forest Ave., Paramus
201-262-3771; co.bergen.nj.us/bcparks/zoo.aspx
Hours: Tuesday-Sunday, 10am-4:30pm, May through October
Cost: $1.50 per train ride. Zoo admission: $8 ($4 county residents); $5 children ages 3-14
Make a day out of going to the zoo and then taking a leisurely train ride. First built in 1963, the pint-sized train travels through the many different animals and attractions of the zoo while cruising through some railroad crossings and a tunnel.
Whippany Railway Museum
1 Railroad Plaza, Whippany
973-887-8177; whippanyrailwaymuseum.net
Hours: Sundays 1-4pm, April-October. Excursion train rides: 1-4pm on select Sundays, May 19-Sept. 15 (no rides in August).
Cost: $1; $0.50 children younger than 12. Excursion train ride: $14; $9 children younger than 12; free for infants in arms.
The Whippanong Valley Railroad, an "O" gauge model railroad, is the centerpiece in the main exhibit area of the museum building. Excursion Train Rides include a collection of restored, vintage cabooses from historic rail lines that once served New Jersey and the metropolitan area. Passengers can climb aboard the caboose of their choice and take a 45-minute ride as railroaders did for more than 100 years. The 10-mile ride travels the route of the Historic Whippanong Trail through Whippany, East Hanover, Livingston, and Roseland in Morris and Essex counties.


Railroad Museums and Train Exhibits in Connecticut
Danbury Railway Museum
120 White St., Danbury, CT
203-778-8337; danbury.org/drm
Hours: Wednesday-Saturday 10am-4pm; Sunday 12-4pm
Cost: $6; $5 seniors 62 and older; $4 children ages 3-12; free for children younger than 3
Train rides are offered at the Danbury Rail Yard Local hourly on weekends from April through November ($3-$10). The 20-minute ride tours the Danbury Rail Yard and includes a ride on an operating turntable.
Essex Steam Train & Riverboat
1 Railroad Ave., Essex, CT
860-767-0103; essexsteamtrain.com
Hours: Spring season (mid-May - mid-June): Saturday-Sunday at 11am, 12:30pm, 2pm, and 3:30pm. Summer season (late June - Labor Day): Trains run daily; check the website for the full schedule.
Cost: For train and riverboat connection: $26; $17 children ages 2-11; free for children younger than 2. Train only: $17; $9 children ages 2-11; free for children younger than 2.
The 2½-hour journey on the Steam Train and Riverboat Ride begins at the historic 1892 Essex Station. From there, you'll take a 12-mile, narrated round-trip journey into the heart of the Connecticut River Valley aboard a steam locomotive pulling vintage coaches through the quintessential New England towns of Deep River and Chester. At Deep River Landing, passengers are escorted onto the Becky Thatcher riverboat for a 1¼-hour cruise along the Connecticut River. After the cruise, passengers re-board the steam train for the return trip to Essex Station.
Naugatuck Railroad/Railroad Museum of New England
242 E. Main St., Thomaston, CT
860-283-7245; rmne.org
Hours: Scenic Train Rides begin in late May and are offered on Sundays and Tuesdays throughout the summer.
Cost: $14; $12 seniors 62 and older and children ages 3-12; free for children younger than 3. Purchase tickets online at rmne.org/schedule.
From the 1881 Thomaston Station, board the railroad's restored vintage passenger coaches for a scenic train ride through the Naugatuck River Valley. Leave time to tour the displays at the train depot and explore the charming village of Thomaston. For information on upcoming special events, including the return of the steam trains in June, visit the website.
Solar Express at Stepping Stones Museum for Children
303 West Ave., Norwalk, CT
203-899-0606; steppingstonesmuseum.org
Hours: Runs several times a day during museum hours: Daily, 10am-5pm.
Cost: $3 per ride with museum admission: $15; $10 seniors 62 and older; free for children younger than 1
This child-sized train takes visitors on a 7- to 10-minute trip through Mathews Park. It collects energy through the museum's solar panels and is a "green" addition to the museum's environmental initiatives that include a green roof, a wind turbine, rain gardens, and other eco-friendly features. Children younger than 3 must ride with a parent.
Railroad Museums and Train Exhibits in Pennsylvania
Bucks County, Pennsylvania
New Hope & Ivyland Railroad
32 West Bridge St., New Hope, PA
215-862-2332; newhoperailroad.com
Hours: Hourly Excursions offered Friday-Sunday through Memorial Day, then daily through June 30. See the website for a year-round schedule.
Cost: $19-$26; $17-$24 children ages 2-11; $4 children younger than 2
Travel back in time to the Golden Era of steam railroading on hourly excursions as you traverse the rolling hills and valleys of historic Bucks County aboard an authentic steam locomotive or historic diesel locomotive. Train rides are about 45 minutes and include narration about the history of Bucks County and the New Hope train line. (Tip: It's worth the upgrade fee to ride in the outdoor car!)
Bonus: While you're in Bucks County, don't miss a trip to Sesame Place in Langhorne and the Buck's County Children's Museum in New Hope.
Lancaster County, Pennsylvania
If you're looking to take an overnight trip to celebrate the holiday, Lancaster County is the place to go. There's a railroad, railroad museum, and model train store that's eye level with little tots. Nestled in Amish country, Lancaster County offers visitors the opportunity to learn about steam railroading, agriculture, Amish culture, and Pennsylvania Dutch heritage.
Strasburg Railroad
301 Gap Road, Ronks, PA
717-687-7522; strasbburgrailroad.com
Hours: Hours vary by day and season; open daily, April-October
Cost: $2-$20
Take a 45-minute train ride on America's oldest short-line railroad, restored to peak conditions. Choose to ride in a first-class, open-air, coach, or dining car (prices range from $2-$20).
Fun Extras: On weekends in May and other select dates, purchase a Fun Extras Daily Pass ($5) for unlimited access to the Cranky Cars, pint-sized hand-propelled cars that date back to the 1930s; Cagney Cars, miniature steam trains built in the early 1900s and originally used in Coney Island; and Pump Cars, vintage cars that you operate along a short track (must be at least 48 inches tall to operate Pump Cars).
For National Train Day, the railroad will host special events during this holiday weekend; check the website for updates.
On select dates in June, September, and November, ride a train pulled by storybook friend Thomas the Tank Engine, meet Sir Topham Hatt, and enjoy Thomas & Friends-themed entertainment, including storytelling, temporary tattoos, an Imagination Station, and more. For more information and to purchase tickets, visit thomasandfriends.com/dowt.
Choo Choo Barn
226 Gap Road (Route 741 East), Strasburg, PA
717-687-7911; choochoobarn.com
Hours: 10am-5pm, daily
Cost: $7; $4 children ages 3-11; free for children younger than 3; discounts for groups of 15 or more
A short distance from the Strasburg Railroad, Choo Choo Barn is a good follow-up for young children. The 1,700-square-foot model train layout here features more than 150 hand-built animated figures and vehicles and 22 operating trains—all at a child's-eye level. There is also a scavenger hunt activity available.
National Toy Train Museum
300 Paradise Lane, Paradise Township, PA
717-687-8976; nttmuseum.org
Hours: 10am-5pm Friday-Sunday in May. Hours vary by month; check the website for full schedule.
Cost: $6; $5 seniors 65 and older; $3 children ages 6-12; free for children younger than 6. Family discount: $15 (for two adults and three or more children or one adult and four or more children). Group rates available on request.
Designed like an old-time train station, the museum features a massive toy train collection with models dating from the 1800s to the present. There are five operating, interactive train layouts in G, Standard, O, S, and HO gauges. The museum is operated by the Train Collectors Association, one of the world's largest and most prestigious collecting societies.
Railroad Museum of Pennsylvania
300 Gap Road, Ronks, PA
717-687-8628; rrmuseumpa.org
Hours: Monday-Saturday 9am-5pm
Cost: $10; $9 seniors 65 and older; $8 children ages 3-11; free for children 2 and younger
This museum features a collection of more than 100 historic locomotives and vintage railroad cars on exhibit. There's also a railroad photography exhibit, simulated train operation demonstrations, and a children's room with train-themed activities for the younger crowd.