UPDATED NOVEMBER 2013: Get details on menorah and Christmas tree lightings in Ardsley, Chappaqua, Dobbs Ferry, Hastings-on-Hudson, Irvington, Scarsdale, Tuckahoe, White Plains, and Yorktown Heights.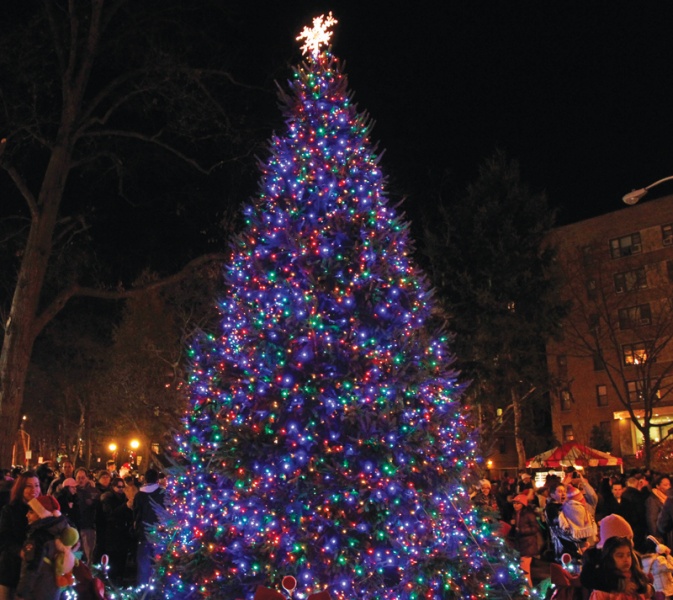 Gather your family to bask in the official start of the holiday season, when Christmas trees and menorahs are lit for the first time at community gatherings throughout the county. Many of these illuminating events include live performances, parades, Santa appearances, and treats—and best of all, they're FREE! See the full details below.
Menorah Lighting Festivals
Dec. 1: Celebrate the Festival of Lights with an afternoon of joyful music at the Annual Menorah Lighting at Westchester's Ridge Hill in Yonkers.
Dec. 2-4: Celebrate the holiday with traditional treats and songs by the Solomon Schechter School of Westchester Lower School Choir at the Hanukkah Celebration & Menorah Lighting at The Ritz-Carlton Westchester in White Plains.
Dec. 4: Join local dignitaries at the Hanukkah Community Menorah Lighting and light the giant menorah in front of the JCC of Mid-Westchester in Scarsdale.
Chabad of the Rivertowns hosts the following menorah lightings, all of which start at 7pm and include latkes, live music, and donuts. For more information, call 914-693-6100 or visit chabadrt.org.
Nov. 27: Ardsley Community Menorah Lighting; Legion Park, 15 Park Ave., Ardsley
Dec. 1: Irvington Community Menorah Lighting; Main Street in front of the Fire House, Irvington
Dec. 2: Dobbs Ferry Community Menorah Lighting; Corner of Cedar and Main streets, Dobbs Ferry
Dec. 3: Hastings Community Menorah Lighting; VFW, 558 Warburton Ave., Hastings-on-Hudson
Christmas Tree Lighting Celebrations
Nov. 16: At the Annual Tree Lighting at Westchester's Ridge Hill in Yonkers, Santa and Mrs. Claus will preside over the lighting of the tree and highlights will include holiday entertainment and treats in Town Square.
Dec. 1: Celebrate the sights and sounds of the season as the mayor presides over the White Plains Tree Lighting in Tibbits Park in White Plains. Carolers, music, refreshments, and visits with Santa will follow.
Dec. 7: Celebrate the season with The Chappaqua Orchestra and guest conductor Benjamin Niemczyk at the New Castle Community Sing & Tree Lighting at the Robert E. Bell Middle School in Chappaqua, where you can sing along to holiday songs and meet Santa.
Dec. 7: At the Winterfest Holiday Tree Lighting & Ice Skating at Depot Square in Tuckahoe, skating and holiday music begin at 6pm and the tree lighting takes place at 7pm.
Dec. 7: Watch the Second Annual Holiday Lights Parade & Tree Lighting in Yorktown Heights. The parade will travel down Front Street, ending at the Jack DeVito Memorial Field, where the town Christmas tree will be lit. Don't forget your camera for a photo opportunity with Santa and Mrs Claus. Bring a non-perishable food item for local food pantries, or a clothing donation.
More Fun
Search for more fun family events in Westchester and the NYC area in our full calendar of events!