The Westchester Children's Museum's annual spring benefit raised more than $100,000 toward the construction of the museum and honored local educator and Greenburgh, NY resident Janett Grose.
Westchester Children's Museum raised more than $100,000 at its annual benefit held at The Ritz-Carlton Westchester in May. The breadth of Westchester County was represented among the more than 350 guests, which included educators, business leaders, WCM "founding families," and political leaders. The annual benefit was titled "We're Almost Home," recognizing that WCM secured a lease for its future home, the historic Bathhouses at Rye Playland, in August. The event guest of honor was Westchester County District Attorney and WCM board member Janet DiFiore, who was honored for her dedication to the museum and its mission.
Funds raised from the benefit will support the nonprofit's campaign to build the brick-and-mortar museum at Rye Playland's historic North Bathhouse. Until the physical museum is built, WCM works to provide hands-on learning experiences to children and families across the region through its Museum Without Walls program, which has reached more than 6,000 youth in underserved communities since its launch in 2010.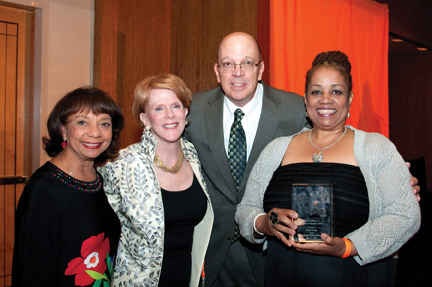 Additionally, WCM presented the Milton A. Williams, Jr. Scholars in Education Award to Greenburgh, NY resident Janett Grose (pictured above, far right), director of children's programs at The Carver Center in Port Chester, NY. The award was created in partnership with Bedford, NY resident Helen Williams (far left), an educator, in memory of Milton Williams, father of actress and famous Westchester resident Vanessa Williams, who serves on the museum's Advisory Board. Mr. Williams was a beloved music teacher, mentor, and administrator for 43 years at the Alice E. Grady Elementary School in Elmsford. (Also pictured: Kerry Walsh of Bronxville (middle left), Carver Center executive director; and Tracy Kay, WCM executive director.)
For more information on the Westchester Children's Museum and its construction, visit discoverwcm.org.