The Westchester Children's Museum gala at The Ritz-Carlton Westchester in White Plains raises nearly $200,000 with the help of more than 350 museum supporters, including county executive Rob Astorino who showed his public support for the WCM for the first time.
More than 350 supporters of Westchester Children's Museum witnessed a long-awaited "miracle" at the museum's "Boardwalk Bound" gala, held recently at The Ritz-Carlton Westchester in White Plains. For the first time, county executive Rob Astorino attended in support of WCM and also took the stage to publicly announce his gratitude to the museum for working closely with his administration in an effort to open its doors at Rye Playland. Astorino's statements follow last month's press conference with WCM and Sustainable Playland in which he expressed his desire for the two parties to collaborate toward making Playland Park a successful, year-round destination.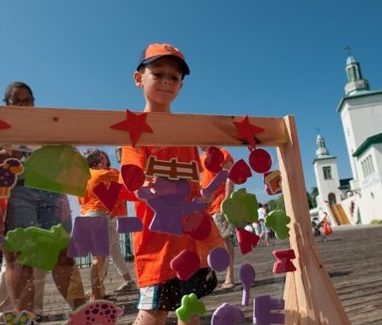 In addition to Astorino's appearance, WCM's "Boardwalk Bound" gala welcomed a bevy of high profile supporters including Kevin Plunkett, deputy county executive; Oscar Flores on behalf of President Clinton and former Secretary of State Hillary Clinton; Janet DiFiore, fistrict sttorney; Noam Bramson, New Rochelle mayor; legislator Catherine Borgia; Bill Mooney, senior adviser to the county executive; Kim Morque, Sustainable Playland president; and legislator Judy Myers, a fierce advocate of WCM who heavily assisted in its lease approval for a home at Playland's North Bathhouse.

"There is a unanimous consensus that Westchester Children's Museum would be an anchor in Playland's re-development and an integral part of the park for years to come," said Zola. "We are ready to build; we just want the key." Zola went on to remind the supporters in the room, particularly those in politics, that WCM's goal is to build a vibrant learning space that fills a void in Westchester County by providing a safe, enriching outlet for its children, now and for generations to come. "Ours is an initiative that will serve our families, enhance curriculum in our schools, and provide programming for communities with economic or social barriers that prevent them from providing out of school enrichment for their children."

WCM has completed its architectual and exhibition designs and has pledged to invest more than $6 million toward making the Bathhouse habitable. The museum is entirely supported by donations and grants from individuals, foundations, and corporations – more than $1 million in cash and pledges has been raised in the past year and WCM has been awarded two state grants totalling $350,000.

"There is now no opposition to the children's museum at Playland and for that we thank both of you," county executive Astorino said. "Moving forward, I ask that you consider the hundreds of museum volunteers who have committed their time, energy, and money; consider the thousands of hours that we've spent negotiationg, bargaining, and at times, pleading instead of teaching our kids; consider the millions of dollars that have been spent sustaining our operation and promoting a museum without walls rather than providing a unique physical destination; and consider the message it would send about Westchester County if a project with near unanimous support and no subsidy or money from the general fund that was conceived, launched and financed by volunteers, did not succeed."
While this year's gala marked a momentous 'first' for WCM in regard to a political peace offering, the event also celebrated the museum's dedicated board, staff, volunteers, and donors. Emcee Jené Luciani, a TV personality, author, and Westchester resident, kept guests entertained as they enjoyed cocktails, hors d'oeuvres, and a silent auction while Helen Williams presented the Milton A. Williams, Jr. Scholars in Education Award to Dr. Barbara Peters, superintendent of the Elmsford School District. Helen's daughter, actress Vanessa Williams, is a member of WCM's Advisory Board.

Tracy Kay, WCM's executive director, both commenced and concluded the evening as he has each year.
"It's a heartwarming feeling to see all sides coming together for the greater good of our communities and the families within them because their future is at the core of what we're all trying to accomplish," Kay said. "Perhaps next year we'll be hosting Westchester Children's Museum's gala at our Playland Park home."

For more information about Westchester Children's Museum or to learn how you can support its mission, please visit discoverwcm.org. Follow Westchester Children's Museum on Facebook (facebook.com/discoverwcm) and Twitter (@discoverWCM) for updates.


About Westchester Children's Museum
Westchester Children's Museum will be a learning laboratory providing children, families, and school groups throughout Westchester County and the surrounding region with the opportunity to nurture curiosity, enhance knowledge, and ignite imagination through hands-on exploration. WCM is committed to broadening knowledge of the arts, the environment, multiculturalism, and the local and global communities in an educational and recreational atmosphere.