Westchester County will host the iconic American Gold Cup 2013 equestrian competition this September, an international show jumping event.
On Feb. 25, Westchester County Executive Robert P. Astorino announced that our county has been selected to host the 43rd annual American Gold Cup equestrian competition. A prestigious event in the world of international show jumping, the contest will be held Sept. 11-15 at Old Salem Farm in North Salem.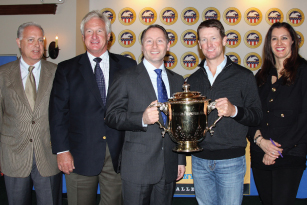 From left: Michael Morrissey, president of Stadium Jumping; Frank Madden, Old Salem Farm head trainer and American Gold Cup organizer; Robert P. Astorino, Westchester County Executive; McLain Ward, two-time Olympic gold medalist from Brewster; Valerie Angeli, ASPCA senior director of equine and special projects.
Diana Costello/Westchester County
"The county already has a long and proud history of equestrian sports, so it's a perfect fit," Astorino said during the announcement. Astorino was joined for the announcement at Old Salem Farm by members of the American Gold Cup Team, including two-time Olympic gold medalist McLain Ward of nearby Brewster.
Also on hand were invited guests from the tourism, hospitality, equestrian, media, and other local industries, who were treated to a behind-the-scenes tour of the farm, which recently underwent a $30 million renovation.
"Over the course of five days, the American Gold Cup will feature 600 horses and 300 riders from Europe, South America, Canada, and across the United States," said Frank Madden, Old Salem Farm head trainer and American Gold Cup organizer. "This is truly a signature event for the equestrian community, and Old Salem Farm is proud to host all the great athletes, spectacular horses, and supportive fans." The competition is expected to draw about 10,000 people.
The ASPCA and JustWorld International have been selected as this year's charitable partners.

Tickets to the 2013 American Gold Cup will be available in July at theamericangoldcup.com.