ABC Cakes opened March 20 in Mamaroneck, NY, offering customized cakes, cupcakes, baking classes, and in-store birthday parties.
Duran Radulovic has been in the cake business her whole life. "My parents owned a cake shop called Custom Cakes out West and my mother did cakes and catering for 35 years," Radulovic says. Following the family tradition, the now New York-based mom of three opened ABC Cakes in Mamaroneck on March 20.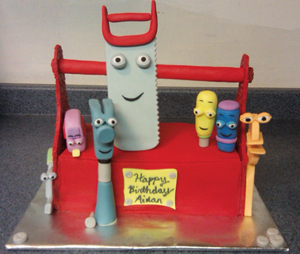 While Radulovic has been making custom cakes for friends and family for many years, her professional career started about six years ago, right after her first daughter was born. Friends caught on to the cute, custom treats she was making for her little one, word spread, and orders started coming in. Soon she was traveling house to house to host cake- and cupcake-making parties for children's birthdays. When the demand got too high, a light went on, and Radulovic decided to claim a retail space of her own.
In addition to cupcakes and customized cakes for special occasions, ABC Cakes offers baking classes for all ages and in-store birthday parties for kids ages 3 and up. Younger children make and decorate cupcakes and individual cakes while older kids (ages 12 and up) participate in a "Cupcake Wars"-style competition complete with secret ingredients and design challenges.
For those looking to try their own hand at cake making, Radulovic sells colored fondant by the two-pound tub.
ABC Cakes is located at 414 Mamaroneck Avenue. For more information, call 914-630-2858 or visit www.abccakesny.com.