Related: volunteer, volunteering, Westchester, NY, Westchester County, soup kitchens, food pantries, Thanksgiving, holiday season, holidays, family activities,




PLEASE NOTE: This article was published in 2009. Some information may be outdated. Please call to confirm donation and/or volunteer information for the current year.
---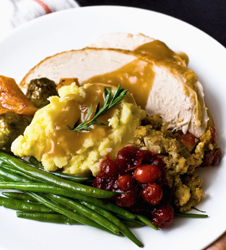 Want to do some good this Thanksgiving? The following places around Westchester need your help. Call ahead to confirm details.
The Sharing Community, Inc.'s Annual Thanksgiving Day Community Dinner for the Homeless and Hungry needs volunteers to help serve meals. Turkeys and non-perishable foods are accepted, along with monetary donations. Thursday, November 26, 12-3pm. 1 Hudson Street, Yonkers. 914-963-2626. www.thesharingcommunity.org.
The Food Bank for Westchester works with more than 200 agencies to distribute food on Thanksgiving. Non-perishable foods and monetary donations are accepted. 914-923-1100. www.foodbankforwestchester.org.
Westhab, Inc. is accepting canned and dried foods of any kind for the food pantry, as well as cooked Thanksgiving dinners. 85 Executive Boulevard, Elmsford. 914-345-2800. www.westhab.org.
The Ossining Food Pantry is looking for in-kind donations, which include non-perishable canned and boxed foods. Volunteers are also needed to facilitate food drives. 7 South Highland Avenue, Ossining. 914-245-4334. www.ossiningfoodpantry.org.
The Westchester Community Opportunity Program, Inc. (WestCOP) is accepting monetary and non-perishable food donations for its annual Thanksgiving Family Dinner. 2269 Saw Mill River Road, Building #3, Elmsford. 914-592-5600. www.westcop.org.
The First Assembly of God is accepting non-perishable food items for its Thanksgiving dinner. 165 Union Avenue, New Rochelle. 914-632-0031.
Grace Church Community Center needs volunteers to serve meals. Non-perishable foods, paper goods, plastic glasses and cutlery, Styrofoam cups, and monetary donations will also be accepted. Grace Church Community Center, 33 Church Street, White Plains. 914-949-3098. www.gracecommunitycenter.org.
Volunteers are needed to share their Thanksgiving dinners with people from the church and community at the Thanksgiving Outreach Dinner. Thursday, November 26, 1-4pm. Grace Baptist Church, 52 S. Sixth Avenue, Mount Vernon. 914-664-2676. www.gracebapt.org.
---
Get Your FREE Indoor Activity eGuide!
---
More CHARITABLE CAUSES Articles
Trick-or-Treat for UNICEF
Mitzvah Market Develops B'Nai Mitzvah Planning Software
Celebrate Halloween With Spirit of Children
Josh Lucas Plays Ping Pong for Charity
Fundraising Walks in the New York City Area

Be a good fellow parent and share this with a friend who would be interested
Local CHARITABLE CAUSES Sponsors
See Our CHARITABLE CAUSES Directory