Has your child been diagnosed with ADHD, learning disabilities, Dyslexia, Tourett syndrome or a spectrum disorder? If so, our Brain Balance Program can help. The program is entirely drug-free and uses a winning combination of physical, nutritional, and cognitive activities to enhance your child's performance in the classroom and beyond. The Brain Balance Program forms effective neural pathways that improve attention and focus, academic performance, reduce negative behaviors and improve social skills and interaction. Please call our office to reserve seating for our next free parent event.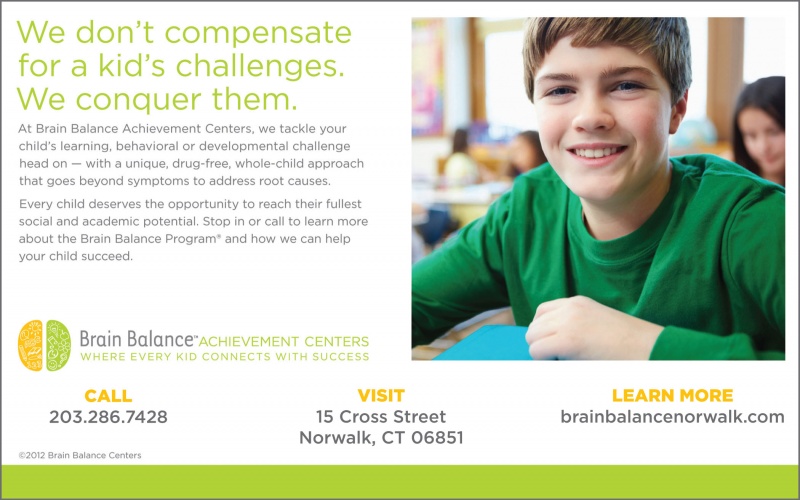 Testimonials:
Dr. G,
Thank you once again to Brain Balance of Norwalk. Today, our son Ashton was fully mainstreamed from a self contained classroom for attentional, social and emotional support to an inclusion class. He has made unbelievable progress after going through your program. His teachers and support staff were on board with us and all of you. Together we all changed his life. Though it is not over yet your ideas and tools will continue to support us on our journey...... TB
Want to learn more about this business? Send them a direct inquiry.
EDU - SPECIAL EDUCATION
Don't compensate for your kids' challenges by addressing the symptoms; conquer them by addressing the cause. At the Brain Balance Achievement Center, we tackle your child's learning, behavioral, or developmental challenge head on, by addressing the core issues at the most fundamental level. The program is a ground-breaking, drug-free approach that integrates physical and cognitive activities combined with dietary changes, all aimed to address the underlying cause, not just the symptoms. The Brain Balance Center works with families affected by ADHD, learning disabilities, dyslexia, spectrum disorders, and the like.
Read More About Brain Balance Achievement Center of Norwalk
Ask the Expert: What is Functional Disconnection Syndrome?
Mark Goldenberg, DC, DABCN, FACFN, a board-certified chiropractic neurologist who specializes in the treatment of learning disabilities, dyslexia, ADD, and autism spectrum disorders, describes Functional Disconnection Syndrome, as well as some of its symptoms and treatments.
UPDATE YOUR MICROSITE