Helping Children Smile Through Life
At Briarcliff Pediatric Dentistry, we believe in providing the right care at the right time, and will work with you to make sure that your child's treatment is as efficient, comfortable, and rewarding as possible.Our doctors and staff look forward to helping your little one create an early foundation for strong dental health. We specialize in pediatric dentistry and orthodontic care, making us uniquely able to meet the needs of young children in a fun, safe, encouraging, and family-friendly environment.
Pediatric Dentistry
Drs. Renuka Bijoor, Agneiska "Aggie" Gosk, and Eleni Michailidis provide gentle pediatric dentistry and start your child on the road to excellent dental health for the rest of their life. We strive to create a positive dental experience to keep our young patients excited about taking care of their teeth. Our dental services include:
* Preventive cleanings and checkups
* Drill-free laser dentistry
* Sealants
* Zoom!® whitening
* Bonding
* Digital X-rays
Orthodontic Care
Drs. Tiffany Christensen and George Pliakas are our orthodontic specialists, providing interceptive and comprehensive orthodontics to keep you child's smile beautiful and confident. We understand that no two smiles are alike, and we strive to create unique treatment plans that for each individual smile we treat. Our orthodontic services include:
* Traditional metal and clear braces
* Invisalign® clear aligners
* OrthoCAD iQ digital models
Please feel free to contact our office to schedule an appointment for your child with one of our wonderful doctors. We look forward to meeting you and welcoming you into the Briarcliff Pediatric Dentistry family. Call today!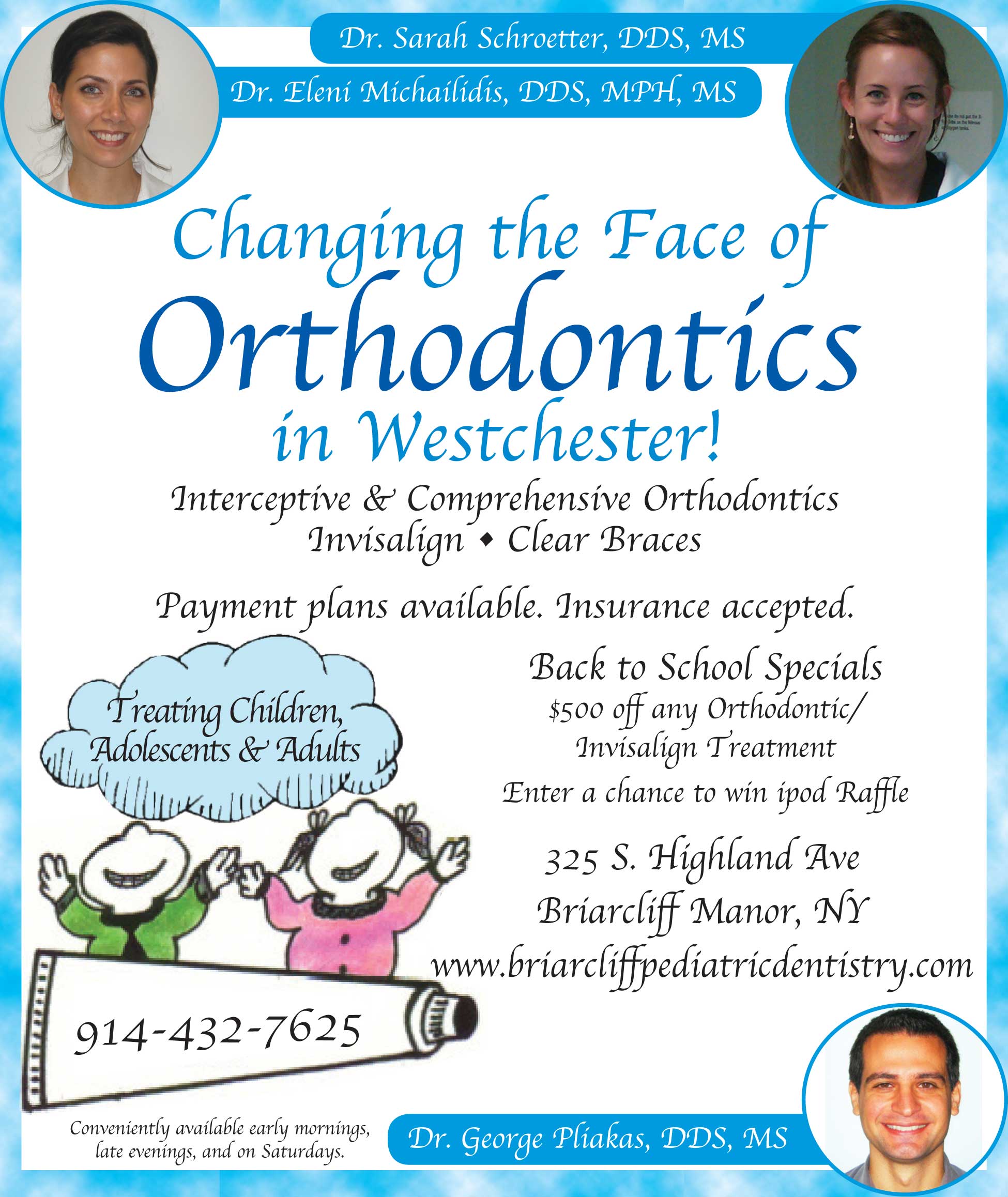 Want to learn more about this business? Send them a direct inquiry.
HEALTH
The most amazing laser technology in our office has changed the way your children receive dental care. No more shots! No prolonged, high-pitched sounds and vibrations of the drill! Cavities can now be treated with such ease in no time. Treating tongue-ties and lip-ties with the laser have helped many moms who have difficulty with breastfeeding. Please call for a free consult.
MEET THE HEALTH CARE PROFESSIONAL

Dr. Renuka Bijoor is a board-certified pediatric dentist who believes in "helping children smile through life." A graduate of Columbia College of Dental Medicine, she currently teaches there on a part-time basis. She is also affiliated with Phelps Memorial Hospital in Sleepy Hollow, NY, where she provides hospital dentistry to young children and children with special needs. Briarcliff Pediatric Dentistry offers gentle, comprehensive dental care and orthodontics in their state-of-the-art offices for children from birth to 22 years of age, and any patient with special needs.
Read More About Briarcliff Pediatric Dentistry
Featured Health Listings for 6/18/2012
Selecting a health care professional for your child can be nerve wracking. Below you can be introduced to doctors -- pediatricians and family practitioners, dentists, and specialists who care for children. There are also speech pathologists, chiropractors, occupational therapists, psychologists and more who care for kids. These doctors, dentists and professionals practice in New York City including Manhattan, Brooklyn and Queens. Others have offices in Westchester, Rockland, Fairfield Counties, and Long Island, both Nassau and Suffolk Counties. If you can't find one here, look for hundreds of more health care professionals on nymetroparents.com.
UPDATE YOUR MICROSITE