Northwood's Unique & Intentional Emphasis: Social Skills, Self-Esteem & Independence
The child/mentor relationship between campers and counselors in a quality summer camp is quite different than that of students and teachers in most school settings. With the emphasis placed squarely in the social/recreational realm, summer camp staff can provide a more social specific mentoring role to children far beyond that of teachers who are required to focus in much more detail on mandated academic curricula. Camp Northwood also recognizes the need for on-going academic support throughout the summer so we have incorporated a daily individualized academic session each morning following breakfast prior to jumping into our full day of camp activities.
Social skills must be taught, reinforced and practiced before they are internalized and performed successfully. The environment in which this is done most efficiently is a social one. There are few environments better suited to teach social skills than residential summer camps!
Traditional Programming Used to Create Social Opportunities
All children crave normalcy. At Camp Northwood our campers get to experience a wide variety of traditional summer camp activities just as their peers at more traditional camps across the country. However, at Camp Northwood our staff uses these activities as opportunities for our campers to reinforce a social skills curriculum that is woven into the fabric of our camp environment. The following activities is a sampling of our over 40 offerings at Camp Northwood:
Professional Staff & Support
The Camp Northwood staff is led by an extraordinary team of educators with decades of experience in the camp industry. Certified Special Educators, Occupational Therapists, School Counselors and Medical Staff help drive the program and are the foundation of our staff community. A 2:1 camper/counselor ratio assures that campers are supervised 24/7 and receive continual support and guidance. It is the ongoing "social dialogue" between campers and staff that is the hallmark of Northwood's program. Having a more mature staff in place that brings this intentional approach to social skills development creates a unique and socially conscious camp community.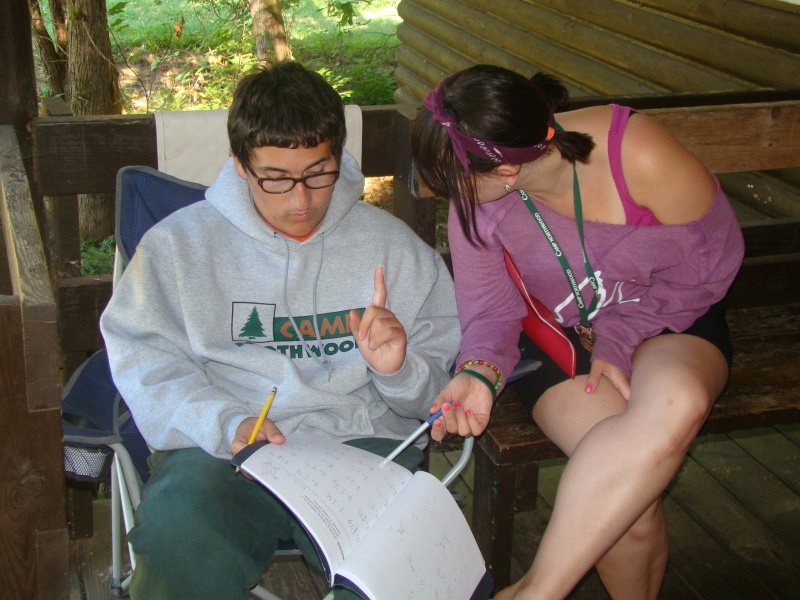 Adaptability of Programming
As campers age, the goals that families have for a summer experience evolves. Our Camp Northwood program for children ranging in age from 8-18 is designed to provide social/recreational programming within our traditional camp setting. As campers near the end of their secondary school educations, upcoming transitional changes must be taken into consideration. The Northwood Center program was developed to meet this unique need of young adults ranging in age from 16-21. At the Northwood Center we have incorporated a healthy dose of life skills and pre-vocational training into our students' summer experience. Students live in our Northwood Center apartment lab facilities and spend time each day focusing on specific skill areas related to independent living. (Food preparation, care of clothing, apartment safety/maintenance, budgeting, shopping, use of public transportation, social skills and planning for recreational time are just a few of our curriculum topics) The Northwood Center students also take full advantage of the social opportunities and recreational facilities at Camp Northwood. This transitional program is a vital bridge for many of our students that will be taking real steps toward independence from home in the near future.


| | | |
| --- | --- | --- |
| | | |
Want to learn more about this business? Send them a direct inquiry.

Camp Northwood, a coed sleepaway camp (ages 8-18), and The Northwood Center, a simulated apartment setting for young adults (ages 16-21), have been making a positive difference in the lives of socially-immature, learning-challenged, and high-functioning autism spectrum campers since 1976. Guided by the leadership of Gordon Felt, a certified special educator, campers benefit from 2-to-1 camper-to-counselor support while exploring more than 30 enriching, enjoyable, non-competitive activities promoting social skills, self-esteem, and independence. Located in the Adirondacks on a 9-mile lake, Northwood is family-owned, independent, and ACA accredited.