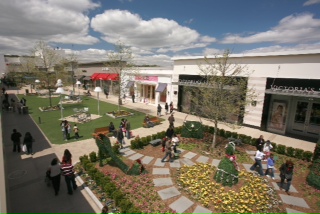 Cross County Shopping Center is Westchester County's first and largest outdoor shopping venue! We're located right off the New York State Thruway and Cross County Parkway in Yonkers and with more than 100 stores including Macy's, Sears, H&M, XXI Forever, bebe, GUESS, Victoria's Secret, AX Armani Exchange, Swarovski, Children's Place and more; we've got something for everyone in the family! Plus, we've just completed a major renovation and we've got a brand new look to celebrate, not to mention great amenities such as FREE parking (in open lots and a covered, five level parking deck adjacent to Macy's) plus two children's play areas, and family/nursing room facilities.
Cross County Shopping Center offers more than just great shopping - it's a dining and entertainment destination as well. Enjoy local restaurants and eateries such as TGI Friday's, Red Lobster and Applebee's plus Chipotle, BGR the Burger Joint, Panera Bread and Haagen Dazs. We also host seasonal events and promotions from our annual summer concert series to a July 3rd Fireworks Show, a Halloween Spooktacular and we can't forget our sparkling tree lighting ceremony each holiday season. After the holiday season shoppers can resolve for a healthier lifestyle by joining the gym, Blink Fitness, a concept by Equinox, or turning over a new leaf at our Westchester Community College campus.
No matter what time of year it is Cross County Shopping Center's promenades always provide an inviting atmosphere to relax and enjoy family time while also finding the great fashions you need.
For more information on new store openings, special events and great sales, sign up for emails at www.crosscountycenter.com, become a fan on Facebook.com/CrossCountyShoppingCenter or follow us on Twitter.com/ShopCrossCounty. Cross County Shopping Center is open Monday - Saturday, 10am - 930pm and on Sunday from 11am - 7pm. Department store and holiday hours may vary.
Want to learn more about this business? Send them a direct inquiry.
SUMMER FUN – ACTIVITIES & EXCURSIONS – PRINT GUIDE
Summertime is always in style and there's no better place to enjoy the season than at Cross County Shopping Center, with new retailers like Zara and Red Mango, plus family-friendly entertainment! SummerFest takes place June 25-Aug. 15, and includes our annual series of outdoor concerts, fireworks, weekly arts and crafts for kids, the annual sidewalk chalk art festival, and—special in 2014—an all-day celebration held in honor of our 60th Anniversary! Parking is free and so are the events, which take place throughout the mall. Visit crosscountysummerfest.com for event details.
Read More About Cross County Shopping Center
Top FREE Things to Do in Westchester this November
Think free events are no fun? Don't let the cost (or lack thereof) fool you! There are plenty of free things to do this November in Westchester County, NY, that are worth getting your kids out of the house.
Summer Activities in Westchester County, NY
Do you need great summer activities for kids in Westchester County, NY? Use our guide to find kids classes, Westchester summer camps, summer programs, activities near Westchester County, and family excursions close by. Summer activities in Westchester are at your fingertips.