These are some of the many reasons why we are THE place to bring your child to fall in love with the joy of gymnastics and movement:
Hundreds of thousands of children have cartwheeled with us.

We work relentlessly to provide the best experience for every child.

Former students now bring their own children.

(What better testimonial is there than that?)
Our curriculum is un-matched. Our staff is incredible. Our facilities are safe, clean and inviting. We love kids, and are passionate about fitness. We believe we are making a difference every single day.
Why gymnastics?
Parents have so many choices in children's programming, and there are so many opinions on what programs a child needs. Gymnastics has always been and will always be one of the best activities for a child. Children need to move…in all different ways. Gymnastics provides that. There is no other sport that encompasses so many skills.
Our Team
We are a group of people who absolutely love children, are passionate about fitness and are dedicated to providing you with the best experiences possible.
You truly won't find a more attentive, caring, enthusiastic, and knowledgeable staff anywhere!
Our teachers are carefully selected based on their knowledge in both child development and gymnastics. Each teacher is USA Gymnastics Safety Certified, CPR certified, First Aid certified, and background checked. In addition, they go through an extensive Jodi's Gym training program that is unmatched.
We Believe
Gymnastics builds a strong mind-body connection, helping children feel comfortable in their own bodies
An early movement foundation helps children grow up to be healthy, active adults.
A child who is having fun will be excited to learn.
We are making a difference in the health and fitness of children everyday.
Every child learns differently.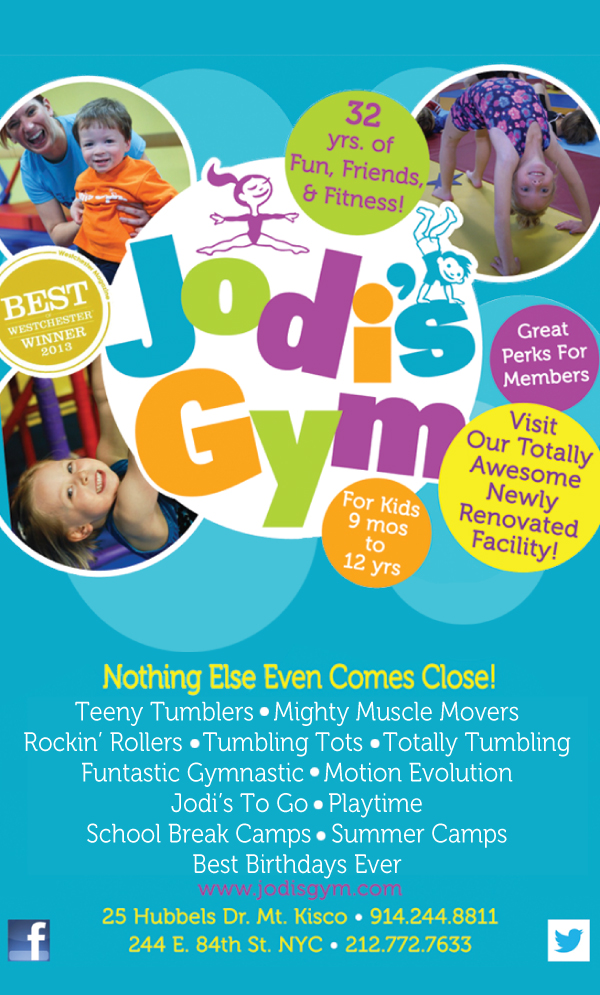 Want to learn more about this business? Send them a direct inquiry.
CAMPS-TRADITIONAL
At Jodi's Gym, kids run, jump, and tumble their way to fitness! Now in our 33rd year, Jodi's Gym Camp for 3- to 7-year-olds is three hours filled with gymnastics, music, art, story time, games, and snack time. Our staff is safety certified and goes through an extensive Jodi's Gym training program. Our newly renovated, clean, spacious, state-of-the-art facility is a child's dream come true. Jodi's Gym offers the most flexible scheduling around. You choose the weeks and days!
As early as Jodi Levine could walk, she was tumbling. Jodi ultimately became a national-level gymnast. In 1982, she started Jodi's Gym, launching the first gymnastics-based "Mommy & Me classes" in NYC. At Jodi's Gym, Jodi leverages her more than 40 years of experience in gymnastics to create well-balanced programs that focus on all aspects of a child's development. Jodi's Gym offers classes in gymnastics, music, and art, in addition to a variety of camps, birthday parties, and off-site "Jodi's Gym To Go" programs in Manhattan and Westchester County.
Read More About Jodi's Gym
School Vacation Camps in New York City, Long Island, and Connecticut
This winter break, find fun holiday camp activities for your kids while school is on vacation. We have school vacation camps in Rockland, Westchester, Long Island, Queens, Brooklyn, Manhattan, and even Fairfield County, CT. Start planning your child's winter holiday break with these fun holiday camps today.
Summer Activities in Westchester County, NY
Do you need great summer activities for kids in Westchester County, NY? Use our guide to find kids classes, Westchester summer camps, summer programs, activities near Westchester County, and family excursions close by. Summer activities in Westchester are at your fingertips.