Summer camp
Linguakids is now offering French and Spanish summer camps from the end of June till the end August. Having foreign language classes every day of the week or once a week during several weeks is a good way to improve knowledge in those languages. You choose the week or the days and we do the rest. Our foreign language summer camps are located in Larchmont, NY and in Darien, CT. Our foreign language summer camps are a lot of fun for children. Our curriculum is made of many fun activities which are an effective tool when learning a foreign language. It is a unique opportunity to be immersed for several days in a foreign language atmosphere.
During the school year
During the school year Linguakids also offers a fall 2011 and a spring 2012 17 weeks language sessions for French and Spanish (from September 12 2011, to January 27, 2012 and January 30, 2012 to June 15, 2012). Other languages are available on requests.
Our goal is to teach a new language, a new culture and have fun at the same time!!! Through fun songs, games, arts, reading stories and much more your child will learn basic vocabulary and how to speak with a flawless accent. Your child will be completely immersed in the chosen language.
Other Linguakids Services
Linguakids is also offering a flexible before or after school program to more than 20 elementary schools in Fairfield and Westchester County
Private lessons are also available

Teachers are native speakers
LinguaKids teachers are friendly, energetic native speakers. We follow your child's progress in French, Spanish from first steps through all high school levels. We have been offering our unique and exclusive program to the children and parents of our community for the past years, regularly developing, improving and expanding our curriculum to benefit all of our clients.

Why Kids need to start learning a foreign language when they are young
Research shows that children who are exposed to a foreign language after the age of 10 will most likely never speak it like a native. That's why it is so important for children to be exposed to another language during their "critical period". The potential benefits for kids speaking more than one language is that it also improve comprehension skills in English, as 'Children gain some abstract abilities,' says Jean Berko Gleason, a psychology professor at Boston University
Testimonial
- We moved this year from a town that offered Spanish as part of the curriculum. I have to say that my daughterl learned so much French in these months, it even surpassed what she would learn in a year(s) in school. The Language Program is top notch!
- I am sure Will has actually learned something that will be with him for life. Thank you for keeping the vision of expanding our children's world. Thanks!!"
- Thank you again Michele. You run a wonderful program.

Contact us
for more information you can reach us at 203-426-7004 or 914 -833-0781
Or contact directly at Michele@linguakids.com
Please visit also our website at www.linguakids.com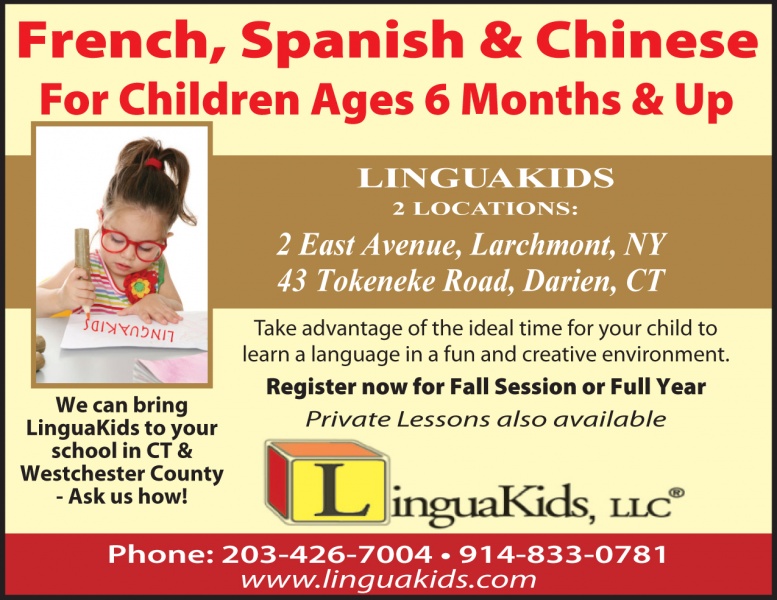 Want to learn more about this business? Send them a direct inquiry.
BACK TO SCHOOL
LinguaKids offers Italian, Mandarin, French, and Spanish classes for children starting at age 6 months. LinguaKids' teachers are all friendly, energetic, native speakers, who completely immerse the children in the language. We use a multi-sensory approach to learning a language, combining songs, movements, arts and crafts, games, storytelling, and role playing, to make learning fun. Come see us in our studios in Larchmont and Darien. You can also contact us about our before- and after-school programs. Over 600 children enroll each session. Join the fun!
Read More About LinguaKids®, LLC
Summer Activities in Fairfield County, CT
Find fun summer activities for kids in Fairfield County, CT. Use our guide to find kids classes, Fairfield County summer camps, summer programs, activities near Fairfield County, and family excursions close by. Summer activities in Greenwich, Stamford, Westport, New Canaan and the rest of Fairfield County, CT are easy to find.
Summer Activities in Westchester County, NY
Do you need great summer activities for kids in Westchester County, NY? Use our guide to find kids classes, Westchester summer camps, summer programs, activities near Westchester County, and family excursions close by. Summer activities in Westchester are at your fingertips.
UPDATE YOUR MICROSITE