At the New Rochelle Racquet Club, we challenge you to find a better junior or pee wee tennis camp or program! We offer the best year-round tennis instruction programs for ages 3-100. Get yourself off to a great exercise regime with adult groups, cardio tennis, power drills, men's/women's leagues, seasonal tennis, summer/vacation camps, and racquetball. Please call or stop by for a tour/more information or visit our website.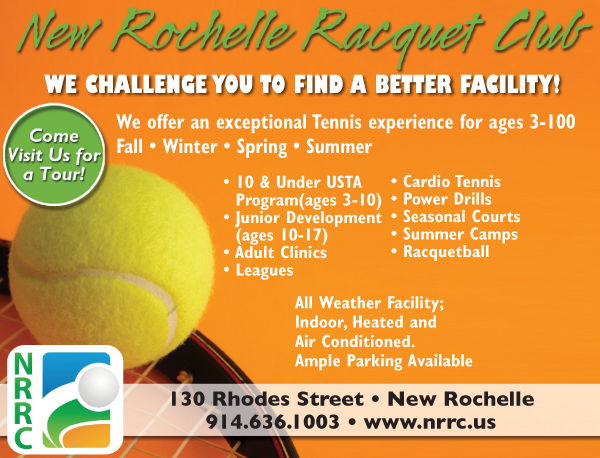 Want to learn more about this business? Send them a direct inquiry.
HOLIDAY CAMPS
Looking for some activities for your children during vacation weeks? The New Rochelle Racquet Club offers two camp weeks for children ages 4-16 years. We also offer the best year-round tennis instruction programs for children and adults. We offer 10 and Under, Junior Development and Adult Instruction groups, Power Drills, Men's and Women's Playing Leagues, Seasonal Tennis, and Summer Camps for all ages, plus five racquetball courts. Our Spring Session begins Jan. 10, 2015. Stop by for a tour or call for more information.

Since becoming a USPTA-certified tennis professional, Josh Bill has focused his career on spreading his love of tennis with unparalleled devotion to both juniors and adults. As NRRC's director of tennis, his experience, energy, enthusiasm, and spirit are infectious. Josh has more than 20 years of experience, and started his teaching career as site director at the NYC Parks Department. As a junior, Josh played No. 1 singles for Lehman High School, progressing to a top three ranking in NYC, and top 20 in the USTA Eastern section.
Read More About New Rochelle Racquet Club
School Vacation Camps in New York City, Long Island, and Connecticut
This winter break, find fun holiday camp activities for your kids while school is on vacation. We have school vacation camps in Rockland, Westchester, Long Island, Queens, Brooklyn, Manhattan, and even Fairfield County, CT. Start planning your child's winter holiday break with these fun holiday camps today.
Summer Activities in Westchester County, NY Part 2
Do you need great summer activities for kids in Westchester County, NY? Use our guide to find kids classes, Westchester summer camps, summer programs, activities near Westchester County, and family excursions close by. Summer activities in Westchester are at your fingertips.