| | |
| --- | --- |
| | |
Andrea and Jim are the husband and wife team who in 1991 founded both On Hudson Fitness & Dance & New York Goju Karate Black Belt Academy. They are proud to be celebrating 20 great years in Hastings on Hudson.
New York Goju Karate Black Belt Academy is truly one of the finest martial arts programs in the country. Headed by 6th degree Master, Shihan Jim Chillemi and his fine staff, the school has grown to over 300 students in its 20 years of operation. All staff is highly trained by Master Chilllemi himself. The classes are age and rank specific and begin as young as 3 (Tiny Tigers Program). They also include specialty classes such as all Women's, Teen/Adult, Parent/Child, Grappling and Leadership. The school's main philosophy is about helping others through acts of kindness, courage and true leadership. In the last 5 years alone, their yearly kickathon for St.Judes Childrens Hospital has raised over $80,000!
On Hudson Dance is fast becoming known as a superior local dance studio with top quality dancers and a highly professional staff handpicked by the Director, Andrea Chillemi. Classes also begin at age 3 and offer various levels and styles of dance including Jazz, Hip Hop, Lyrical, Ballet, Pointe, Modern and Tap. With their 2 companies, they give back each year to the local community via live dance performances at Children's Hospitals and Senior Centers. The yearly recital has grown to an incredible production of very talented dancers performing alongside some of the best goju practioners around!
The fitness program offers comprehensive classes taught by some of Westchester's finest fitness pros and is a great place to train if you want to get in shape without having to attend classes in the extremely overcrowded gyms. Come take a class on us and see what all the buzz is about!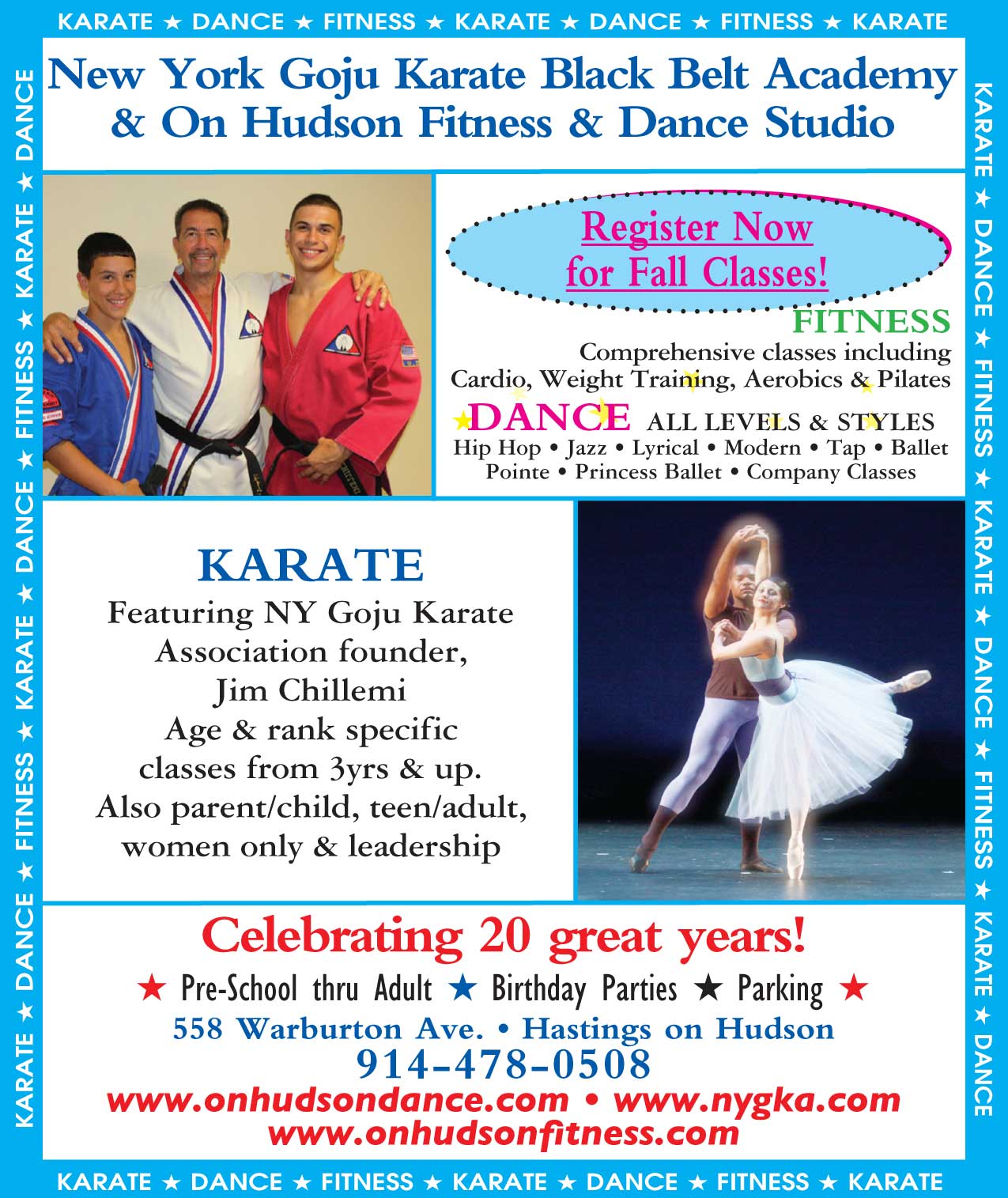 Want to learn more about this business? Send them a direct inquiry.
BACK TO SCHOOL
Experience the best in dance, fitness, and karate! We offer dance classes in all styles and levels, including hip-hop and lyrical jazz. Fitness classes are comprehensive, and taught by the best instructors in Westchester. Our NY Goju Karate program, one of the region's finest, offers age- and rank-specific classes, from pre-school Tiny Tigers to Black Belt and beyond. Whether you are looking for a program for your children or yourself, On Hudson Fitness and Dance Studio and NY Goju Karate have great programs for the entire family.
UPDATE YOUR MICROSITE