OnTrack Sport Center is a 26,000 sq.ft. indoor sport facility located adjacent to the Tarrytown train station with batting cages, two futsal regulation turf fields for team training, sports instruction, recreation and competitive programs for both youth and adults.

OnTrack's field house opened in January 2007 featuring professional grade synthetic turf – offering athletes of all ages access to various training and competitive programs across multiple sports. Soccer, Lacrosse, Football, Baseball, Field Hockey… the list goes on.

Due to its superior location within Westchester County and easy access to New York City via MTA rail, OnTrack Sport Center has been selected by the NY Red Bulls (MLS – Major League Soccer) to host their Regional Development School. This program provides local youth access to exceptional coaching and an opportunity to advance to soccer's highest levels.

The baseball center opened in January 2008 offering pitched-ball batting cages as well as a soft-toss area. Call or check online for after school programs and/or private or group instruction.

Besides offering sports training and competition for the serious (and not so serious) athlete, OnTrack also specializes in customized birthday parties. Younger children might prefer an unstructured party – and parents may opt to rent one or more of OnTrack's air castles for the children to jump and play. Older children might prefer to hire one of OnTrack's popular coaches to run sport games, relay races.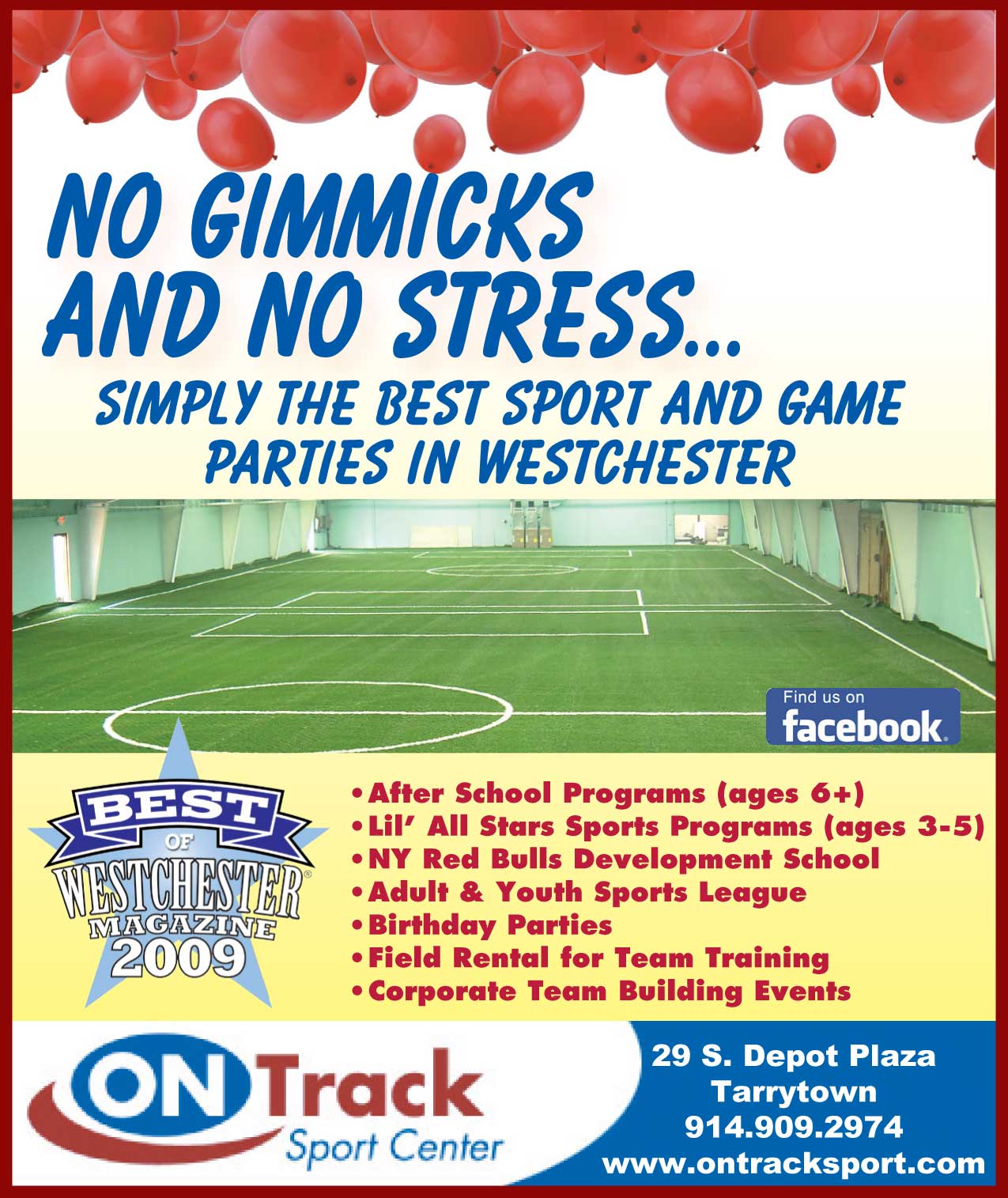 Want to learn more about this business? Send them a direct inquiry.
HEALTH
OnTrack Sport Center is a 26,000-sq.-ft. indoor sport facility, offering recreation, training, and competitive programs in soccer, lacrosse, and baseball to athletes of all ages. Fall and winter programs are now available on our website. Try our indoor boot camp co-sponsored by the Tarrytown YMCA every Wednesday morning. Celebrate your child's next birthday at OnTrack with one of our spectacular sports party packages. Voted 2009 Best of Westchester - Indoor Sports Center.
Read More About OnTrack Sport Center
Summer Activities in Westchester County, NY Part 2
Do you need great summer activities for kids in Westchester County, NY? Use our guide to find kids classes, Westchester summer camps, summer programs, activities near Westchester County, and family excursions close by. Summer activities in Westchester are at your fingertips.
UPDATE YOUR MICROSITE