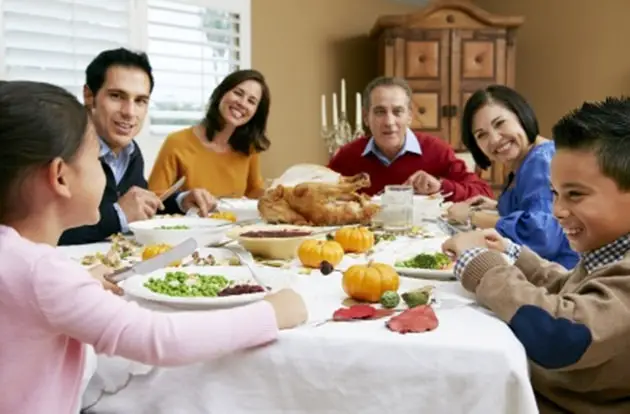 10 Thanksgiving Traditions for Families
Give thanks and try something new with your family this holiday season.
Get kid-friendly activities sent to you!
Get the Best Kid-Friendly Activities
Sent to You Weekly!
Volunteer
Start a new family tradition by giving back to the community. Check with your local community center or homeless shelter to see if they serve a Thanksgiving dinner. If so, volunteer as a family to work in the center's kitchen for the day. This will teach your kids the value of giving back and show the importance of helping those who are less fortunate. For more ideas on where to lend a hand in the NYC area, check out our guide to volunteering with kids.
If you're looking for a way to give back while getting some fresh air, look into participating in a local Turkey Trot. These races can be a great way to burn off that pumpkin pie and most Turkey Trots benefit local charities.
Donate to Charity
Thanksgiving is also a great time to sort through the kids' toys and clothing and donate what they no longer need to a local homeless shelter, preschool, church, or nursery. Christmas is just around the corner, so you're going to need some extra room anyway!
Let the children choose some toys to donate—just be mindful that little ones might have a difficult time letting go of things they've grown attached to, even if they haven't played with them in a while. Explain to the kiddos that some little boys and girls don't have many toys, and this is a way to share with other families.
Visit the Elderly
Do you live too far away from extended family to go home for Thanksgiving? Many local nursing homes or assisted living facilities run Adopt-a-Grandparent programs that strive to forge lasting relationships between seniors and members of the local community. You and the kids can visit with an elderly resident who doesn't have family nearby nearby to celebrate the holidays with. Check with senior housing options near you to see if this program is available.
Have a History Lesson
Help the kids make pilgrim hats and read the story of the first Thanksgiving. Gather items to decorate the table like the pilgrims may have for the first Thanksgiving, such as leaves, pinecones, and a cornucopia filled with fruit. Talk together about how different life was for kids in 1621 compared to today. If you have older kids, let them do some research on the Internet and share what they learned with guests before Thanksgiving dinner. Make it a game to find a new, unusual fact about Thanksgiving's past. Give a prize to the best answer.
However your family spends Thanksgiving, remember that giving thanks for the blessings in your life is what the day is all about, and family is one of the best blessings of all.

RELATED:
Get Family Activities Sent to You
10 Tips to Teach Kids How to Give Back