Weekend plans? Get local family events delivered to your inbox.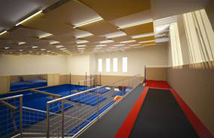 "Gymnastics has always been one of the most popular activities," says Stacey Eisler, May Center for Health Fitness and Sport acting director. "With the new studio, we are able to offer new classes, including recreational gymnastics for beginners who are in it for fun and not necessarily on a competitive track, as well as gymnastics for children with special needs and a new cheerleading program."
The 92Y Gymnastics Studio in the Sky also offers birthday parties, with use of the tumble track, zip line, climbing wall, trapeze, and foam pit.
92Y's Gymnastics Studio in the Sky is located at 1395 Lexington Ave. on the Upper East Side. For more information, visit 92y.com/studiointhesky or call 212-415-5710.