Afterschool Classes & Programs: What Kids and Parents Want Now
Get can't-miss family activities sent to you!
Get the Best Family Activities
Sent to You Weekly!
Dance
With the popularity of shows like So You Think You Can Dance and Dancing With the Stars, dance programs have changed in many ways. "Students used to be exposed only to what the teachers choreographed, but now they want to dance the way they're seeing it on TV," says Nancy Zindell, owner and director of the Westport Academy of Dance. "As teachers, we're aware of this so it pushes us to be more innovative and on the pulse of the latest trends."

Although no style is likely to become obsolete, styles have evolved and will continue to do so. Diane Frankel, owner and director of the oldest and largest dance studio in Rockland, Coupé Theatre Studio, says social dance and culture have heavily influenced afterschool programs. "Just as everyone was dancing disco in the '70s, the trend will move to the newest style. Hip-hop is now the flavor of the month, but we're starting to hear more about reggae and fusion."

Frankel who notes that the more well-rounded children are in dance, the better prepared they will be if they choose a career in the field. "Parents are expecting real training and they want to be sure their children are getting what they need to develop as dancers," says Zindell.
Academic Enrichment
With the growing demands placed on children at school, academic enrichment programs have become an excellent way to strengthen their skills and exceed. "Academic enrichment programs should focus on the skills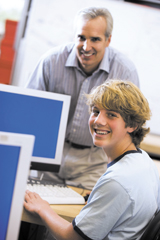 that today's young learners lack, such as basic grammar, reading, phonics, and language skills," says Judy Suchman, owner and director of Chappaqua Learning Center.

Expectations in the workforce are always changing and children need to be prepared. "Programs should give students an edge in an educational environment where critical thinking and innovation are essential, while also integrating technology," says Dr. Andi Stix, director of Gtec Kids in New Rochelle, a program that has been around for 27 years.

The days of subject focused memorization and drills have been replaced by methods that recognize that children learn in different ways. "Programs now focus on developing the social, emotional, and cognitive intelligence. A multi-sensory approach nurtures children's varied learning styles and how they process information," says Carolyn Fox, director of FasTracKids and E.Nopi in Bardonia.

Parents are also seeking programs where their children can be creative. "With the demands of test preparation, parents are looking for integration of the arts and sciences and as much hands-on applications as possible," says Stix.

Regardless of the program you choose, the experts agree that the environment should be warm and nurturing. "Enrichment programs should make learning fun for young, acquisitive minds," says Suchman.