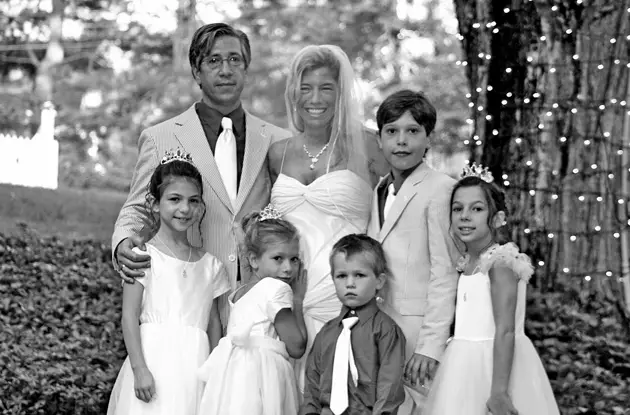 Blended: The Day Our Family Married
Get kid-friendly activities sent to you!
Get the Best Kid-Friendly Activities
Sent to You Weekly!
At last, a wheeze.
The Lakeside bus pulled up along the fence, taking up half the street, stopping cars in both directions. The people in paused cars watched my beautiful children, wrinkled, but finely dressed, race in the front door.
"Mommy! Your hair is excited!" Johnny, just 4, said, his hand in the pocket of his pinstripe sear-sucker jacket, his light blue tie touching his belt buckle. He was referring, I think, to the curls in my hair. "I ate 12 Twizzlers and two gobstoppers on the bus," he said, passing me a purple jawbreaker he'd held the entire ride, which now made a lavender stain on his palm. I popped it in my mouth.
The girls swooned around me like bees to a petal. "Mommy, you're a fairy queen," Olivia said, touching a thin line of beads at the waist of my dress. My eyes dropped to Sophia and Olivia, ages 9 and 8, and my step-daughter Jamie, just 7, in mismatched white dresses they'd chosen from the sale rack at the Lollipop Guild. Just last night, they'd tried the dresses on again. Dancing debutantes, spinning in front of the full-length mirror in my bedroom, skirts blooming. "It's hard to believe I'll love you even more tomorrow than I do right this minute," I'd said to them.
The guests filed into the folding chairs and Leonard Bernstein's "Make our Garden Grow" played through the speakers, the notes gently pulling Eric and his little best man, Luke, my stepson, age 10, beside him.
They walked down the makeshift grassy aisle, in matching blue blazers, a slice of sun catching the silver in Eric's hair. I remembered that first date at the SoHo Grande, two hearts winking tears, lips in a kiss under a plaid umbrella. He was the good guy in every movie I'd ever seen. The one the Hollywood starlets wished they'd chosen once the bad boys broke their heart. He was mine now. Always would be.
Jamie entered stage left, herclick-clack shoes tinkling the slate pathway, tiara tucked into a blonde bun. Awestruck by the crowd that now filled the chairs, she forgot to drop even one of the silk flower petals from the white woven basket, though for weeks she'd practiced throwing big bunches at a time. Johnny, my youngest, the tiny ring bearer, followed close behind, steadying the ring on the small pillow I'd stitched from the plaid flannel robe my father wore for at least 30 of his short 56 years.
My maids of honor, Sophia and Olivia came next, holding hands, their long dark hair, secured with faux diamond clips, scrolled down their backs. The children surrounded Eric at the arbor. I took them all in, considered my life in that instant, not precisely what I had planned, but perfectly imperfect.
My brother, who'd be my stand-in father today, walked me down the aisle, and placed me before Eric like a teacup. Eric and I said our vows to each other, then to the children. Eric's family, veterans of the theater, performed our wedding song and my nieces read Jack Prelutsky poems. My father–in-law Ed, a man who saved Shakespeare in a small Vermont village, read Sonnet 116, something he'd done at every Feidner Family wedding for decades. The Justice of the Peace raced through the family medallion portion of the ceremony, and the exchange of the rings. She had another service to perform for which she was already late.
We are married almost three years now, and we celebrate our anniversary family style. "The day we all got married," Johnny, our youngest, a ripe young man of 7, likes to say.
Marcelle Soviero is a freelance writer whose work has appeared in "The New York Times" and Salon.com. Born and raised in Huntington, Long Island, she lives in Connecticut with her husband and five children, a happily blended family unit.
For more advice for blended families, Nicholas Strouse, director of Westport Family Counseling, offers some stepparent survival skills.