Camelback Resort: Where Ski Slope Meets Water Park
Don't miss out on family fun ideas!
Get Sanity Saving Ideas & Activities
Delivered right to your inbox
Another area of the park has two super-tall slides where trap doors drop from under you. Another favorite of ours was #FlowRider, a wave simulator. The staff working the attraction are well trained and offer tips to help you master the surf.
There are also playful water areas for toddlers and little kids, but the park is best for bigger kids, so they can take advantage of the epic slides. This very clean park is well staffed with lifeguards. Free life jackets are available, so the park feels very safe. There were a few lines for the FlowRider and Venus SlydeTrap, and I imagine that on a weekend the wait is pretty long. A lot of the slides at Aquatopia are for people 48 inches and taller. Our daughter isn't this tall but there were enough thrilling slides for people 42 inches and higher to keep her happy.
Skiing at Camelback Resort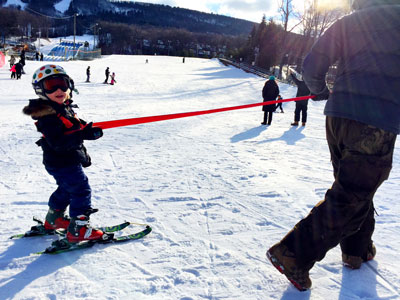 The next morning we stopped back in at the adventure desk and traded in our vouchers for free lift tickets as well as rented ski gear for $40/set. Camelback is the largest ski resort in the Poconos, with a total of 34 trails and 16 lifts. There is a lift at the end of the hotel that takes you to the top of the mountain if you already have your ski gear. Or you can take a shuttle, which leaves every 15 minutes and takes you to the bottom of the main ski center, where you can rent gear. We took the shuttle, got fitted for skis, and then went to the bunny slopes to get our 4 year old on the hills for the first time this season.
There are three great beginner slopes, but some were only accessible if you take lessons. We ended up skiing on the biggest bunny hill, with a long magic carpet lift. We played in this area for a couple hours. My boyfriend did one run from the top of the mountain, which he enjoyed. Hopefully we'll be able to take our little one to the top on our next trip.
This resort really does have it all. If you suffer from FOMO (fear of missing out), like my family does, Camelback can be a little overwhelming. There is a lot of fun to be had here--it just takes some planning to ensure you can do it all.
Tips for Visiting Camelback Resort:
Aquatopia and Aracadia are reserved for guests of the hotel only.
Bring a zip-up hoodie for the water park, since you'll want something warmer than a normal beach cover-up.
Don't lose your towel cards, they're firm on this policy.
Snowtubing and skiing are open to the public.
If you do an overnight stay with the free ski/snowboard promotion, you only get to do one for free. We paid to tube and used the vouchers to buy lift tickets to get the maximum value from the vouchers.
Every stay receives a $250 savings book, but only through Apr 30, 2016.
The rooms come with a refrigerator. Visit a grocery store before coming. They don't sell a lot of grocery items in their gift shop.
Bring your own helmets so you don't have to rent them--and ski/snowboard gear if you have it.
For our 4-year-old we use an edgie wedgie and trainer backpack when skiing; both are very helpful in teaching little ones how to ski. These items are not available to rent so you'd have to bring your own.
This resort is huge, with long walks between rooms and the lobby, so bring a stroller if you have little ones.

Trips like these are a lot of fun but don't kid yourself into thinking this is an easy day on the beach. We were actually sore from all the running and climbing and swimming and laughing. Now I'm ready for that beach vacation!
Plan the perfect weekend with our weekly activities newsletter!
Plus, find more indoor water parks around the Northeast.
Want more content like this? Like us on Facebook!