Get local family events delivered to your inbox.
Recycled Gift Wrap
Make your own eco-friendly gift wrap for all those upcoming spring birthdays. Take plain brown wrapping paper, old magazines or newspapers, or whatever paper you have lying around the house. Dip a flower or leaf found in nature in paint and stamp it all over the paper to create a lovely print, or glue old stamps all over it to make it look well-traveled.
Recycled Picture Frames
Find some cardboard from around the house and cut it into a rectangle about an inch longer and wider than a photograph. Cut out the middle of the rectangle in the shape and size you want for the frame. Paint the frame the color you want for the background. Then, using glue, attach stamps, beads, or even leaves, flowers, and twigs from nature to create a collage to frame your family memories.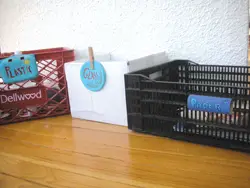 Recycling Station
To get your kids excited about recycling, let them create your new recycling station. Find three large containers, like boxes or milk crates-one for glass, one for plastic, and one for paper. Have your children decorate them with pictures of the kinds of items that are supposed to go into each one. With twine and toilet paper rolls or plastic lids and clothespins, create eye-catching recycled labels for each recycling bin.
For more information on the Chuckie Goodnight Foundation for the Environment, visit www.chuckiegoodnightfoundation.org.