Expansion at New York Methodist Hospital: Pediatric Surgery
Get can't-miss family activities sent to you!
Get the Best Family Activities
Sent to You Weekly!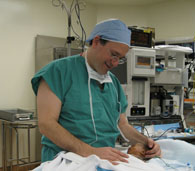 VATS can also replace a major surgical procedure. "In the past, surgeons would perform a thoracotomy, an operation that entails entering the chest cavity through a large incision," says Dr. Shlasko. "Doctors eventually became reluctant to perform thoracotomies because of the complications associated with the procedure, so they treated pneumonia with prolonged courses of antibiotics instead. VATS enables surgeons to treat pneumonia with fewer complications and shorter courses of antibiotics."

For more information on pediatric surgery at New York Methodist Hospital, call 718-780-5696 or go to www.nym.org. For a pediatrician affiliated with NYM, call 718-499-CARE.