FAMILY CAR BUYING GUIDE—Best Buys in Family Cars
Awesome Summer Activities Sent to You!
Summer Family Fun Ideas
Sent Every Weekend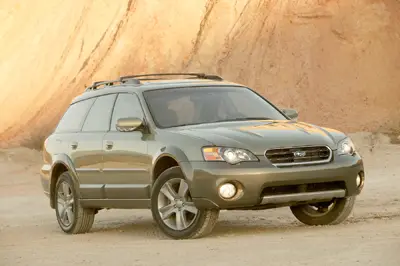 Ford Freestyle (pictured below)
Base price: $25,805
Fuel economy: 20/27 MPG
Recommended by: Joe Wiesenfelder
The Freestyle doesn't get a lot of attention — maybe because it has an identity crisis: Some consider it a wagon, some call it an SUV. Wiesenfelder says he likes it either way, noting that it's based on a Volvo platform and has the safety ratings to prove it. "It makes excellent use of interior space, seating six or seven people very comfortably," he says. "Even the third row can accommodate the tallest of teens."

Dodge Magnum
Base price: $23,335
Fuel economy: 21 city MPG
Recommended by: Joanne Helperin
What do Edmunds.com editors want in a mid-price wagon? This is it. Helperin calls the Magnum "a real head-turner". This family car, she says, "provides serious fun for driving-enthusiasts-turned-parents. A cross between a family hauler and a '50s chop top, the Magnum's low-slung roof and dark tinted windows give it iconic good looks." She likes the ride and handling qualities, which measure up to many sedans. "Add in an optional Hemi-powered V8 engine and more than 70 feet of cargo space," she says, "and we say, leave the SUV in the garage."


Minivans

Chrysler Town & Country/Dodge Caravan
Chrysler Base price: $21,985
Chrysler Fuel economy: 19/26 MPG
Dodge Base Price: $18,630
Dodge Fuel Economy: 20/26 MPG
Recommended by: Keith Turner
"When it comes to family-friendly functionality," Turner says, "nothing quite compares to the Chrysler Town & Country and its twin, the Dodge Caravan." What separates this minivan from the rest of a pretty strong pack, he says, is the "show-stopping" Stow 'N Go seating system, which turns a seven-passenger carpool cruiser into a wide-open cargo carrier in a matter of seconds. This is the kind of versatility active families need, he says.

Kia Sedona minivan
Base price: $22,995
Fuel economy: 18/25 MPG
Recommended by: Joe Wiesenfelder
Wisenfelder calls the Sedona the "best value in minivans." It holds the top crash-test rating from the Insurance Institute for Highway Safety and has a laundry list of standard equipment — including some high-value safety features that are optional on other vans — all for a lower starting price.

2007 Toyota Sienna
Base price: $23,625
Fuel economy: 19/26 MPG
Recommended by: Lauren Fix
Fixlikes the Sienna's five-star crash-test rating and the fact that it's low-maintenance and has a great resale value. This all equals lower lease payments and a great all-around family car.

Honda Odyssey minivan
Base price: $25,345
Fuel economy: 19/25 MPG
Recommended by: Consumer Reports, Lauren Fix, Joanne Helperin, Joe Wiesenfelder
Everybody loves the Honda Odyssey. It inspires our raters to use words like "ultimate" and "one of the best-executed vehicles of any style." Wiesenfelder likes the gas mileage, the great crash-test ratings, and all the safety features, including "power doors that reverse at the lightest touch."
Fix likes the value you get with the Odyssey, because it is low-maintenance and has a great resale value.
Experts at Consumer Reports call this "a very slick vehicle that is every bit as capable as a mid-luxury sedan." They like the flexibility of the interior and finishes in the cabin, as well as the agile handling.
Helperin and her colleagues at Edmunds.com call the Odyssey their "Editors' Most Wanted" minivan of 2006, and their readers agree, naming it the "Consumers' Most Wanted." They like the comfortable seating, plentiful storage, car-like ride, and windows that open in the second row.


SUVs

Hyundai Tucson
Base Price: $17,845
Fuel Economy: 22/27 MPG
Recommended by: Kristin Varela
Varela calls the Tucson "a great small SUV for families on a budget;" its base price is nearly $3,000 less than others in its class, like the Toyota RAV4 and the Honda CRV. She likes its safety features, including a total of six airbags, and the thoughtful family-friendly features. The second-row seats, which fold forward and recline, are roomy enough to accommodate adult passengers and rear-facing infant seats. There's also plenty of storage, right down to both round and square cup holders in the rear armrest.

Suzuki Grand Vitara
Base price: $19,199
Fuel economy: 19/24 MPG
Recommended by: Keith Turner
Surprised to see a Suzuki on the list? Turner says, "The Japanese automaker has made great strides in securing a deserving space in any American driveway." He also believes the Grand Vitara deserves to be considered a top pick for families. "In its second generation, the Grand Vitara is a compact SUV that offers great handling, perky performance and a very strong list of safety features to help keep loved ones out of harm's way."

Toyota Highlander Hybrid and Lexus RX400h hybrid
Toyota Base price: $24,530
Toyota Fuel economy: 33/28 MPG
Lexus Base price: $48,535
Lexus Fuel economy: 31/27 MPG
Recommended by: Keith Turner
Turner calls this "a toss-up between kissing cousins." The Lexus RX400h was the first luxury sport utility vehicle to utilize gas-electric synergy, he explains, and the Highlander soon followed with the added advantage of a third-row seat, providing room for seven passengers. Miles per gallon in both vehicles is roughly 30, which is an extraordinary number for any size SUV.

Honda Pilot SUV
Base price: $26,995
Fuel economy: 18/24 MPG
Recommended by: Joe Wiesenfelder
"Not all parents are ready to be seen in a minivan," Wiesenfelder believes. For them, the Pilot offers the best of the SUV and minivan worlds. Based on the Odyssey minivan, he notes, it has eight seats, all-wheel drive and a high seating position, but it lacks sliding doors. It looks like an SUV, but it's more fuel efficient and less likely to roll over.

Chevrolet Suburban SUV
Base price: $36,990
Fuel economy: TBD
Recommended by: Joe Wiesenfelder
According to Wiesenfelder, "truck-based SUVs make poor use of interior space." For large clans, he says, "minivans are a better choice… but there's little cargo room when all seats are filled. If you want to carry nine people and their hockey gear, the Suburban is the only choice." The fuel-conscious should note that the all-new 2007 gets better gas mileage and can run on E85 ethanol.

Ford Explorer
Base Price: $26,530
Fuel Economy: 15/21 MPG
Recommended by: Joanne Helperin
"A practical SUV with few faults" is what Helperin calls the Ford Explorer (and its twin, the Mercury Mountaineer). She likes its spacious, comfortable cabin and versatile layout. She notes that front-seat side airbags and stability control (which includes roll stability control) are standard across the line. "Performance is solid all around, with strong powertrains, excellent tow ratings, and a well-controlled ride that feels good on pavement and can handle the off-road bumps," she adds.

Mercedes R350
Base Price: $48,000
Fuel Economy: 16/21 MPG
Recommended by: Kristin Varela
The style-conscious R350 blends characteristics of minivans, wagons, and SUVs, according to Varela. It's easy to get in and out of, thanks to wide-opening doors and a low step-in height. And it's easy for the whole family to find comfortable places to sit, with sliding second-row captain's chairs and full-size seating in the third row (the "way back" is not just for little kids any more!). The reinforced and shatter-proof panoramic roof extends from the front of the car to the third row, giving everyone a sense of the wide-open road.

2007 Audi Q7
Base price: $49,900
Fuel economy: 14/19 MPG
Recommended by: Lauren Fix
Fix calls the Q7 "a very impressive seven-passenger luxury SUV with Audi performance, safety, design, and versatility." She likes the high seating, spacious interior, off-road capability, and, of course, the "flexibility that you expect from an Audi."

---
Want more content like this?
---