Fun Watermelon Recipes for Summer
Be the first to know!
Get the most exciting updates from NYMetroParents
While a great partner to pita chips or raw veggies, this hummus also makes a great sandwich spread or topping for bruschetta. The heat of the spices is balanced by the cooling addition of watermelon juice.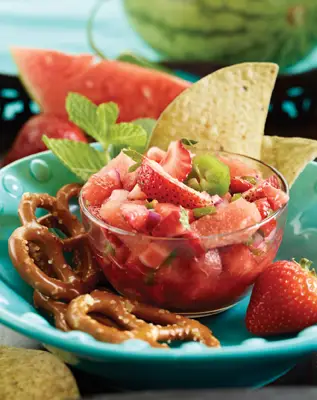 Use watermelon in place of tomatoes to create a spicy and sweet salsa for your next backyard barbecue.
Sweet & Refreshing Desserts
This gorgeous "cake" is actually made from heart-healthy watermelon decorated with yogurt and berries. It's a refreshing, gluten-free twist on dessert that's perfect for Fourth of July festivities or a summer birthday.
This "recipe" is more of a step-by-step guide to cutting your perfectly ripe watermelon into fun donut shapes and finishing them off with sweet toppings. It's an easy, reduced-guilt dessert idea that might just become your summer party go-to.
Whip up this sweet topping to serve over vanilla ice cream, mix into sparkling water to make watermelon "soda," or use it in a creative cocktail for the adults in your brood.
Whether for a birthday or a fun summer soiree, these mini watermelon cupcakes make a healthful, hydrating, and delicious snack.
Plus:
How to Make a Mermaid Tale Centerpiece from Watermelon

How to Select and Store the Perfect Watermelon