Merry Little Family Shows in the Big City
Get kid-friendly activities sent to you!
Get the Best Kid-Friendly Activities
Sent to You Weekly!
Where: The Theater at Madison Square Garden, 4 Penn Plaza (between 31st and 33rd Streets)
When: December 14-30; visit website for full schedule
What: J.M. Barrie's children's masterpiece about the boy who wouldn't grow up and his adventures in Never Land is back in the musical version that premiered on Broadway in 1954 and has enchanted children -- and inner children -- ever since.

Tickets: $35-$99. 866-858-0008; www.theateratmsg.com
FYI: New technology ups the ante on this production. For the full review, visit www.nymetroparents.com/peterpan.
The Lion, the Witch and the Wardrobe
Who: Off-Broadway Family Theatre
Where: St. Luke's Theatre, 308 W. 46th Street

When: Open-ended run (the only one!), Saturday at 11am (visit website for variations in schedule)
What: A theatrical adaptation for ages 6 and up of C.S. Lewis's beloved novel from the Chronicles of Narnia, with two actors playing eight characters, including the Pevensie siblings who are transported via wardrobe to Narnia, home of the great lion Aslan and the White Witch. Ultimate Lesson: Love is the deepest magic of all.
Tickets: $35. 212-239-6200; www.telecharge.com or www.narniaoffbroadway.com
FYI: Dramatized by le Clanché du Rand, the show is directed by Julia Beardsley O'Brien.
Seven in One Blow, or The Brave Little Kid
Who: Axis Theatre Company
Where: One Sheridan Square (just off 7th Avenue)
When: Currently running through December 18; Friday at 7pm; Saturday and Sunday at 2pm; bonus performance December 20 at 7pm
What: It's just before the holidays on a snowy day at the start of this interactive play for ages 4 and up that's based on the Brothers Grimm story about a brave youngster who gets seven flies with one swat-and ends up on a phantasmagorical journey filled with fairytale characters. Ultimate Lesson: Parental love and care has no limits.
Tickets: $12; $6 children, students, and seniors
FYI: Proceeds from the December 10 performance will be donated to St. Jude Children's Research Hospital.
A Christmas Carol
(Three this season, but like snowflakes, no two are alike)
Who: Canal Park Playhouse
Where: 508 Canal Street (between Greenwich and West Streets in Tribeca)
When: December 1-24; Thursday and Friday at 7pm, Saturday at 12pm and 2pm
What: The setting is perfect: an intimate backdrop in which the ghost of Charles Dickens spins his fabled story of Ebenezer Scrooge and the spirits of Christmas Past, Present, and Future. Filled with holiday magic and classic physical comedy (yes, pratfalls are included!). For ages 7 and up.
Tickets: $18. 866-811-4111; www.canalparkplayhouse.com
FYI: A pre-fixe pre- or post-show brunch at the theater's Waffle Iron Café is available Saturdays for an additional $6.95 in advance or $8.95 at the door.
Who: Manhattan Children's Theatre
Where: Access Theatre, 380 Broadway (Broadway and White Street), 4th Floor
When: November 12 through December 24; Saturday-Sunday and December 23 at 12pm and 2pm
What: Modern movement plus traditional and original music bring this holiday tradition to vibrant life, reminding audiences "to look within ourselves and renew our spirits of compassion and generosity." For ages 5 and up.
Tickets: In advance: $18; $16
children. At the door: All tickets are $20. 212-352-3101; www.mctny.org
FYI: This production marks the beginning of Manhattan Children's Theatre's 2011/2012 season and its first show in its new gallery space.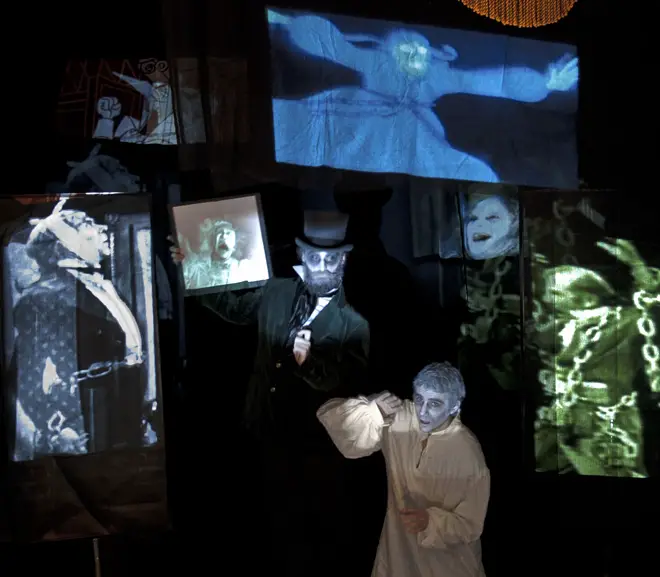 Who: Henry Street Settlement
Where: Abrons Arts Center,
466 Grand Street (at Pitt Street)
When: December 1-18; Thursday-Saturday at 8pm, Sunday at 4pm
What: A new approach to the Dickens classic in which images from 70 different film versions of the tale are projected on moving screens using a modern-day version of the magic lantern. "Film clips collide and combine with live performers on stage, eerily blurring the distinction between performance and video projection." For older kids and adults.
Tickets: $20; $10 students/seniors. 212-352-3101; www.abronsartscenter.org
FYI: This production is created and directed by media artist and former Wooster Group video designer Reid Farrington.