For Financial Literacy Month, Teach Your Child About Saving
Get After-School Activities, Family Fun, & More!
Hand-Picked Family Activities
Sent Every Weekend
Damato emphasizes that parents should actively teach financial education on a daily basis at home by creating "teachable moments" to avoid a future generation of financially illiterate adults.


Top 5 Tips for Teaching Your Child about Saving
1. Open a savings account for your child.
2. Take children to the bank to see how deposits work.
3. Help kids set savings goals and/or create family savings plans.
4. Start a family match program.
5. Use allowance as a learning tool.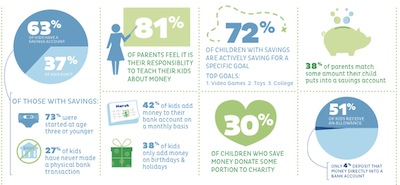 Bank On These: Sites to Help Teach Financial Literacy
DoughMain.com
• has games and tools that encourage learning about finances through interactive play, making the process fun and engaging
• offers a bank integration feature that enables users to import actual bank accounts and easily view balances, bringing the topic of savings to the forefront by putting kids in closer proximity to their savings goals and helping them watch their money grow
• provides an online chore chart tied to allowance/rewards program to teach kids about the fundamentals of money management in a relevant, digital way for today's generation
JumpStart.org
• showcases the Federal Deposit Insurance Corporation's free Money Smart for Young Adults curriculum, which helps instructors teach youth ages 12-20 the basics of personal finance, including role-model exercises (one allows students to shop for a credit card); each module consists of a fully scripted instructor guide, participant guide, and overheads
DoughMain's survey was conducted by Touchstone Research between February 6–13, 2012 in conjunction with America Saves Week, which is coordinated by America Saves and the American Savings Education Council.
---
Want more content like this?
---